Explore a Hawaiian Forest and Volcanic Caldera on the Kilauea Iki Trail
After surviving a historic eruption over a year ago, most of Hawaii Volcanoes National Park on Hawaii Island has reopened, including the popular Kilauea Iki trail.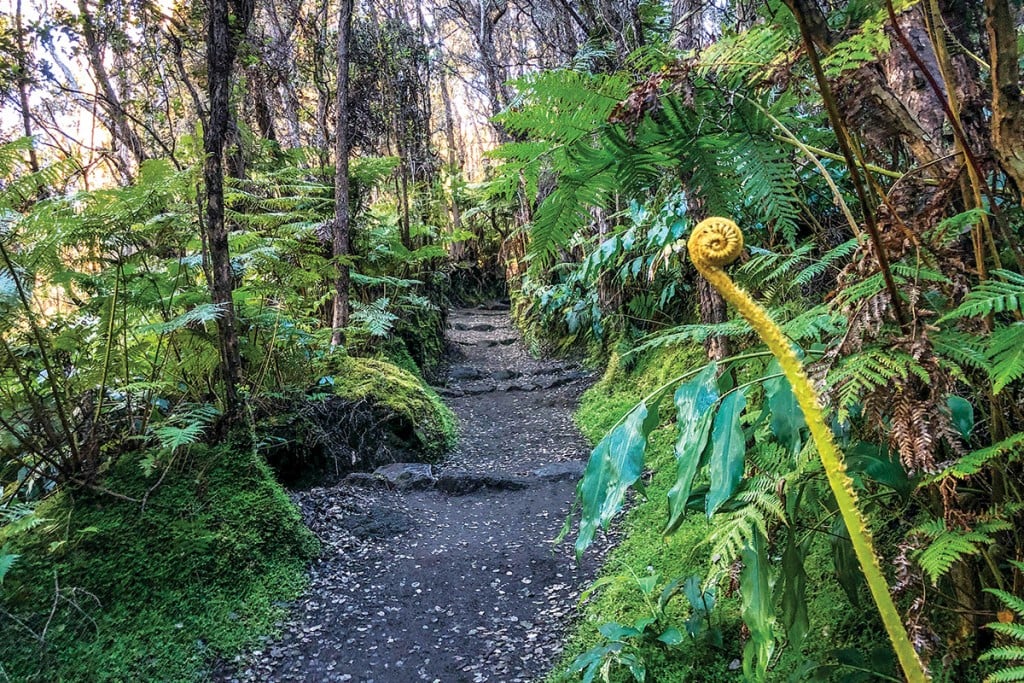 It always happens when I'm standing at the overlook at the start of the Kilauea Iki trail, seeing the barren floor of the caldera, the scene of a spectacular eruption in 1959. The once-geologist major in me stirs.
This roughly 4-mile hike is one of my favorites in Hawaii Volcanoes National Park on Hawaii Island. The terrain is varied—it starts in a forest of native ohia trees and hapuu (Hawaiian tree fern) and ends with a walk across a desolate crater floor—and the vegetation is diverse, from tall blooming ohia to the swordlike kupukupu fern. And the trail is short enough to complete in a few hours, giving you extra time to visit the other geological marvels in the national park.
This is a hike I'd done several times in college, accompanying undergraduate students enrolled in an intro geology class. The weekend field trip to Hawaii Island centered around the 323,431-acre park, which encompasses two active volcanoes—Kilauea, one of the world's most active, and Mauna Loa, the world's most massive shield volcano. We would stay in the modest dorms at Kilauea Military Camp, originally built for the National Guard the same year the park opened in 1916. During the day we hiked; at night, we hung out at the camp's six-lane bowling alley.
I hadn't been back here in years, well before the park closed in May 2018 after Kilauea experienced an unprecedented eruption that forced the longest shutdown in the park's history. The summit area of the park was severely impacted by thousands of earthquakes and 62 massive collapse explosions, which caused damage to buildings, rockfalls and cracks in roads and trails. The park reopened in September 2018, but the popular Kilauea Iki trail remained closed until this April, after crews made repairs to the switchbacks that were destroyed when large boulders sitting near the rim were loosened by earthquakes and crashed down through the trail. (The section of the trail leading to and on Byron's Ledge was so badly damaged it's still closed today.)
My husband, his best friend and I were on the Big Island for just one full day, with birding binoculars and plans to pick up mochi from Two Ladies Kitchen in Hilo. We spent the early morning hours pointing our binoculars toward flowering ohia trees in a kipuka (an older, forested pocket spared from lava flows) along Old Saddle Road. We spotted apapane, chatty crimson Hawaiian honeycreepers with distinct white undertail coverts; the endangered iiwi with its vermilion plumage and long, decurved bill; and the robinlike omao, or Hawaiian thrush, my husband's favorite native forest bird.
We had several hours left before our flight back to Honolulu, so we drove to Hawaii Volcanoes National Park to see what it was like post-recent-eruption.
Honestly, I had expected to see something out of a disaster movie. You know, like overturned cars hanging perilously on the edge of roads split open by earthquakes, and giant gaping craters.
Instead, the park was much as I had remembered—with a few exceptions: Some sections of the roads in the park are inaccessible; the 500-year-old Nahuku lava cave, known as Thurston Lava Tube, is closed; Halemaumau Crater, the pit crater located within the summit caldera of Kilauea and home to Pele, the goddess of fire, has collapsed and doubled in size; and the popular Jaggar Museum may never reopen.
While it's sad to see some of these changes, it's also inevitable: This is a living, breathing national park anchored by a volcano that, up until late last year, had been erupting continuously since 1983.
"We look at this like we have a completely renovated park," says Jessica Ferracane, Hawaii Volcanoes National Park spokesperson. "For the last 100 years we've dealt with changes to the landscape. It's never the same day twice here because of the two active volcanoes. Having to close and reopen, we do that well. We've been doing that for the past 100 years as we adapt to this amazing landscape."
We arrive at the overlook in the early afternoon—a perfect time as most visitors to the park are heading out in search of dinner (and maybe a massage). We make our way along the crater rim, stopping to take in the views of the crater floor below, before descending about 400 feet into a lush rainforest along switchbacks lined with ohia and koa trees and hapuu tree ferns. We catch a glimpse of the white-rumped 'apapane flying from tree to tree.
It doesn't take long for us to emerge from the forest onto the desolate crater floor, dotted with small ohia trees and kupukupu in the cracks and crevices of lava rock. It always amazes me to see new growth in such a barren landscape. Life persists.
We pass some ohelo shrubs, with their rounded leaves and red berries. They remind me of one of my first visits to the national park, when I learned about the significance of this plant. Related to blueberries and cranberries, ohelo is native to the high-elevation mountains of Hawaii Island and Maui. A pioneer species, it's often one of the first plants to colonize new volcanic landscapes. It's also sacred to Pele, who, according to Hawaiian moolelo (story, legend), turned her dead sister, Kaohelo, into the shrub and named it after her. I learned on my first trip about the custom of tossing a berry into the direction of Kilauea as an offering to Pele. (Paying homage to Pele is always a good idea.)
This section is my favorite part of the hike, walking across the smooth pahoehoe lava from the 1959 eruption, the trail marked by piles of rocks, or ahu, and small steam vents. This vast moonscape with its disrupted crater floor, as if Pele herself had been pushing her way out through the hardened lava, sharply contrasts the earlier portion of the hike highlighted with native trees and singing forest birds. It's hard to imagine that here, 60 years ago, a fissure opened along the southwest wall of the crater, with fountaining lava over a half-mile long. At some point, a single fountain erupted, its plume reaching a world-record 1,900 feet.
"A lot of people don't know the landscape here and think it's like the Death Valley of the Pacific, where everything is devastated or destroyed because of the volcanoes," Ferracane says. "But they don't realize we also have this thriving Hawaiian rainforest. You get the best of both worlds here, the forest and the destruction together."
I wish I could have been there, back in November 1959, among the thousands of people who lined the crater rim to see this incredible act of nature—and with no smartphones to ruin the moment.
We continue to walk across the crater floor, which is about 400 feet thick. You can hear the crunching of brittle lava with each step, the crushing of tiny shards of glass with our hiking shoes. There are only a few people around, some taking selfies next to 20-foot boulders that had crashed down after earthquakes from last year's eruptions, others quietly marveling at the massiveness of the crater. It's hard not to feel the vastness of this barren place.
But then I spot a small ohia growing in the cracks of the floor, its bright crimson flower disrupting the desolation. To me, it represents the spirit of this park, that in its survival lies beauty.
Kilauea Iki Trail, In Hawaii Volcanoes National Park, (808) 985-6101, nps.gov/havo.
ABOUT THE TRAIL
Difficulty: Moderate to slightly challenging
Length: 2.4 miles one way, about 2 to 3 hours
Location: In Hawaii Volcanoes National Park. The trail begins at the Kilauea Iki parking lot on Crater Rim Drive.
Best time to go: The park is open 24 hours, so go early. We recommended hitting the trail by 7 a.m. Avoid Tuesdays, if you can, as cruise ship passengers are in town.
What to bring: Water, snacks, hat, sunscreen, rain gear. Be prepared for any kind of weather—hot, dry, wet, windy—and steep, rocky terrain. And don't forget your smartphone.
UPDATE ON THE PARK
What's Open
• Chain of Craters Road
• Volcano House
• Crater Rim Drive to Kilauea Military Camp
• Halemaumau Trail via Crater Rim Trail by Volcano House
• Devastation Trail
• Steam Vents
• Sulphur Banks
• Most of Kilauea Iki Trail
• Puu Puai Overlook
• Kilauea Military Camp
• Crater Rim Trail from Volcano House to Kīlauea Military Camp
• Kau Desert Trail to Hilina Pali
• Kipukapuaulu (Bird Park)
• Tree Molds (off Mauna Loa Road)
• Hilina Pali Road is open to Kulanaokuaiki Campground to vehicle traffic and to foot traffic beyond
• Kulanaokuaiki Campground
• Namakanipaio Campground (managed by Volcano House)
• Backcountry
• All of Mauna Loa Road
• Mauna Loa Summit
• Kahuku
• Napau Crater and Nāpau Trail to the base of Puu Oo
What's Closed
• Jaggar Museum (indefinitely)
• Crater Rim Drive between Kilauea Military Camp and Jaggar Museum
• The 6-mile section west of Jaggar Museum remains closed
• Hilina Pali Road past Kulanaokuaiki is closed to vehicles (it is open to pedestrians and nonmotorized bicycles)
• Crater Rim Trail beyond Kīlauea Military Camp
• Iliahi Trail
• Crater Rim Trail from Volcano House to Kilauea Iki
• Nahuku (Thurston Lava Tube)