Explore Maui's top snorkeling destinations with Redline Rafting
Dive the crystal clear waters of Molokini Crater and say hey to the honu at Turtle Town with Maui's Redline Rafting.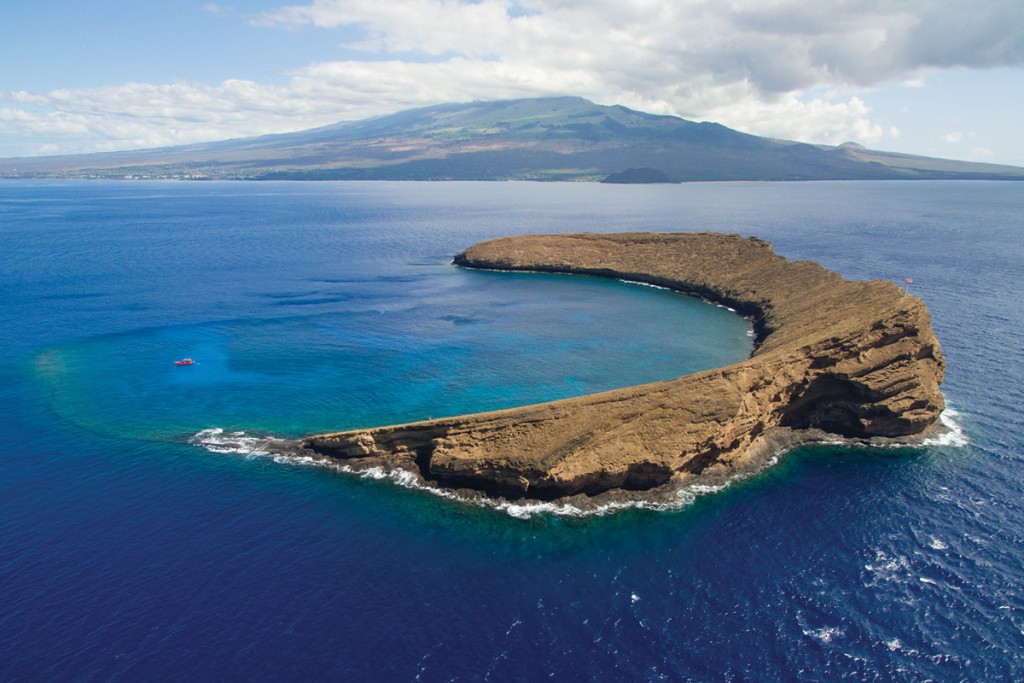 I'm whipping down Maui's western coastline in a bright-red raft at just past 6 in the morning, watching the mountains and ridges of the Valley Isle grow smaller and smaller in the distance.
Leaving from the Kihei Boat Ramp, Redline Rafting, a Maui-based ocean adventure tour company, has one mission in mind on our snorkeling adventure: Get to Molokini Crater as early as possible.
A partially submerged volcanic crater and Marine Life Conservation District situated between Kahoolawe and Maui, the uninhabited islet serves as a snorkeler's paradise, and is often packed with snorkeling boats and tour groups. So, much to my surprise as we pull up to the crater, I can't find another vessel, boat or raft docked near us. Skipping breakfast was definitely worth it.
[video:www.youtube.com/watch?v=n4YVRz2223g width:720 height:480]
With waters a shade of spotless, crystal-clear light blue I've only seen once before, on a small unpopulated island in Indonesia, I'm anxious to get my feet wet. After a thorough ocean safety speech by Andy McComb, our enthusiastic and knowledgeable captain, it's time. Instead of using the ladder, I swan-dive off the front of the raft and am immediately met with an underwater scene brimming with aquatic life. Looking to my left I see a school of yellow tang, seemingly unfazed by my presence as I swim by for a closer look. Diving a little deeper, I find a white-spotted pufferfish floating beside a humuhumunukunukuapuaa (reef triggerfish), Hawaii's state fish.
Popping my head up for air, I'm taken aback by how close I am to Molokini Crater. Having only ever seen it from afar, I can't believe I'm actually in the bowl of the crater. I dive again to check out a grouping of red pencil urchin, whose scarlet color sharply contrasts with the bright aquamarines I'm swimming through. After 20 minutes of exploring, I see my group heading back to our vessel as throngs of other snorkeling tours park a few yards from us. Keenly aware of this, McComb keeps us ahead of the traffic and whisks us away to our next location.
The back wall of Molokini Crater is an exclusive club. With only smaller crafts being able to navigate its choppy waters, snorkeling in this more wild environment is one of the selling points of Redline Rafting. With its small, fast and easily maneuverable vessels, it's able to reach spots larger snorkeling tours can't.
Unlike the inside of the crater, the back wall has a deep drop off, and I'm unable to see the bottom. After checking out the damaged wall of Molokini, which was subject to naval bombardment by the United States Navy, I begin swimming back to our raft, only to hear "Manta ray!" shouted by one of my fellow snorkelers. Diving down, I catch a glimpse of the largest ray I've ever seen, easily 6 feet in length. Gliding listlessly deeper and deeper, the manta ray slowly disappears from sight, and our group convenes back on the boat to discuss what an amazing wonder we just saw.
On the way to our next snorkeling adventure at Keoneoio Bay, also known as La Perouse Bay, McComb shows us what the Redline raft can do on the open ocean. Hitting the throttle hard, we're given a thrill ride as McComb speeds into unbreaking waves, using the acceleration of the boat to surf the large humps and bumps of the ocean. Joking and quipping to us the entire way ("Why are fish smarter when they swim in groups? Because they stay in schools."), McComb knows how to entertain, and Redline Rafting's dive expert, Kate, keeps us abreast with knowledge of local fish species.
Unfortunately, La Perouse Bay is a no-go, with ocean conditions too choppy to risk a swim. Known for its turquoise waters and frequent visits by Hawaiian spinner dolphins, my small group is disappointed, however the promise of Maluaka Beach, commonly referred to as Turtle Town, keeps spirits high. Situated near Makena State Park on the south end of the island, Turtle Town is known for its calm waters and large population of Hawaiian sea turtles, and, thanks again to Redline Rafting's speedy boat, we're there in a flash.
"Turtle, turtle, turtle!" I hear, from the excited snorkeler next to me, before I can even get my mask on. Peeking its head out of the water, a honu (Hawaiian green sea turtle) makes a brief appearance before diving back underwater. Quick to act, McComb reminds our excited group that touching or harassing a turtle can end in a hefty fine. Diving in once more, I find that the underwater seascape of Turtle Town is majestic, with naturally formed arches and caves spread throughout the spot. True to its name, it's hard to go a few minutes without catching a glimpse of a honu swimming by.
Pulling back into the Kihei Boat Ramp after our half-day tour, I give my farewells to McComb and my fellow snorkelers. Now on land, I'm already beginning to miss the crystalline waters of Molokini Crater, the underwater archways of Turtle Town and the depths of Molokini Crater's back wall. Lyrics from "The Little Mermaid" swim through my head as I drive my rental car back to the hotel: "Under the sea, under the sea, darling it's better, down where it's wetter … under the sea."
Redline Rafting
Molokini snorkeling tours are priced from $135 and depart daily at 7 a.m. from Kihei Boat Ramp, 2800 S. Kihei Rd., Kihei, (808) 201-7450, redlinerafting.com.