Explore popular Oahu sites and hiking trails with Google Street View's newest Hawaii interactive treks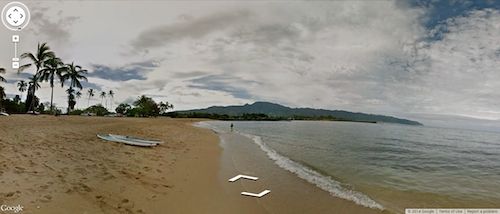 Maybe you just returned from Oahu and want to relive some of the hiking trails and parks you visited. Or perhaps you're on Oahu right now and want to see just how muddy your shoes might get on a hike to Manoa Falls.
Check out Google Street View Trekker's newest addition to its collection of Hawaii virtual hikes and sightseeing opportunities, this time around featuring a few of Oahu's most popular trails and parks. The interactive tours went live on August 27th and include scenic locations such as the Manoa Falls Trail, Nuuanu Pali Lookout, Waimea Valley, Waikiki Beach and more.
Accessible through GoHawaii.com, the 16 interactive tours of choice Oahu locations are a product of a partnership between the Hawaii Visitors Convention Bureau (HVCB), the Hawaii Department of Land and Natural Resources (DLNR) and Google. Teams from DLNR and HVCB "trekked" the scenic sites with high-tech backpacks containing a 15 lens-, 40-pound camera capable of shooting 360-degree panoramic photographs. The equipment, loaned by Google as part of the Trekker Loan Program, is a scaled-down, wearable version of the Street View cameras used on the Google vans and cars that have photographed streets, highways, freeways and cul de sacs across the country and the world.
Similar Trekker pages were unveiled this past winter for 13 Hawaii Island and five Northwestern Hawaiian Island locations, and is also available on GoHawaii.com. HVCB promises to expand the program over time to include more Hawaiian Islands and additional locations statewide.
Google Street View Trekker Makapuu Lighthouse Trail screenshot.
The GoHawaii page itself is easy to navigate, featuring a drop-down menu of island options (currently, only Hawaii Island and Oahu are listed), and a list of "treks" to choose from alongside a map of the island. Once you choose a virtual tour, you are greeted with a photo and short description of the location. Clicking "explore more" takes you to the actual trek, where you can explore the area by clicking around a series of panoramic photographs.
The first scenic virtual tour I decided to try on my first visit to Google's Oahu Trekker page was a favorite hiked I'd taken many times in person: the Makapuuu Lighthouse Trail. Google's virtual Makapuu Lighthouse Trail trek begins at a scenic lookout at the top of the hike, as if I were standing behind the railing looking out at Manana islet (aka Rabbit Island) sitting just offshore of the winding windward coastline off Waimanalo. Although it was at first odd starting at the end of the hike, the beginning point eventually began to make sense. With minimal effort newcomers can see the best part of the trail, allowing them to quickly gauge whether they'd like to see more of it.
The Trekker, though set up to please casual observers of Oahu's scenic locations, makes it easy to move around the map should you want more in-depth exploration. Like the regular Google Street View, users move around the map by clicking a series of arrows taking them on a predetermined path.
Google Street View Trekker Byodo-In Temple screenshot.
After taking in Makapuu Lighthouse Trail's lookout, I followed the arrows pointing downhill to see the rest of the trail. I stopped at the next scenic lookout—at the top of a sea cliff with a gorgeous view of the deep blue ocean. Some of the photograph stitching throughout the trek could use work (there are blurry sections and oddly-angled shrubs) but the scenic view is crystal-clear.
When I begin missing Hawaii, now that my summer internship at HAWAII Magazine is done, I already see myself on my couch on the Mainland, sipping from a warm mug of tea as I click around the Manoa Falls Trail Google Street View page, planning for my first Christmastime adventure at home.
Google Street View Trekker for Oahu and Hawaii Island
Click these links for Oahu website and Hawaii Island website.