Explore the Cosmos with the Hawaiian Astronomical Society
On Oahu's North Shore, the Hawaiian Astronomical Society encourages and perpetuates its love and fascination for the stars.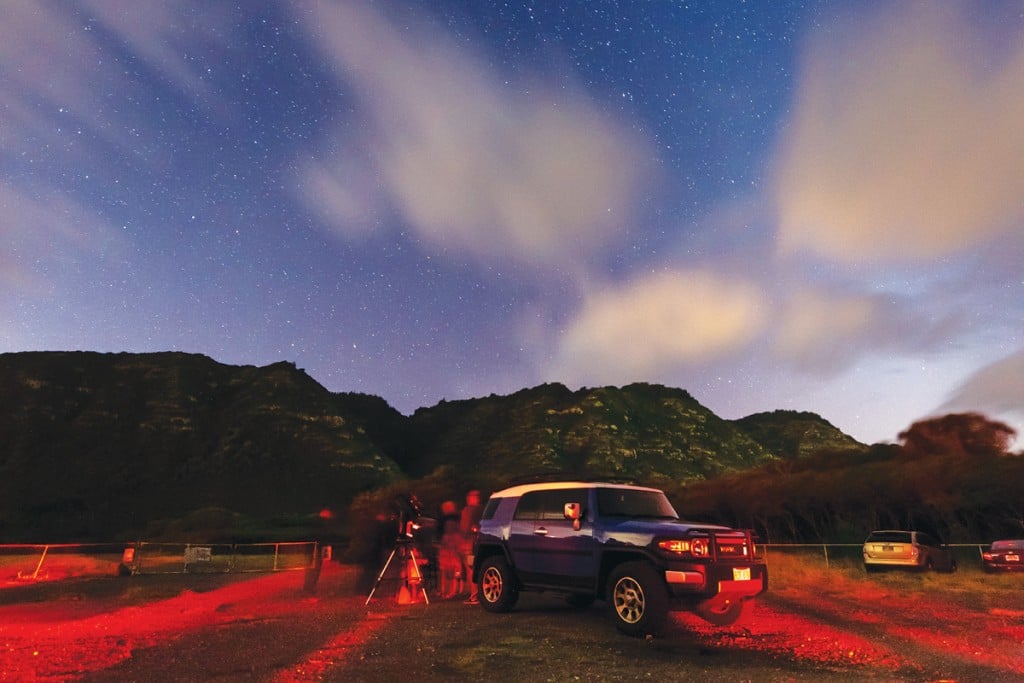 Standing in a grassy field on Oahu's North Shore, half an hour before sunset, I'm watching a man in a 10-gallon hat assembling the components of a high-powered telescope capable of viewing planets and stars light-years away.
The cosmic cowboy is Andy Strobe, who, like many of the others parked in this secluded area of Dillingham Airfield, is here for the monthly, free to the public stargazing party by the Hawaiian Astronomical Society.
Six other amateur astronomers, all of them members of the nonprofit, are in the throes of getting their equipment up and operational before the sun dips below the horizon. Meanwhile, groups of families and friends are setting out chairs, grabbing blankets from their cars, propping up tarps and filling coolers with soft drinks and water. All of this commotion is set to the background noise of playful children running around the small grassy patch near the parking lot.
Oahu isn't known to be Hawaii's premier island for looking up at the stars, a title often reserved for Maui or the Big Island, which are renowned for their high-altitude mountains and volcanoes. However, some of my fondest memories are sitting on my parents' porch right here on the North Shore and peering out at the Milky Way. This far out in the country, there aren't many city lights to muddle the stars, and if there are no clouds it's almost too easy to see the night sky's bounty of stars and the constellations they form.
Finding a spot on the lawn to throw down a towel and take a seat, I watch as the sun submerges below Oahu's northern skyline. Stars quickly begin illuminating the night sky with a glow and clarity that's hard to find in areas such as Honolulu or Waikiki. Fortunately, Dillingham Airfield, which has been the location for the organization's star parties since the early '90s, is 20 miles away from Honolulu, deep in the country district of Mokuleia, making it the perfect locale for stargazing. And unlike Haleakala on Maui and Mauna Kea on the Big Island, I don't have to drive up a mountain or brave frigid temperatures. A crowd of 20 or so star-partiers begins to form around the HAS astronomers and their telescopes, and I get in line and wait for my chance to take a peek into deep space.
"That's Sirius," says Barry Peckham, the owner of the telescope I'm peering into. "It's the brightest star in our sky." The white orb that I'm focusing my left eye on is glowing in intensity. Peckham's been a member of HAS since 1992, and found his love for astronomy in this very spot. "I took a three-day astronomy class at the Bishop Museum, and one night they brought us here," says Peckham. "The teacher let us run his telescope, let me move it myself, and that got me hooked. That was the end of that."
Watching Peckham and the rest of the HAS members interact with the kids, parents, college students and other star-party attendees, it's easy to see that they love sharing their unbridled passion for the stars. They're unapologetically enthusiastic about astronomical wonders and have a genuine curiosity and interest when they ask if you've seen the latest lunar eclipse. Around me, bright green laser pointers shoot out into the night sky, pointing to certain stars or planets as members give impromptu presentations and lessons in astronomy, like a PowerPoint presentation using the universe itself as its slides.
"It's really fun to share," Peckham tells me, as he adjusts his telescope to the coordinates of the Orion Nebula. As well as attending star parties, Peckham has been doing "sidewalk astronomy" in Waikiki for years. Placing his telescope near the Kapahulu Groin, across the street from the Honolulu Zoo, he's had hundreds of people gazing through his scope. "It's very fun, people get very happy and they talk to each other. You know how Waikiki is, with a bunch of strangers walking by each other," says Peckham. "All of a sudden they stop, they have something to talk about. It creates a little community on the sidewalk."
Walking back to my car to grab a jacket, as the nights on Oahu's North Shore can dip into the 60s, I eavesdrop on an older gentleman explaining to a group of kids how large the star Betelgeuse is (it's so large, in fact, that if it were our sun, it would swallow up Mercury, Venus, Earth, Mars and possibly Jupiter). The youngsters, entirely caught up in the epic magnitude of space, proceed to barrage the man with questions, and I'm reminded of what Hiroko Strobe, a longtime HAS member and wife of Andy Strobe, told me about astronomy: "The more you learn about it, the more you want to teach it. It's a wonderful thing."
Hawaii Astronomical Society Star Parties
Public Dillingham Airfield star parties are held once a month; two other public star parties are held monthly in Kahala and Kapolei. For more information visit the Hawaii Astronomical Society's website, hawastsoc.org, or email peter@besenbruch.info.