Explore the decks of the legendary USS Missouri at Pearl Harbor
A veteran of three wars, the last U.S. battleship ever built offers visitors a unique experience.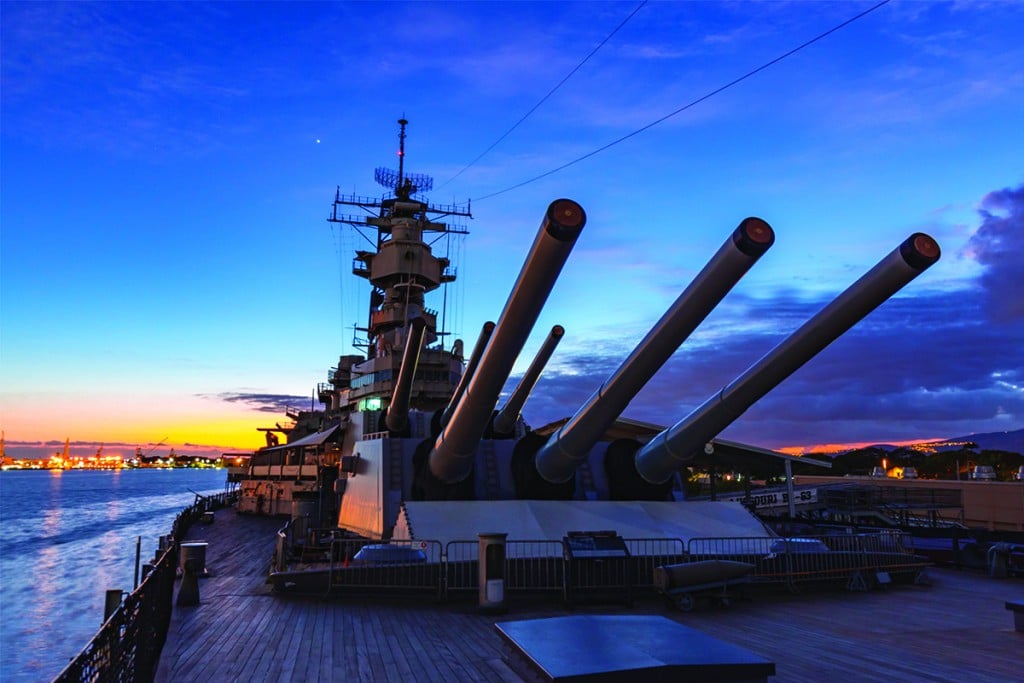 The Battleship Missouri Memorial, located a mere ship's length from the USS Arizona Memorial, completes a historical visitor experience that begins with the "day of infamy" that saw the sinking of USS Arizona in Pearl Harbor and ends with Imperial Japan's formal surrender aboard the USS Missouri (BB-63) in Tokyo Bay.
As our primary artifact, the Battleship Missouri Memorial serves as a constant reminder of our obligation to future generations. It is an inspiration to millions of visitors and it is quite simply America's last and most famous battleship.
The USS Missouri was the last battleship ever built. She was also the most formidable. Her astounding career spans five decades and three wars, from World War II to the Korean conflict to the Liberation of Kuwait.
On March 31, 1992, the Missouri was decommissioned for the final time. The last active service battleship in the world, her departing officers and crew were also the last battleship Sailors.
Though her active naval service is complete, her legacy is not forgotten. On January 29, 1999, after years of dedicated community effort, the Battleship Missouri returned to service as the centerpiece of Pearl Harbor, forever standing watch over her fallen sister ship, the USS Arizona.
The USS Missouri is a majestic living museum that provides a personal experience with one of America's most beloved battleships. The tours – either self-guided or with a knowledgeable tour guide – provide a unique glimpse into the USS Missouri's role in World War II, the Korean War and Liberation of Kuwait, as well as an opportunity to learn more about the crew who served aboard her during those wartime conflicts.
The nine 16-inch guns are the Mighty Mo's trademark feature and are the largest to ever be mounted on a U.S. ship. Each gun barrel is 65 feet long, weighs an incredible 116 tons, and can fire a 2,700-pound shell 23 miles with pinpoint accuracy.
Since opening in January 1999, the Battleship Missouri Memorial has attracted more than 7 million visitors from around the world with a fascinating tour experience showcasing the USS Missouri's unique place in history.
---
The Battleship Missouri Memorial is open daily from 8 a.m. to 4 p.m. (with extended hours in June, July and August from 8 a.m. to 5 p.m.) General admission, which includes choice of an optional tour, is $27 per adult and $13 per child (ages 4-12). Military, kamaaina (local resident) and school group pricing is also available. For information or reservations, call (808) 455-1600 or visit USSMissouri.org.