Explore the remote atolls of the Northwestern Hawaiian Islands on Google Street View
Thanks to Google's Street View Trekker, you can check out Papahanaumokuakea Marine National Monument's wildlife up close.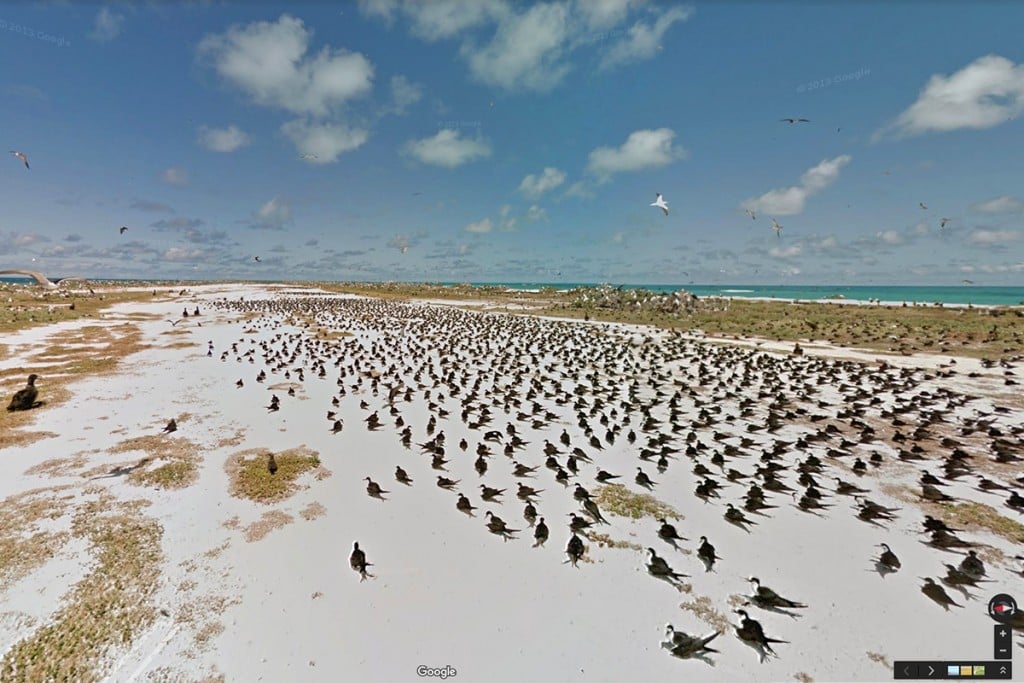 Most of us will never get a chance to visit the Papahanaumokuakea Marine National Monument, a massive, closed-to-the-public marine and wildlife conservation area that encompasses much of the Northwestern Hawaiian Islands beyond Kauai.
Thanks to Google Street View's Trekker site, however, you can now virtually stroll among the thousands of seabirds nesting on Tern Island or a Hawaiian monk seal basking on the golden sands of Laysan Island.
In July 2013, Papahanaumokuakea staff from the National Oceanic and Atmospheric Administration and U.S. Fish and Wildlife Service spent a week in the monument capturing thousands of 360-degree panoramic images of five locations using its Google Street View Trekker equipment. The more than 10,000 images captured, which went live online in December, span 41 miles of the monument, allowing millions of people to view this ecologically significant and stunningly beautiful place.
The Papahanaumokuakea Marine National Monument is the single largest conservation area under the U.S. flag, and one of the largest marine conservation areas in the world. It encompasses 139,797 square miles of the Pacific Ocean—an area larger than all of the National Park Serivice's sites combined.
Papahanaumokuakea was established by Presidential Proclamation 8031 on June 15, 2006, to protect the area's exceptional array of natural and cultural resources. The extensive coral reefs found in Papahanaumokuakea are home to more than 7,000 marine species, one quarter of which are found only in the Hawaiian Archipelago.
Many of the islands and shallow water environments are important habitats for rare species such as the threatened Hawaiian green sea turtle and the endangered Hawaiian monk seal. On less than six square miles of land, more than 14 million seabirds representing 22 species breed and nest. The monument's limited land area also provides a home for four species of birds found nowhere else in the world. The monument was designated as a United Nations World Heritage site in 2010.
"The goal of collecting this imagery was to show the world how special and important the remote islands and atolls of the Northwestern Hawaiian Islands are, in turn inspiring the next generation of conservationists and supports," said Kalewa Correa, NOAA's Mokupapapa Discovery Center manager and project leader, in a news release. "We hope that bringing the monument to the people through Google Street View will reach a larger audience but with minimal environmental impact, helping to preserve this amazing place for the future."

Papahanaumokuakea Monument staff member Kalewa Correa capturing images with Google Street View Trekker apparatus on East Island at French Frigate Shoals.
In 2012, Google Street View's Trekker site went live with imagery of Midway Atoll National Wildlife Refuge using more than 9,200 panoramic images of 60 different natural and historic sites along 21 miles of roads and paths on the island. Midway Atoll—also known by its Hawaiian name Pihemanu, and part of the Papahanaumokuakea monument—boasts the largest nesting colonies of Laysan and black-footed albatrosses in the world and supports the first successfully reintroduced population of endangered Laysan ducks, the most endangered waterfowl in the Northern Hemisphere.
To begin exploring Papahanaumokuakea Marine National Monument with Google Street View Trekker, click on the atoll links below:
• East Island at French Frigate Shoals
To learn more about the Papahanaumokuakea Marine National Monument, click here.