Explore the Rugged Beauty of Kauai at Kipu Ranch
This 3,000-acre private working cattle ranch offers one-of-a-kind off-roading tours through Kauai's stunning terrain.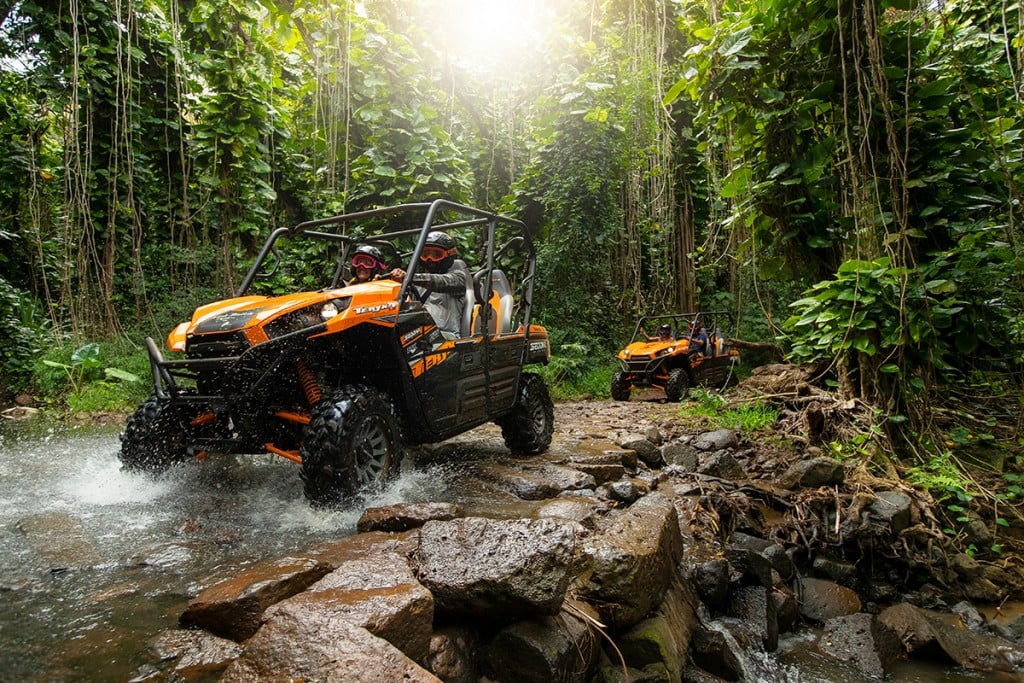 Kauai is famed for its endless supply of sandy beaches shaded by palm trees and flanked by volcanic cliff faces. But that's just scratching the surface. Most of the island is a wonderland of jungle forest, bamboo groves and waterfall-drenched mountains. If you want to see the real Kauai, you must venture off its beaches and explore the island's stunning interior.
But it can be tricky to navigate the Garden Isle's unruly jungle. That's where Kipu Ranch Adventures comes in. With a plush fleet of off-road vehicles built to navigate Kauai's challenging terrain, you can see more of the island without having to slog on foot for miles through the misty wilderness.
Formerly home to Princess Ruth Keelikolani, Kipu Ranch is a 3,000-acre private working cattle ranch tucked away on Kauai's southeastern shore. Punctuated by tropical forest, friendly livestock and dramatic emerald mountain views, the property was later acquired from Hawaiian royalty by William Hyde Rice, a prominent businessman and politician.
After a stint in sugarcane cultivation, the estate morphed into a cattle ranch on terrain so varied and vast that its acreage began to draw notice from Hollywood producers, who have gone on to feature it many times on the silver screen. The ranch's lush valleys, towering mountain peaks and untouched waterfalls and pools have appeared in blockbuster movies including The Descendants, Jurassic Park, Pirates of the Caribbean, Outbreak and Raiders of the Lost Ark.
As it turns out, all of that open space and diverse topography also make Kipu Ranch an excellent site for off-roading. Riding through lush green fields, under dense jungle canopy and along steep mountain ridges, guests of Kipu Ranch Adventures enjoy stunning vistas and a variety of scenery that never grows tired.
"The ranch has all the elements of an epic off-road tour," says Kipu Ranch Adventures co-owner Antone Teves. "In one moment you're going across this beautiful open pasture and you can see out far into the mountains and down into the jungle and then three minutes later you're dropping down into a tropical rainforest valley where you have to cross a stream and then you climb up out of it onto another viewpoint and three minutes later you're back down into the depths of the rainforest again. And there are all kinds of vines and ferns and stuff that looks like you're in Avatar."
Kipu Ranch Adventures offers a variety of tours.
The popular three-hour Ultimate Ranch Tour covers 12 miles and includes two ocean vistas, dramatic elevation changes and opportunities for photographs and sightseeing.
The four-hour Waterfall Picnic Tour includes visits to two waterfalls, a deli-style picnic lunch at the edge of a waterfall pool and ample time to swim.
If you're less intrigued by off-roading and more interested in gaining access to exclusive views of the property's peaks and valleys, old plantation roads, waterfalls and bamboo groves, the two-hour Jungle Waterfall Tour is your best bet.
Or, if you want to maximize your riding time, there's the VIP Triple Trail Expedition, which covers a whopping 17 miles. With fewer, shorter stops and more time spent behind the wheel, this tour allows guests to drive the ranch's custom-made fleet of $50,000 off-road vehicles that feature higher suspension, better ground clearance, bigger tires and race car-style seating. Visually, these vehicles look like Baja race buggies but the engines run quiet enough that guests can enjoy easy conversation while navigating across mud pits and streambeds.
"The guys that come for the Baja 1000—they aren't going to get that," Teves explains. "We're not racing and going wild on any of these tours. If you've never been off-roading, this is perfect for you. And if you love off-roading, then you've probably never done it in a place that looks like this."
The ranch's off-road vehicles can seat up to six passengers, making these cruisers perfect for families. All you need is a valid driver's license to get behind the wheel and there's plenty of opportunities to swap in and out drivers. Or, if you prefer to focus on sightseeing or taking photographs, you can sit back, relax and allow one of the tour guides to be your driver.
"If you've never experienced off-roading, people naturally tend to think of something that's aggressive and extreme and dangerous because they visualize off-roading as the stuff they see on TV," Teves says. "But that's so different from what off-roading can be. For us, off-roading is a means and a way to see locations that you just can't get to sometimes because the terrain is too difficult or it's too deep in the jungle."
Along the way, you're likely to encounter nene, the elusive Hawaiian goose and the official state bird of Hawaii, as well as cattle, pheasants and wild boars and pigs. Another special feature is the ranch entry drive, which features two rows of 212 stately century-old Cook pine trees, designating that the land was once owned by royalty.
"In Hawaii, so much is built up around beaches," Teves says. "But there is so much inland tropical depth to explore and you don't typically get to see that unless you're willing to hike or spend some real energy. Or you can get in one of our vehicles and drive right up to a waterfall and bring along your 7-year-old kid, grandma and grandpa—the whole family. Our menu of tours gives people a chance to pick something that fits their taste for adventure."
Kipu Ranch Adventures, 235 Kipu Rd, Lihue, Kauai, (808) 246-9288, kiputours.com