Fall in love with The Inn at Kulaniapia Falls
This Big Island inn wows guests with an up close and personal view of Kulaniapia Falls.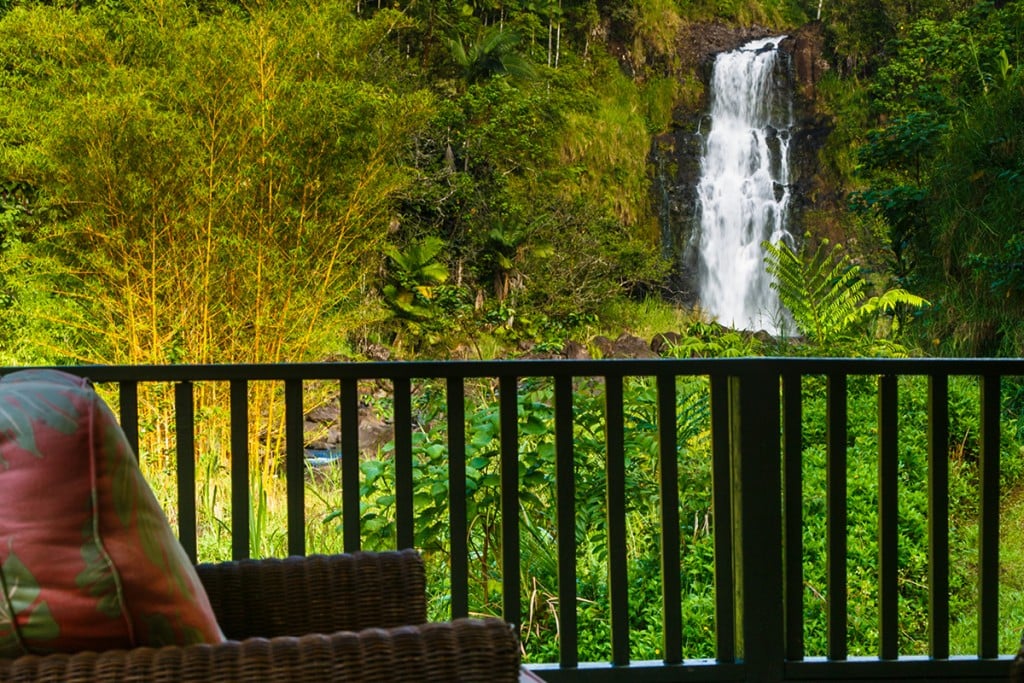 The waterfall is incredible. Up the mountain a few short miles past Rainbow Falls and downtown Hilo, The Inn at Kulaniapia Falls is spread across 22 acres on a cliff overlooking a 120-foot waterfall. It didn't take a two-hour hike through a forest to see this—instead, it was a short, scenic drive—and the best part is this waterfall is private, meaning no crowds. Chances are high you'll have it all to yourself when you walk the manicured pathway to the falls to stand-up paddleboard, swim or kayak in its large pool.
This spot is a hidden gem that many local residents don't even know about. It was a sight lost for more than 50 years after a sugar company obtained ownership of the land and let the vegetation cover everything, until its current owners took over and rediscovered it.
Though there are a handful of accommodations on the property, the residence is the main two-story structure where guests congregate for the included breakfasts and afternoon appetizers and to talk story with its friendly hosts. It also has the best view of the waterfall from its outdoor lanai (patio). The interior of the residence is made up of several rooms named after native plants and Hawaiian royalty. I'm staying in the room called the King Kamehameha Suite, which has—you guessed it—its own view of the waterfall, too. Similar to its exterior, the room is Asian-inspired with Japanese furnishings and a bright-red bed that feels silky soft.
Nighttime brings far off sounds of coqui frogs and the continuous roar of the plunging waterfall, which the inn has thoughtfully lit so guests can continue staring at it even in the dark, while gathering around tables on the lanai, playing one of the inn's board games, with a full moon shining down from above.
100 Kulaniapia Dr., Hilo, Hawaii Island, waterfall.net, (808) 935-6789.