Farm Fresh: Kahuku Farms on Oahu
Kahuku Farms shares the stories of its 125-acre family-run commercial farm and the rich agricultural history of Kahuku on daily tractor-pulled wagon rides through its fields.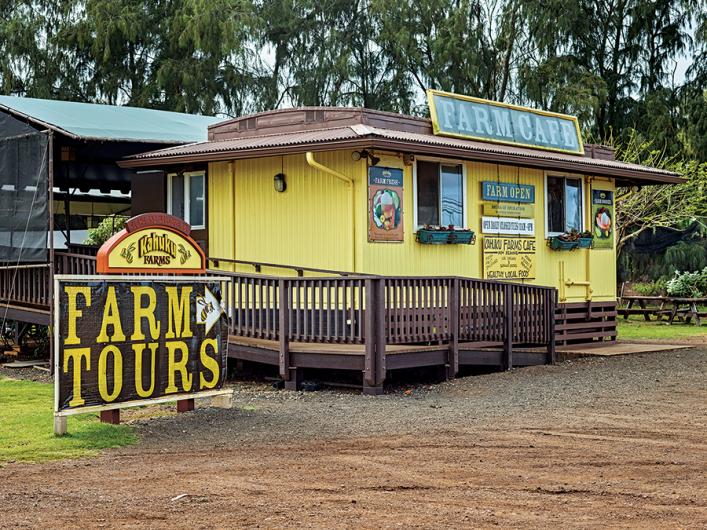 To inhale a butter-and-garlic sautéed shrimp plate lunch or sip a Tropi-Kale smoothie? That is the question. Kahuku Farms' roadside farm café—home of the aforementioned smoothie, made with kale, apple banana and vanilla grown on adjacent acreage—sits just outside its namesake town on Oahu's Windward Coast. It looks friendly enough, its bright yellow façade presenting a cheery contrast to the fire-engine-red walls of Romy's Kahuku Prawns & Shrimp stand just across Kamehameha Highway. The top seller at Romy's? Take a wild guess.
Thousands head to the shrimp stands of Oahu's northern tip every day. Less so to Kahuku Farms for its menu of fruit smoothies, grilled veggie panini and roasted vegetable soup, all packed with fresh-picked produce grown on the farm. Those who do stop by the five-year-old farm café, however, quickly learn they've chanced upon more than just a place to skip the shrimp crowd and nosh healthily.
Kahuku Farms shares the stories of its 125-acre family-run commercial farm and the rich agricultural history of Kahuku on daily tractor-pulled wagon rides through its fields. On tours, guests also learn about the importance of modern-day agriculture to Hawaii and challenges faced by farmers seeking to increase the amount of locally grown produce on Island supermarket shelves. All of this while sampling fresh-picked Kahuku Farms' bounty.
"We had this idea for a long time," says Kylie Matsuda-Lum, a petite 35-year-old whose great-grandparents began farming in Kahuku in the early 1900s. "We just didn't know if it would work."
Kahuku Farms' evolution into more than a commercial farm began a decade ago, when Kylie's father, Melvin Matsuda, helped her set up an on-property smoothie stand, with recipes using blemished papaya and banana not pretty enough for supermarket shelves. Melvin even envisioned clearing space for a small orchard nearby that would show customers how the smoothie ingredients were grown.
Flash forward 10 years and Kahuku Farms is all that and more. The café—converted from an old office trailer—sits on five acres of farmland, home to groves of apple banana trees, an orchard with starfruit and tangerine trees, rows of pineapples, fields of eggplant and asparagus, and tables of hydroponically grown lettuce. The café sources much of its produce right off the farm—from the star ingredient of its lilikoi (passion fruit) balsamic salad dressing to the vanilla beans seeded to make its ice creams and caramel toppings. A small stand at the café sells farm-fresh produce and value-added products such as honey-mango body butter cream, lilikoi butter and papaya-pineapple spread.
Income from the café and tours of the scaled-down working farm diversifies the revenue stream of Kahuku Farms, which grows Brazilian dwarf bananas, Laie Gold papaya, Japanese eggplant and luau leaves for laulau. Melvin runs the big farm while Kylie spearheads the rest of the operations.
Newly graduated from the University of Hawaii at Manoa with a degree in travel industry management, Kylie practically had to fight her parents on the subject of her working at the farm.
"When I told them I wanted to work here, they told me, 'You're crazy! You're not working here!'" she says, laughing. "They didn't want the lifestyle for me and my sister. Farming is too risky. It took years for them to agree to let me come back."
Kahuku Farms' roots date back to the turn of the 20th century and the partnership of two families that had emigrated to Oahu from Japan to work on sugar plantations. In the 1940s, Shinichi and Torie Matsuda started farming bell peppers, papayas, watermelons and bananas in Kahuku, while Masatsugu and Nora Fukuyama grew watermelons, eggplant, papayas and cucumbers nearby. Sons Melvin Matsuda and Clyde Fukuyama became friends, even traveling to Australia together to work on a watermelon farm for a year.
Back in Hawaii, the friends joined family farming forces with little more than a handshake, farming independently but sharing profits equally. Melvin grew watermelons, corn, bananas, bell peppers and bittermelon. Clyde focused on papayas, eggplant, watermelons and corn. The arrangement worked out so well, they decided to formalize the partnership in 1995, naming their collective ventures Kahuku Farms Inc. and Matsuda-Fukuyama Farms Inc.
When the last sugar mill on Oahu's North Shore, in Waialua, shuttered the following year, the pair expanded farming operations and crops, leasing land parcels throughout the area today totaling more than 300 acres. I learned a bit about this on Kahuku Farms' Smoothie Tour, a delightful excursion through the café's farm on a wagon, smartly outfitted with large umbrellas that block the sun or rain, hitched to a Holland T1510 tractor. (It's called a Smoothie Tour because it ends with a papaya-banana smoothie from the café.)
"There's a lot of history where we are today," says Judah Lum, our tour guide and Kylie's husband. He shares the history of the farm, points out its main crops and explains why agricultural tours like the one we're on are an important component of Kahuku Farms' future. "This is a way for us to stay in business for another generation. We are very blessed to have this happen."
Lum, who left a construction career to work on the farm, takes us through a very organized area of crops, home to everything from small Samoan coconut trees to a grove of açaí palms ready for harvest, offering detailed knowledge of each. We learn, for example, that Samoan coconut trees grow to about 25 feet tall and are safer to grow in public areas, and that the farm has no idea how to process its açaí berries.
"Maybe we'll just sell the berries by the pound and you figure out how to use it," says Lum, laughing.
He discusses the difficulties of growing papaya trees commercially, including the need to wait until each tree is about six inches tall so its gender can be identified via its flowers. Turns out, only trees producing hermaphrodite flowers—possessing both stamens and pistils—are worth keeping because they both self-pollinate and dependably produce more fruit. We also learn the challenges of growing bananas: the flowers have to be cut off first to allow the fruits to grow to market size, and each tree bears fruit only once and is cut down after harvest. Too-small bananas and blemished papayas wind up at the café, where they're blended into smoothies, baked into bread or turned into value-added products.
"Instead of wasting it, we use it," says Matsuda-Lum
Popular café menu items include a tomato-eggplant bruschetta topped with mozzarella, a housemade basil-macadamia nut pesto and a grilled veggie panini with balsamic herb mayo. Picnic and patio tables under tents behind the café are almost always filled, with both lunch-seeking visitors and area residents, especially on weekends.
"It was a lot of work," says Kylie, of the farm and café, while sitting at one of the tables and sipping a Papaya Power smoothie. "But we did it."
This feature was originally published in the March/April 2015 issue of HAWAII Magazine.