Find Fresh Produce at Maui's Quaint Kula Country Farms
Located on the mist-kissed hills of Haleakala, Kula Country Farms sells organic produce and juicy strawberries.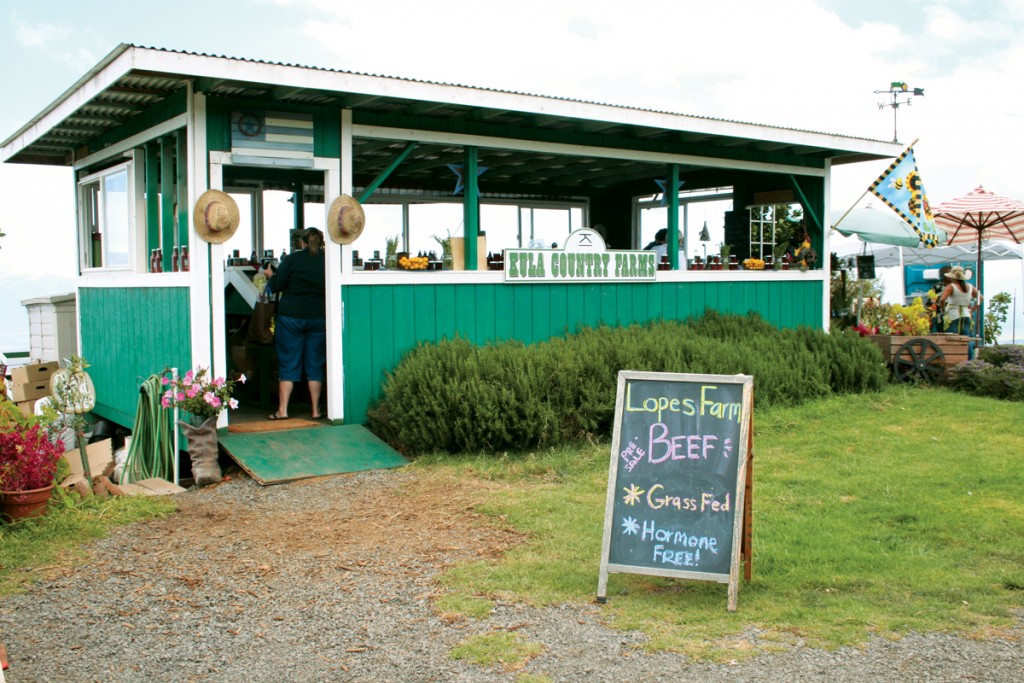 I was on an Upcountry Maui mission.
There were specific places I wanted—no, needed—to stop on a whirlwind day exploring the island's Kula district. I craved fresh cream puffs from Komoda Bakery in the cowboy town of Makawao. I had plans to stroll the fields of Alii Kula Lavender Farm, high up on the mist-kissed slopes of Haleakala.
My itinerary was down to the minute. No sudden stops. No deviations from the plan.
Then, as I was driving the two-lane Kula Highway—which climbs a leisurely 13 miles from the towns of Pukalani and Makawao to Maui's famed 'Ulupalakua Ranch—a roadside sign came into view. On it: a giant strawberry and the magic words, "Now Open."
"Fresh strawberries!" I squealed, swinging my rental car into a gravel parking lot and bounding on foot toward a small, enclosed fruit and vegetable stand with sweeping views of the coastline and vast farmlands of central Maui.
So much for the best-laid plans.
The produce stand with my promised fresh strawberries was operated by Kula Country Farms. The farm, whose 100 acres neighbor the retail stand, opened the roadside business in 2008, aiming to sell Maui-grown vegetables and fruits, if not specifically its own Kula-grown produce. The quaint, rustic Kula district on Haleakala's green west slope—hence the resident nom de plume "Upcountry"—is home to fertile farmlands growing every kind of crop from sweet, world-famous Maui onions and persimmons to heirloom tomatoes, wine grapes and multiple varieties of protea.
Kula Country Farms has farmed produce in the area since the 1940s. Then known as Monden Farms, its fields grew cabbage and onions until Chauncey Monden, great-grandson of the founders, took over operations about a dozen years ago. Monden expanded the variety of produce grown on the farm to include blueberries, Japanese and Korean daikon (radish), Chinese peas, string beans, beets, carrots, and spinach. He raised sweet corn in the summer and pumpkins in the fall. Monden also began growing the sweetest strawberries you'll find on the Valley Isle.
A proverbial candy shop for farm-to-table aficionados, Kula Country Farms' produce stand sells everything fresh from Monden's fields, along with Maui coffee beans, avocados and its own strawberry jam, barbecue sauce and freshly baked scones.
"We started the stand because we wanted to promote local agriculture and have a different venue to sell directly to customers so we could get to know them," said Monden, 37, who earned a finance degree from the University of Hawaii at Manoa but returned to his Kula hometown to raise his three children. "This is for our community and everybody else who wants to drive up here."
The stand's customers are mainly Kula residents. But an ever-growing number of Maui visitors are discovering Kula Country Farms through word of mouth and social networking services like Facebook and Yelp.
Twice a year—usually April and October—the farm allows visitors to pick their own fresh strawberries. During the fall, the farm opens its 5-acre pumpkin patch—watched over by a paniolo-style scarecrow—to literally thousands of residents looking for a fresh gourd or pumpkin for Halloween.
"It's packed, it's crazy," Monden said. "You can't find parking here."
Fresh strawberries in hand, I perused the stand's other produce, marveling at the vine-ripened tomatoes and sweet Maui onions attractively placed in baskets. Kula residents—all of them regulars—came and went, chatting with the farm staff about the weather and other local news. Just outside the stand, horses and goats grazed in the grass, completing, at least in my urban mind, the whole farm experience.
I imagined ditching my Honolulu life to live a quiet, laid-back existence on a Kula farm—perhaps growing papayas and picking strawberries before my morning yoga class. Monden just laughed.
"It's a lot of work," he said. "But when you plant something and it grows nice and somebody enjoys it, that makes it all worthwhile for us."