Find the perfect souvenir at these under-the-radar Waikiki shops
Tired of shopping malls? Look for these Waikiki retail gems, hidden in plain sight.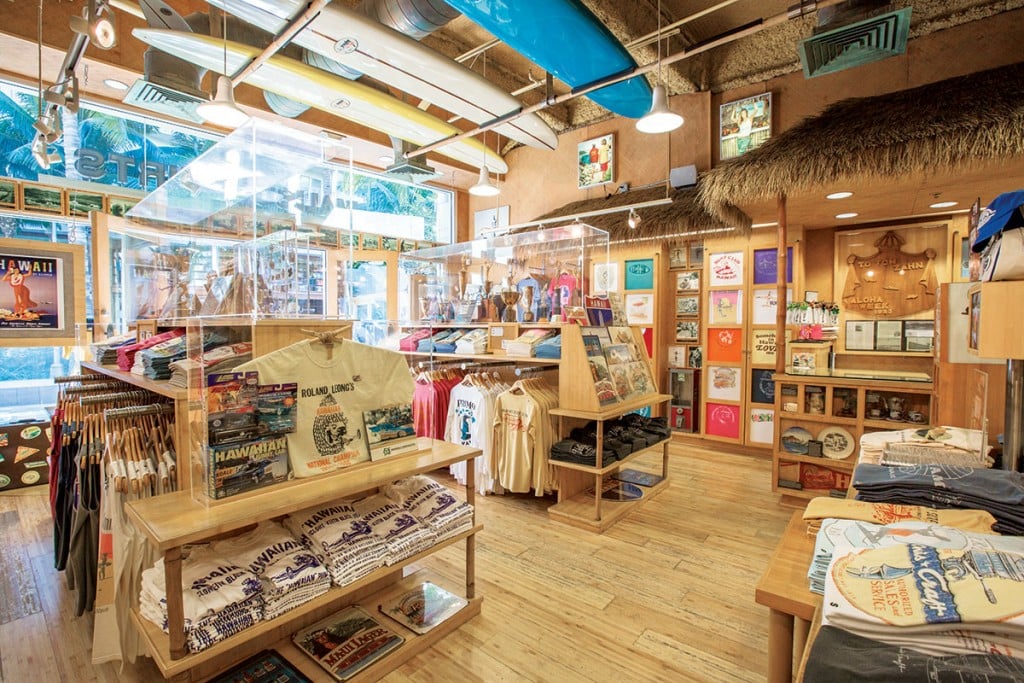 Perused all of Waikiki's luxe retailers and wanting to find something a little more special? Seek out these under-the-radar shops.
Malibu Shirts
Oahu-based Malibu Shirts may have a distinctly Californian name but its fashion ethos is rooted largely in Hawaii. Vintage Hawaii, to be exact, bringing back classic island travel and surfing, brands, logos and designs to its modern-day tees, hats and bags. Pan Am Airlines. Waikiki Surf Club. Velzy Surfboards. Maui Soda Works. Hawaiian Cyclone Drag Racing. They're all represented in Malibu's charmingly retro, surf-memorabilia-filled shop. Two locations, 226 Lewers St., (808) 923-0306, and 2335 Kalakaua Ave, (808) 926-2911, malibushirts.com.
Greenroom Hawaii
Showcasing Hawaiian surf culture and lifestyle through the art, fashion, books and accessories of local artists is the mission of Greenroom's unique art-gallery-meets-artist-collective. In addition to partnering with accomplished Hawaii artisans (Heather Brown, Kat Reeder and Clark Little, among them) to carry their works, Greenroom also provides a space and sales platform for talented new artists and designers to develop their skills. Two locations: Inside the Sheraton Waikiki at 2255 Kalakaua Ave., (808)-931-8908, and in the International Marketplace, second level, 2330 Kalakaua Ave., (808)-377-6766, greenroomhawaii.com.
Kona Bay Aloha Shirts
Kona Bay replicates the patterns, designs and cut of vintage aloha shirt brands for modern fans of the Hawaii-born fashion statement. Looking for an exact replica of one of the Duke Kahanamoku-label aloha shirts sported by Montgomery Clift in "From Here to Eternity?" Kona Bay's owner, a longtime fan of the Oahu-lensed film, always has several in stock, always made in Hawaii. 444 Ena Road, (808) 223-3390, konabayhawaii.com.
Lawson Station
The Japanese-born alternative to Waikiki's ABC Stores, Lawson Station offers far less product variety than its larger, more ubiquitous competitor. Instead, Lawson wins us over with its ever-cheerful staff and obvious affection for fulfilling the convenience needs of Japanese visitors. In addition to onigiri rice balls (musubi, to you and me), takeout sushi and spicy ahi bowls, we appreciate the hot oden (Japanese-style stew) items always conveniently cooking up, literally, right near the register. Two Waikiki locations, at the Sheraton Waikiki, 2255 Kalakaua Ave., (808)-926-1701, and at the Moana Surfrider, 2365 Kalakaua Ave., (808)-926-1819, hawaiilawson.com.
Malie Kai Chocolates
Waialua, Oahu-grown cacao is the main ingredient in the luxurious, gourmet chocolate bars of Malie Kai. Other ingredients include ground Kona-grown coffee beans, Big Island-raised tangerine peel and Maui rum. The chocolatier's sole retail location for all of its wares is in Waikiki. Helpful hint for omiyage shoppers: Malie Kai chocolate bars don't take up all that much space in your luggage. Royal Hawaiian Center, 2201 Kalakaua Ave. (808) 922-9090, maliekai.com.
Bob's Ukulele
Whether you're searching for a premium Kamaka or KoAloha ukulele, looking for guidance on purchasing a starter uke or just looking to learn a few chords or talk story on all things ukulele, Bob's is the place for you. The staff is knowledgeable about everything they sell, ever gracious and eager to teach. Ask nicely and they'll even play you a tune or two. Royal Hawaiian Shopping Center, 2201 Kalakaua Ave, (808) 372-9623, bobsukulele.com.
Newt at the Royal
You'll find lovely retro aloha shirts and tropical sportswear at Newt, but the compact, wood-paneled boutique's raison d'être is finding the perfect hand-woven-in-Ecuador hat from legendary Montecristi Panama Hat to fit your head. Owning an original Montecristi isn't inexpensive. But if you want the real deal, Newt's your place. Royal Hawaiian Hotel, 2259 Kalakaua Ave. (800) 630-4287, newtattheroyal.com.
Truffaux
The sizable headwear collection of France-based Truffaux features both traditionally designed Panama hats and the brand's own modern take on the familiar classic design. Though handcrafted by Truffaux, the hats here are far less expensive than the $500 to $15,000 you might pay for an original Montecristi. It's the next best thing to the real deal. 227 Lewers St., (808) 921-8040, truffaux.com.
Fighting Eel
Oahu-based women's fashion brand Fighting Eel has only three boutiques in Hawaii and one of them is in Waikiki. Is it worth seeking out? Definitely. Especially if you're looking for modern, made-in-Hawaii women's clothing designed for wearing in the Islands. Bonus? Fighting Eel's designs wear well even if you can't be in Hawaii. Royal Hawaiian Center, 2233 Kalakaua Ave., (808) 738-9295, fightingeel.com.