Find three of the world's best tropical gardens on the island of Kauai
Kauai's stunning Allerton and McBryde Gardens and Limahuli Garden & Preserve are well worth a visit.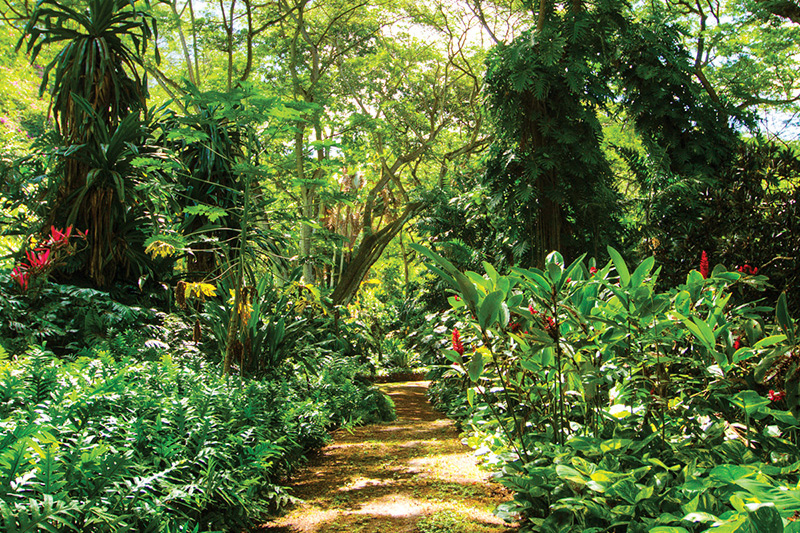 *Editor's note: As of April 2018, Limahuli Garden is CLOSED until further notice due to the historic flooding on Kauai. Find out more, or make a donation to help recovery efforts.
There are only five National Tropical Botanical Gardens (NTBG) in the world, and today I'm on an old cane-haul road headed to two of them.
Our motorized tram rattles along the worn red-dirt road on Kauai's sunny south shore. Before long, a stunning coastal vista of Lawai Bay welcomes our descent into the lush greenery of Lawai Valley, home to the NTBG's Allerton and McBryde Gardens.
Allerton and McBryde are located on the former Lawai Valley estate of millionaire philanthropist Robert Allerton, who petitioned Congress to pass the 1964 act creating what would eventually become National Tropical Botanical Gardens. Allerton Garden is the NTBG's founding garden, landscaped and meticulously designed over five decades, in part by the man who gifted it and whose name it bears. It is one of four National Tropical Botanical Gardens in Hawaii.
Three are right here, on Kauai. There's Allerton Garden, on the makai, or ocean end, of Lawai Valley. McBryde Garden, focused on the scientific research of native plant life, is on the mauka, or mountain end of the valley. On Kauai's North Shore, there's Limahuli Garden & Preserve, a native Hawaiian cultural garden.
In addition to Kauai, NTBG has a garden each near Hana, Maui (Kahanu Garden) and Biscayne Bay, Fla. (The Kampong).
The mission of the nonprofit National Tropical Botanical Garden organization is to perpetuate the survival of the plants, ecosystems and cultural knowledge of tropical regions. With no government funds, the gardens of NTBG survive on monies from private donations, trustees, visitor fees, and public and private grants for garden upkeep and projects.
NTBG's Kauai gardens are visually stunning and endlessly educational—each a triumph of ingenuity and determination, each a continual work in progress. With their ever-changing flora and landscaping, not to mention sheer diversity, they are worth a visit even on an island teeming with natural visual splendor.
At the bottom of Lawai Valley, a right turn leads to McBryde Garden. Our tram turns left, toward Allerton.
"Allerton is our art and beauty garden," says our guide, Anela, as we drive through a canopy of tall, nonnative trees that concurrently seem to have no reason yet every reason to be here. "The Allertons were much more interested in the subtleties of plants. Everything you'll see in the garden is their vision … their version of Shangri-La."
The Allertons were Robert Allerton and John Wyatt Gregg, an architectural student who was the elder Allerton's longtime companion and, later in life, his adopted son. The two were charmed at first sight by Lawai, which had been a favorite vacation spot of Hawaii's Queen Emma. Later purchased by McBryde Sugar Co., the valley was being used for sugar and pastureland.
But the Allertons, both fascinated with garden design, landscape architecture and art, had a different vision for Lawai when they purchased it in 1937.
"The Allertons wanted to leave things better than they found it wherever they went," says tour program manager Walter McCoy. Before leaving for permanent residence at Lawai, the Allertons had handed over to the University of Illinois their Chicago mansion and its famed, methodically manicured formal gardens. "The Lawai garden then became their passion … a kind-of 'sunset of their lives' project and last real concerted effort to leave something behind."
The Allertons labored alongside a revolving cadre of gardeners for the next half-century to realize their vision for the Lawai acreage. Allerton Garden is, at heart, a natural canvas of that shared vision—eclectic in design and replete with Hawaiian, Pacific Island and Asian plants the pair collected on their world travels.
It is also a garden of many smaller gardens. A collection of flowers grown for their beauty and fragrance features a spectacular walk-though tunnel of heliconia, ginger and other species in full bloom. Foliage in other gardens is accented with serpentine fountains, reflecting pools, waterfalls and assorted sculptures, creating a multitude of oases within an oasis. Turn a corner and a garden of towering bamboo appears, its tall shoots creaking above a moss-covered, meditative Buddha.
Anela introduces us to "the stars of the garden." By that she means actual movie stars: a 60-year-old stand of giant Moreton Bay fig trees featured in 1992's Jurassic Park. The trees' massive, above-ground roots served as an ideal hiding place for the film's human stars running from Tyrannosaurus Rex. In real life, the trees seem equally prehistoric.
McCoy later mentions still more hidden tunnels, intricate stone staircases, structures and "insane" trails the Allertons placed all over Lawai Valley, yet to be cleared and opened to the public. In addition to the Allertons' former beachfront residence, the valley's structures include a hidden teahouse and the "Phoenix House," high on the cliffs of Lawai, with unmatched views of the valley below.
"There are trails above the valley floor with killer views that would knock your socks off," says McCoy, smiling.
A day later, I am with McCoy again, near a large natural waterfall in McBryde Garden, at Lawai Valley's mauka end. The waterfall and an aquifer beneath it feed Lawai Stream, which keeps both McBryde and Allerton gardens green and lush.
Purchased in 1970 by NTBG from the McBryde Sugar Co., McBryde Garden's 252 acres are three times the size of 85-acre Allerton Garden. Though transected by picturesque Lawai Stream and luxuriant with plant life, McBryde Garden's mission is more than ornamental.
"We call the Allerton the candy store. We maintain it per the Allerton Trust's rules, which is to keep it exactly as it was left us," says McCoy. "But this is where the real work is being done. McBryde Garden is our conservation and scientific research garden—the hub of our operation."
The national headquarters for all of NTBG's gardens, McBryde is home to more than 6,000 species of plants and trees gathered from throughout the tropics. You'll find these on a self-guided tour of the garden's vast acreage and in its large plant nursery and horticulture research center.
"At McBryde, we basically cover three different groups of Hawaii plants—native Hawaiian plants, Polynesian-introduced plants and what we call modern introductions, which is all of the plants brought here after Capt. James Cook's arrival in 1778," says McCoy.
In the garden's 40-year existence, McBryde's research staff has discovered dozens of new native Hawaiian species and species once believed extinct. The seeds of native Hawaii plants on the endangered species list are precious, and McBryde Garden keeps them safe in a hurricane-proof seed bank. In McBryde's micropropagation lab, seeds and cuttings—many from plant species already extinct in the wild—are grown for eventual return to the wild.
"Over 10,000 plants leave the nursery annually that either are, or were, on endangered species lists," says McCoy. "We're reforesting areas not just on Kauai but throughout the Hawaiian chain."
Other labs at McBryde study tropical plants for use in medicine.
After stops at the garden's nursery, palm collection and flowering tree and tropical fruit orchards, we cross Lawai Stream via a bamboo bridge and enter McBryde's "Spice of Life" garden. The fragrance of cinnamon, clove, fennel and dill suddenly fills the air, comforting and wonderful.
A few days later, on Kauai's north shore on the other end of the island, I am walking through one of the few native Hawaiian forests in the Islands, at Limahuli Garden & Preserve.
The gardens start a quarter mile from where all roads end, in remote Limahuli Valley. Here you can walk among some of the rarest and most endangered plant life in Hawaii: mamaki, a nettle ancient Hawaiians once used to make a soothing tea; loulu, the only palm genus native to Hawaii; young papala trees, which will eventually reach heights of more than 20 feet, providing a canopy for other native species.
The forest is as native to the area as the majestic cliffs of the Napali coast that surround it, including Mount Makana, whose profile stood in for the mysterious island of Bali Hai in the movie musical South Pacific. But this forest isn't nearly as ancient as the foreboding Makana.
It is actually only four years old—a modern recreation of a healthy native Hawaiian rain forest, and an anchor of Limahuli Garden & Preserve.
"Our focus here is the native culture and the native ecosystem of this valley, and working to restore that," says Limahuli director Kawika Winter, walking the garden beside me. "Nobody gets a chance to walk through a truly native Hawaiian forest anymore. Most of them have been taken over by invasive species, or been cut down and developed."
Other remaining native forests in the Islands are inaccessible to all but the hardiest hikers. "Limahuli offers an opportunity to walk through an actual top-to-bottom native forest," says Winter.
The garden section of Limahuli is only 17 acres. But the Limahuli Preserve stretches another 983 acres into the valley's deepest recesses. That's where much of NTBG's real restoration here is being done. Winter leads a small staff, working valiantly to repopulate the kind of native forest that once comprised the entirety of Limahuli Valley.
Winter estimates that the preserve has upwards of 40 nearly extinct species—some of them found only in Limahuli, some down to a bare handful of individual plantings.
"They are the biological jewels of this valley," says Winter.
Restoring the valley's native flora was the dream of Limahuli Garden founder Juliet Rice Wichman, who acquired 1,000 acres of the valley in 1967. Wichman donated the gardens to NTBG in 1976. Her heirs donated the remaining acreage in 1994 to establish Limahuli Preserve.
A walk through Limahuli Garden reveals a "canoe garden," comprised of essential plants Polynesian voyagers packed delicately in their canoes for the long journey to Hawaii, including uala (sweet potato), maia (banana), niu (coconut palm), awapuhi (shampoo ginger) and kukui (candlenut). The canoe garden also has an operating series of irrigated taro terraces, or loi kalo.
Iconic Hawaii plants that are actually nonnative (pineapple, plumeria, papaya, orchids) find a home in Limahuli's "plantation-era garden." There are even uncovered stone arrangements believed to be the remnants of home sites built by Limahuli's first Polynesian settlers.
Limahuli Stream, one of Hawaii's last remaining pristine streams—virtually untouched by man from mountain to ocean—is home to all five species of native Hawaiian freshwater fish, called oopu.
I finish my walk high on Limahuli Garden's valley trail, with Mount Makana rising majestically before me. Makana means "gift" in Hawaiian.
After many hours spent in each, I've discovered that the gardens of NTBG really are gifts—from farsighted individuals who wanted these pockets of nature preserved for all of us to enjoy far beyond their lifetimes. Months after visiting, I'm still often struck by the urge to get myself back to the gardens.
Limahuli Garden & Preserve
5-8291 Kuhio Highway, Haena
(808) 826-1053
www.ntbg.org
Allerton Garden
McBryde Garden
4425 Lawai Road, Koloa
(808) 742-2623
www.ntbg.org