First humpback of Hawaii whale watching season spotted off Maui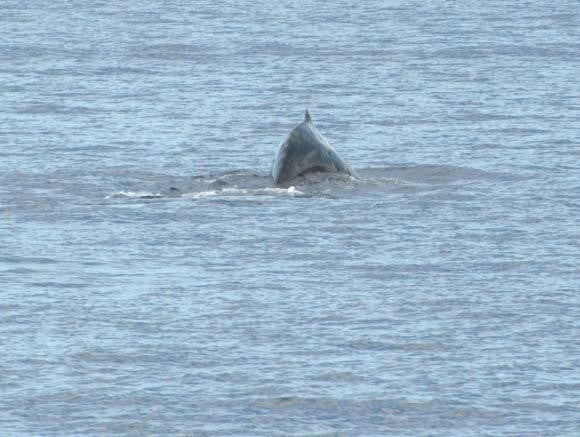 Hawaii's largest winter vacationers are back!
The Pacific Whale Foundation has recorded its first humpback whale sighting of the 2010-2011 season—spotted yesterday morning, two nautical miles off Maui's west side, between Maalaea and Lahaina. The sighting of the lone subadult humpback (pictured, above) marks the start of Hawaii's annual humpback whale watching season.
After summering and feeding in the coastal waters of southeastern Alaska, thousands of North Pacific humpback whales spend the fall making the 3,000-mile journey south to mate, give birth and nurse their calves in warmer waters. The Hawaiian Islands have traditionally drawn the largest population of humpbacks annually—more than 10,000 to 12,000 per season.
The whales arrive throughout the season, moving in and out of Hawaiian waters through the winter. Peak humpback whale viewing months in Hawaii are January through March. The last remaining mothers and their calves usually depart our Islands for Alaska by early May.
The first humpback whale of this year's season was spotted on the same day as last year's—October 20. Pacific Whale Foundation records from the last dozen years report the earliest arrival of the first humpback on September 16 in 2000, and the latest on November 11 in 2005.
The Maui-based Pacific Whale Foundation said that yesterday's sighting was called in by Captain Chris Howard of the private catamaran Alii Nui. Following up on Howard's call, the foundation's Ocean Explorer vessel located the whale at 11:15 a.m. A second Pacific Whale Foundation vessel, the Ocean Quest, spotted the subadult whale again in the same location, chilling at the surface, at 12:45 p.m. yesterday.
Pacific Whale Foundation founder and chief scientist Greg Kaufman said subadults are often the first humpback whales spotted each season.
"Subadults are whales that have not yet reached adulthood and sexual maturity. They appear first, along with mothers and their yearling calves," said Kaufman. "Mature males and females arrive later, followed by pregnant females."
The Pacific Whale Foundation is a nonprofit dedicated to the protection of whales, dolphins, coral reefs and the ocean. In addition to educating the public about the humpbacks at its Maui Discovery Center, the foundation also offers whale watch tours throughout humpback season from Maalaea and Lahaina. For more information, visit the Pacific Whale Foundation website. Of course, there are dozens of other commercial whale watch cruises offered statewide, all season. For a list of tour operators, check out our HAWAII Magazine Complete Hawaii Activities Guide and click the category "Boat Tours & Whale Watching."
Want the lowdown on a handful of guaranteed Hawaii spots for catching a glimpse of the humpbacks from the shore? Check out HAWAII Magazine's Landlubber's Guide to Whale Watching in the current November/December 2010 issue, on sale now nationwide, or available by digital subscription (viewable on iPad or mobile phone).