Five Questions with South Pacific's Mitzi Gaynor on Kauai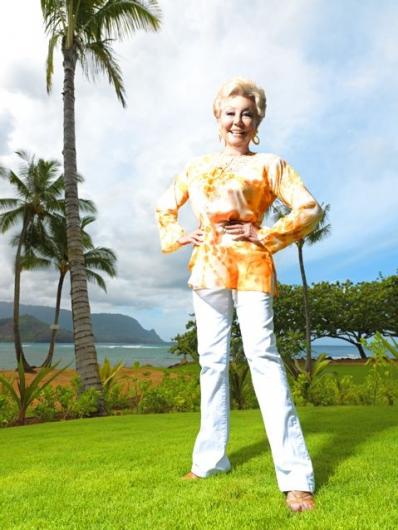 Mitzi Gaynor was back on Kauai, for the first time since filming South Pacific there in 1958.
Now 78, Gaynor is still glamorous, vivacious—and whole a lot of fun to talk to.
We sat with Ms. Gaynor ("Mitzi, please," she told us) in the spanking new lobby bar of the St. Regis Princeville Resort.
Right outside was the bluff where she filmed the "Some Enchanted Evening" scene with Rossano Brazzi. In the distance was the beach where she sang "I'm in Love with a Wonderful Guy."
After we got her to stop asking us questions ("If we're going to be friends, you need to tell me about yourself," she said), we prevailed upon her to answer five questions of our own.
HAWAII: You haven't been back to Kauai since South Pacific, 51 years ago. Why so long? Were we mean to you the first time?
GAYNOR (laughing): Oh God, no. Because we'd go to Honolulu and all the friends we made here would, say, We haven't been off the island for a while, and come visit us there. I always had something to do in Honolulu, an personal appearance or something, so I never had much time. We figured if we ever came back over here, we'd never leave.
HAWAII: After 50 years, did you notice anything had changed on Kauai?
GAYNOR: Not a thing! Except that the limousine they picked us up in seemed bigger than the whole island used to be. Now, you can fly here direct from Los Angeles, and the airport has like 20 gates.
I'm going to tell you what it was like. Back then, we had to wait a couple of days in Honolulu, because the plane to Kauai only flew once a week or so. I think they had to wind up the rubber bands.
When we got to the island, there was a green pasture, and they just put the plane down (Gaynor claps her hands loudly) right in the middle of it.
We stayed at the Coco Palms Hotel, which is just shacks with those corrugated tin roofs. The coconuts would go bang on the roof, and the first night Jack (her husband, who passed away in 2006) leapt out of bed, What?!
Of course, when we'd arrived, all the ladies were wearing stockings and girdles and little suits and hats and purses and gloves to match, it was 1958. The minute we felt the tradewinds, we went native. Everything came off and we went immediately to the Lihue General Store, and bought every muumuu there.
HAWAII: Great Kauai memories?
GAYNOR: This place changed my life. It changed Jack and my lives. The attitude, the warmth and the honesty. There was so much giving here.
Aloha is a such a comfort, such a spiritual thing.
People would know what time we'd go to work in the morning. We'd come up from the highway to here from the Coco Palms and people would be waving out the windows and sometimes hand us cut pineapple as we went by. It was fabulous, just fabulous. Kids would bring us boiled peanuts after work. Those kind of things change your life.
HAWAII: South Pacific meant a great deal to Kauai—to a lot of people. The musical's still alive. Did you see the Lincoln Center revival?
GAYNOR: Yes, it was marvelous, lots of memories. I love the cast. Kelli O'Hara (who played Gaynor's former part, Nellie Forbush) was wonderful. You know Loretta (Ables Sayre)? She's from Hawaii.
HAWAII: Yes, for years.
GAYNOR: Angel! She was supposed to be here this weekend. But I guess she couldn't because she's still in the show. Loretta sings "Bali Hai" better than anyone I've ever known. I told her that. When she's on that stage, you don't look at anybody else. If you're in touch with her, tell how disappointed I am she's not here. I'm her biggest fan.
HAWAII: You've had such a long career, it's impossible to talk about it all. But one moment intrigues me. You were on Ed Sullivan in 1964, between sets of the Beatles.
GAYNOR: Funny story. We finally agreed I'd do Ed Sullivan's show. I asked who else was on and Ed said Allen and Rossi, so and so and so and so, and a rock 'n' roll group from Liverpool called The Beatles.
I said, Ed, don't you know. Rock 'n' roll is dead. Which it really was in October 1963, when I met with him.
But by February 1964 when we did the show, everyone had gone from The Beatles Who? to The Beatles Wo-wo-wo!
People were calling me up at 2 a.m., saying we've been friends for years, you have to get autographs for my daughter.
When it was time to do the show, I still have top billing, because back in October I was still a bigger deal than the Beatles. (Laughs.)
The boys were so adorable, they said they were glad to be on a show with Mitzi Gaynor, and they asked for my autograph. We became friends.
You'll remember their haircuts. During rehearsals, my choreographer stopped everything and said, What's that girl doing on the stage? Get her off.
So I told him, That's no girl. That's Paul McCartney. And he turned to me and said, I don't care who she is. Get her off.