Flavors of Honolulu. I eat thru it. You can too.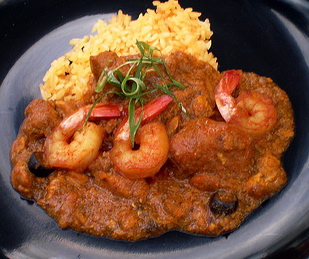 With that in mind I roused my appetite and strolled over to Flavors of Honolulu on Sunday. The three-day food festival—a fundraiser for non-profit Abilities Unlimited—took place near downtown Honolulu on the grounds of the Frank F. Fasi Civic Center.
I had a lot of fun. An Earth Wind & Fire cover band was rocking the grounds. My dad walked the event contently with a plastic cup of merlot. Me? I sprawled out on the lawn, pleasantly full, after my round of voracity.
The 13 local restaurants with booths were solid—everything from Hawaiian fare to French crepes to pastele stew to shave ice. Established favorites (Bali by the Sea) and national chains (Senor Frog's) were there. But what really grabbed my attention—and appetite—were the small local hole-in-the-wall places that I would never have heard of otherwise.
My favorites?
• India Café's chicken curry with jasmine rice and chickpeas. (The slow-cooked chicken just about fell off the bone. I loved the hint of cinnamon.)
• Kimo's pastele stew with Sanoran spiced shrimp (top) from Mark's Specialties. (I've never had the Puerto Rican delicacy pastele as a stew. The blend of spices popped in my mouth.)
• Garlic Ahi with sweet wasabi sauce from Koi Catering and Takeout. (Fresh fish, garlic-crusted on a bed of gourmet greens. Wasabi gave it some bite.)
• Romeo et Juliette crepe with fresh sliced strawberries, bananas and Nutella from Le Crepe Café. (Fresh fruit and chocolate-hazelnut Nutella … what's not to love?)
• Bananas Foster Cheesecake from Planet Hollywood. (Yeah, I know … Planet Hollywood, not exactly a hole-in-the-wall. But I couldn't resist.)
Flavors of Honolulu is over, alas. But my can't-miss food picks are still obtainable if you're up for some Honolulu exploration. Trust me, you won't be disappointed.