Fly like an iiwi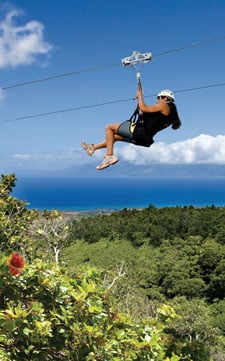 It's the second day of the new year. The most adventurous thing I've done all morning is order a venti rather than a grande Americano at Starbucks.

I'd much rather be flying above the West Maui forest canopy.

On Jan. 21, Kapalua Resort opens what it swears is one of the longest zipline courses in North America, at its grandly named, brand-new Kapalua Adventure Center and Mountain Outpost.

What's ziplining?

Picture being strapped like a paraglider in a bucket seat connected to a pulley zooming down an inclined cable suspended along a mountainside. As gravity takes hold, it pulls you faster and faster — up to 40 m.p.h. — down the slope over deep ravines and lush tree canopies.

Located in the mountains 1,500 feet above the Kapalua Resort, the Adventure Center and Mountain Outpost doesn't just have one zipline. It launches with eight, adding up to nearly two miles of fast-moving suspended suspense.

The Outpost's ziplines allow riders to view plant and bird life with the least disruption to the ecosystem. (Meaning: No North Face soles crushing rare plant and animal life out of existence.)
Mountain Outpost adventurers make their shaky way over a couple of suspension bridges, challenge ropes course and a four-station climbing tower.

Kapalua Resort will use 10 percent of profits generated by the Adventure Center to help preserve the Puu Kukui Watershed Reserve — home to rare native plants and insects, and the resort's and West Maui's prime source of drinking water.

Sign us up.

More information here.