Fly over the Pacific in Pearl Harbor Aviation Museum's New Flight Simulators
Buckle up in one of the museum's cutting-edge contraptions— and barrel roll, soar and turn in all directions as you duke it out over the Pacific Ocean.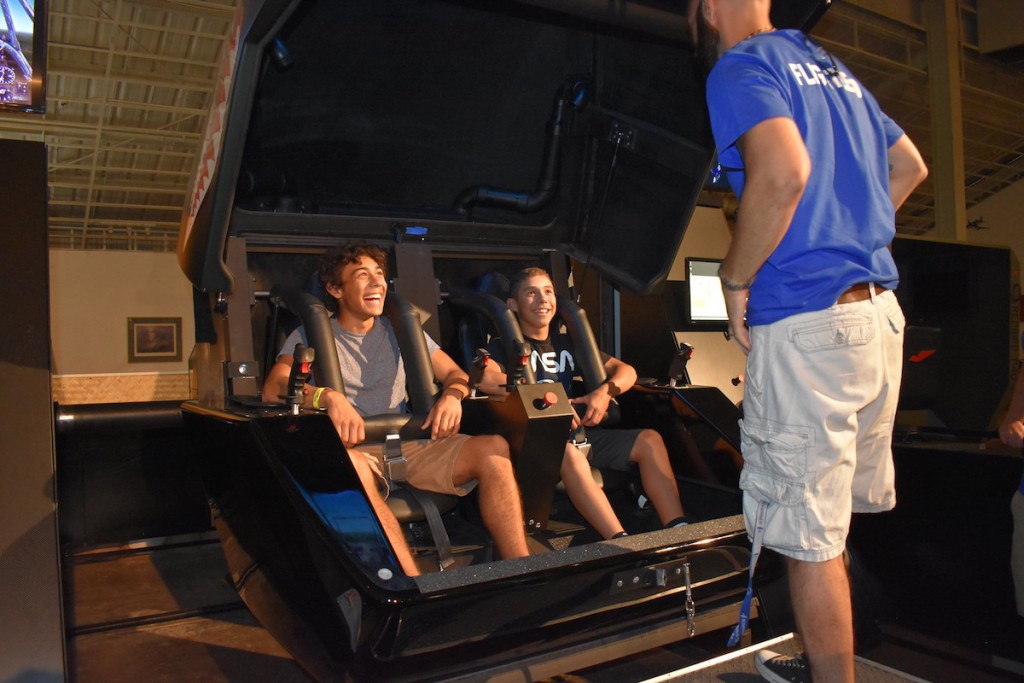 Always wanted to fly your own plane but not sure if you have what it takes for flight school? Well, no worries—you can still take to the skies on the new Fighter Ace 360 Flight Simulators at Pearl Harbor Aviation Museum.
The two simulators at the World War II history museum can each fit two passengers and can rotate 360 degrees in any direction—meaning you can barrel roll your heart out, forward, backward and side to side.
Or not. The choice is all yours as the pilot in a WWII dogfight over the Pacific. The simulators put you high above the Islands—with your feet hardly leaving the ground—where you can shoot, flip and soar over your targets in a fully immersive experience.
"It comes as close to flying as we think you can get," Elissa Lines, the museum's executive director, says.
And the war in the Pacific doesn't have to be your only destination. One of the simulators' great features is their ability to run different simulations. You can crank up the adrenaline and try Quantum Star Fight, a space battle where you can cruise around asteroids and spin past enemy targets. Or there's the less intense roller-coaster simulator that takes passengers up and down an old-fashioned wooden ride, free from the 360-degree spins in the other simulations. It's all up to you.
Only 150 tickets are available daily for the simulators, which were installed in July. You can buy tickets at the Pearl Harbor Aviation Museum for $10.50 a person, or $21 if you want to ride solo in the simulator, controlling both the steering and shooting.
Access to the museum on Ford Island is via shuttle, which leaves about every 15 minutes from the Pearl Harbor Visitor Center (1 Arizona Memorial Place, Honolulu) until 5 p.m. $25 for general admission to the museum ($12 for ages 4 to 12, $15 for adult residents and military,$10 for child residents/military dependents), 9 a.m. to 5 p.m., (808) 441-1000, pearlharboraviationmuseum.org.