Food, family fun, fresh fish at this weekend's Hawaii Fishing & Seafood Festival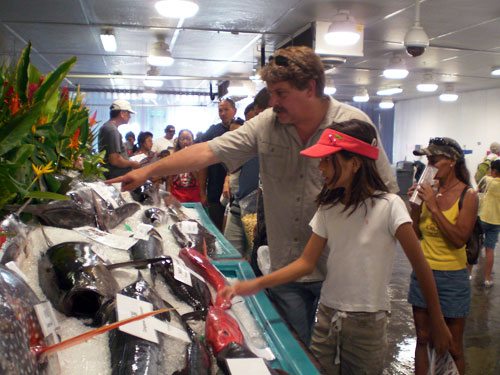 Fishing is big in Hawaii, and that's why nearly 20,000 people show up for the annual Hawaii Fishing & Seafood Festival, happening this Sunday at the Honolulu Fishing Village at Pier 38.
You don't have to be a fisherman to enjoy this festival. In fact, the ratio of fishermen to foodies definitely weighs in favor of the food lovers. There are plenty of food booths, with an array of local food and seafood industry vendors.
If you're simply curious about how fish gets to your plate, you can tour a fishing boat and the place where Honolulu's famous fish auctions happen on weekdays. A definite must-see is the throw net demonstration, a technique reflecting the fishing methods used by early Hawaiians.
There will be live fishing demos and workshops ranging from "Tuna Quality and Safety" to "Dive Safety." Plus, there's entertainment, cooking demonstrations, an auction of fish paintings and plenty to do for the whole family.
Our favorite part of the fest in years past: On most mornings, the fishing boats that pull in and the fish auction require a massive ice machine, which on the day of the fest is fired up to create a large pile of "snow" for the kids to play in.
Admission and parking is free. The fest runs from 9 a.m. to 4 p.m. Free valet parking is available at the pier on a first come, first served basis, but it fills up fast. Your best bet is the free parking with shuttle service from nearby Honolulu Community College.
For a full schedule of fest events, click here. For more info, click here.