Forget the Buffet: Shor's New AYCE Breakfast Is Brought to Your Table
The Hyatt Regency Waikīkī's signature buffet has a reimagined format for 2021.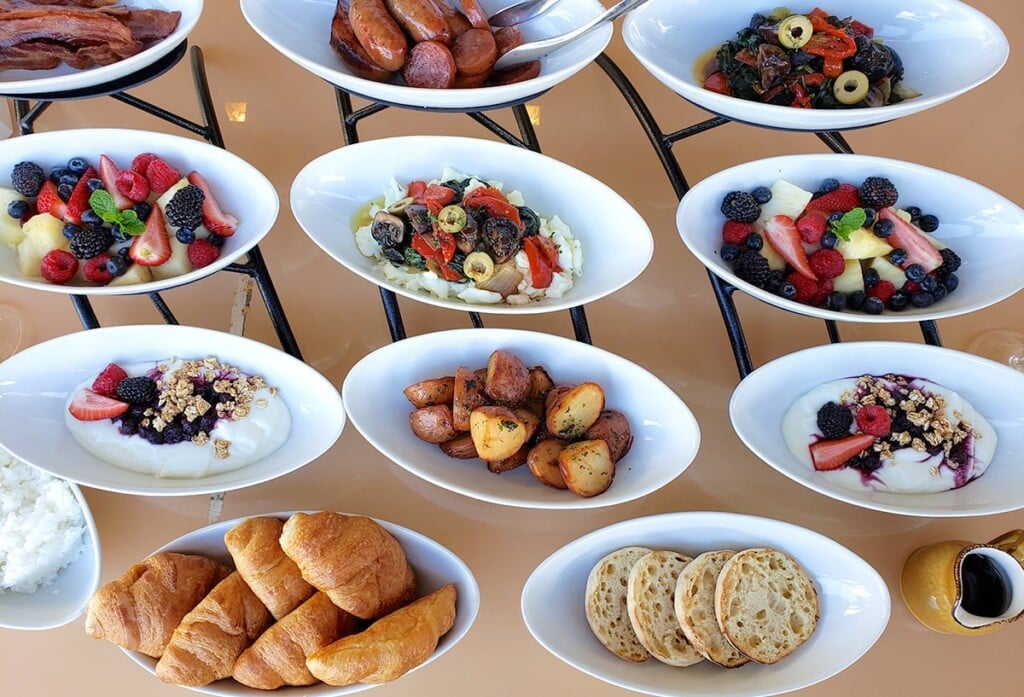 As Waikīkī comes back to life, hotels are innovating to cater to pandemic-conscious tourists and locals. The Hyatt Regency Waikīkī's popular buffet restaurant, Shor, is back in business for breakfast, but things are a little different now.
We got a look at a recent media event. The pre-pandemic self-serve buffet format has been replaced by a $29 all-you-can-eat family-style breakfast that's brought to your table. Here's how it works: You choose a platter for the entire table from each of five categories—think cage-free scrambled eggs or egg whites with roasted veggies for one category; herb-roasted red potatoes, sugar-dusted buttermilk pancakes with maple syrup, or white rice for another; bacon, chicken-apple sausages, Portuguese sausage, or roasted veggies, and so on. Other choices include morning favorites like yogurt with fruit and granola and pastries. An abbreviated "Express Breakfast" offers choices from three courses for $15. There's fresh orange juice, coffee or tea, but definitely try the mimosas (orange juice, liliko'i and POG).
All of this is served on Shor's lanai dining space overlooking Waikīkī Beach and waving coconut trees. The setting is entirely open-air, with part of the lanai under roof and part of it under open sky.
The deal is sweetened for kama'aina, who get a 25% discount, and there's pay-your-age pricing for kids 6 to 12 years old (5 and under are free). Shor plans to extend its hours shortly, but for now you can get breakfast from 7 a.m. to 10 a.m. daily. Parking at the Hyatt is free with validation.
As with the rest of the hotel's shared spaces, dining areas are cleaned and sanitized, and there are hand sanitizer stations throughout the restaurant. Until we can return to classic buffet-style dining, the Hyatt's approach is a delicious alternative.
2424 Kalākaua Ave., (808) 923-1234, hyatt.com, @hyattregencywaikiki