Four Seasons Resort Hualalai has a Big Island adventure tour that costs $39,500
Spoiler alert: It's probably the best, most epic, most personalized Big Island tour ever.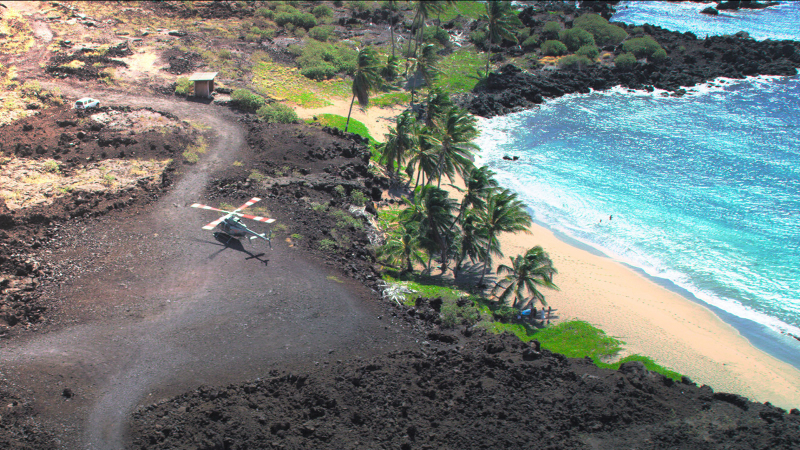 Let's just get this out of the way now: $39,500 is a lot of money. For the majority of us, it's an impossible amount to spend on travel and leisure. But if you have the means, and you fancy yourself being whisked away by helicopter to the most stunning and remote locations on Hawaii Island—think late-in-the-season, final-three, one-on-one dates on the Bachelor or Bachelorette—the Ultimate Pop-Up Volcano Adventure is in a category all its own.
The 27-hour excursion is limited to four passengers and is only being offered through 2018, so if you're the kind of person who's really considering this, do it now, or forever hold your peace. I know I would.
As for the rest of us, there's a localism that goes: If can, can. If no can, no can. It's kind of a crude way to remind yourself of your personal limits, whatever they may be, and to accept them. In the case of the Four Seasons Hualalai's Ultimate Pop-Up Volcano Adventure, I say: If can, can. If no can, drool over the awesome pictures, video and itinerary.
Itinerary:
Day 1
9:00 a.m.: Departure by helicopter from the Four Seasons golf course
10:05 a.m.: Landing in the Kohala Mountains on the northern side of the island, viewing the Kona and Kohala coastlines, black-sand beaches, waterfalls and ranches
10:45 a.m.: Landing at a remote waterfall for lunch
11:45 a.m.: Aerial viewing of the Hamakua Coast en route to Hilo Airport
​12:15 p.m.: Rendezvous at Hilo Airport to board an SUV for transportation to the trail head for a hike to view lava entering the ocean
4:15 p.m.: Return to Hilo Airport to pick up an expert volcanologist for an aerial geo-tour
4:45 p.m.: Landing for rendezvous with Four Seasons Ambassador
4:50 p.m.: Arrival at the Rainforest Cottage Hideaway
5:05 p.m.: Cocktails and Hawaiian cultural performance
6:00 p.m.: Dinner
7:30 p.m.: S'mores by the fire
8:00 p.m.: Drive to view the Kilauea caldera
9:00 p.m.: Return to the Rainforest Cottage Hideaway for the evening
Day 2
7:30 a.m.: Breakfast
9:00 a.m.: Drive to helicopter take-off area
9:45 a.m.: Departure by helicopter
10:00 a.m.: Landing at a secluded beach on the southern coast for swimming, beach time and lunch
12:30 p.m.: Departure from the beach
1:00 p.m.: Return by helicopter to the Four Seasons golf course
72-100 Kaupulehu Drive, Kailua-Kona; (808) 325-8000; fourseasons.com/hualalai