Frida's Mexican Beach House in Lahaina mixes fusion Latin food and great margaritas
Hawaii Regional Cuisine chef Mark Ellman gets back to his roots in Maui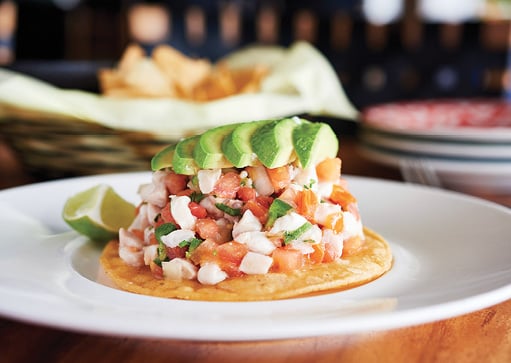 Chef Mark Ellman is known as one of the original 12 founders of the Hawaii Regional Cuisine movement, and for being one of the more prolific restaurateurs on Maui. In the 30+ years he and his ohana have lived on Maui, Ellman has opened over 17 restaurants, including Avalon Restaurant and Bar, Honu Seafood and Pizza, Mala Wailea and Migrant, to name a few. Yet Mexican food has always had a special place in his heart.
Ellman grew up in Los Angeles, eating Mexican food as a kid. In 1975, the now 60-year-old met his wife, Judy, while she worked as a bartender and he as a cook at Sagebrush Cantina. Throughout their courtship and marriage, they've visited Mexico numerous times. At the 124-year-old Hussong's Cantina in Baja, Mexico, Ellman found the best margarita recipe ever (it's also the original; the drink was invented there in 1941 for a young lady named Margarita). In 1993, the Ellmans turned their love for Mexican cuisine into Maui Tacos, serving authentic Mexican food that was priced under $10 a plate. They opened 10 Maui Tacos locations across Oahu, Maui and Hawaii Island over the course of 17 years, and sold the business in 2008.
When Ellman was presented the opportunity to open his 18th eating establishment—and his third at Mala Wharf in Lahaina—he thought back to his long-ago amigo, Mexican food. His wife had a vision to bring a really good fusion Latin restaurant to Maui, so, in February 2015, the chef and his family opened Frida's Mexican Beach House. It's right next door to two of his other restaurants, Mala Ocean Tavern and Honu Seafood and Pizza.
"Mala Wharf is such a special area: you're close enough to town, but you're not in town. Ninety percent of the boats on the west side [of Maui] are launched from Mala and all of the independent fishermen fish out of there so we're very close. We have about four or five fishermen that we buy from all the time," says Ellman. "It's a really wonderful, mellow place. Mala in Hawaiian means garden and so we get a lot of local folks, customers and regulars who say they or their cousins grew up in this area and it's changed, but Mala is still a super-special place on Maui."
Ellman describes the concept of Frida's as "traditional Mexican food with an emphasis on seafood." The menu is moderately priced; a Mala Burrito with Niihau lamb is a tasty and hearty meal for $18—and perfect after a marathon surf session at Lahaina Harbor. The dish really highlights Ellman's focus on fresh and locally sourced ingredients. His personal favorite from the menu is the Ahi Aguachile, also $18. Thinly sliced ahi with sliced cucumbers, tomatoes, onions, jalapeños and avocados, garnished with cilantro and a dashi lime marinade that slightly cooks the tuna. It's an ideal light meal or a perfect appetizer for a party of four.
One pupu (appetizer), the Mezcal Oyster Shooter, is an ode to the chef's love for mezcal. Mezcal is a Mexican spirit made from agave, similar to tequila, but, during production, the plant is cooked in the ground before being put into the fermentation process, which gives it a smoky taste profile. This daring snack features a raw oyster served in a tall shot glass with tomato, cucumber and lime, filled with mezcal.
In addition to his love for the smoky Mexican spirit, the chef also is a fan of margaritas and says the secret to a good one is simplicity. Frida's Mexican Beach House uses the same recipe as Hussong's Cantina in Mexico: 1.5-ounces of tequila, 1.5-ounces of Cointreau and 1-ounce of fresh lime juice. Frida's Margarita, though, features EspolÓn Blanco tequila and fresh, Maui-grown lime and sugarcane, giving its cocktail a sweet and crisp finish.
You could say the drink represents Ellman's cooking and business philosophy, too—respecting tradition, adding a local twist, keeping it simple and bringing out the best in all the flavors around him.
Frida's Mexican Beach House, 1287 Front Street, Lahaina, Maui, (808) 661-1287, fridasmaui.com.