Friends of Hawaii Volcanoes National Park offers "Life on Lava Flows" field seminar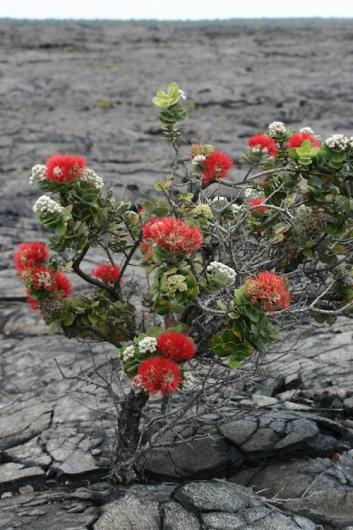 What happens to a Big Island landscape in the aftermath of dramatic lava flow?
Tim Tunison, a longtime botanist, now retired from his posts at Hawaii Volcanoes National Park, has spent a lot of time probing the question of the "colonization of new geological surfaces," a process that ecologists also call "primary succession."
On Sat., March 23, Tunison will share observations and insights during a field seminar set for 9 a.m. to 3 p.m. at the park. The event, titled Life on Recent Lava Flows, is presented by the Hawaii Volcanoes Institute, which is part of the nonprofit Friends of Hawai'i Volcanoes National Park.
Seminar participants will learn about the characteristic small suite of plant and animal species found on recent lava flow areas; how succession on lava in Hawaii differs from that on rock surfaces; how rates of colonization differ on fast-moving aa (rough, jagged and clinker lava surfaces) versus slow-moving pahoehoe (smooth, billowy, and ropy lava surfaces) and from dry to wet areas; and why there are few alien, invasive plants on recent lava flows.

The day involves short walks in three or four sites. Tuition includes a pictorial species identification handout and a CD "mini book" to take home. Click here for details about seminar registration.
In a news release about the seminar, Tunison said: "The lava flows along the Chain of Craters Road, resulting from the Mauna Ulu flows and other eruptions in the 1970s, are a highly accessible and informative area." He added, "Life has noticeably recolonized these 30 to 40 year old flows and deposits, but the simplicity and sparseness of life make species identification manageable — and ecological patterns readily apparent."
Tunison was at Hawaii Volcanoes National Park from 1982-1994 in charge of programs dealing with invasive plant management, plant community restoration, rare plant recovery, and fire ecology. From 1995-2006, he served the park's Chief of Resource Management. Since retirement, Tunison has stayed connected with the park's plants by teaching field botany classes.
Daily updates on Kilauea volcano activity are available at the Hawaiian Volcano Observatory website.
HawaiiMagazine.com has reported regularly on lava activity at Kilauea volcano and Hawaii Volcanoes National Park on the Big Island. Click here to catch up with all of our Volcano News posts. You can also follow our updates on our Twitter and Facebook pages.
For more information about Friends of Hawaii Volcanoes, click here.