From 'Iolani Palace to Hawai'i Volcanoes National Park to Honolulu's Street Art: Take a Virtual Tour Around the Islands
Ditch the next zoom meeting, step away from the puzzle, turn off Hulu and put down that baking tray: you deserve a little self-isolation vacation.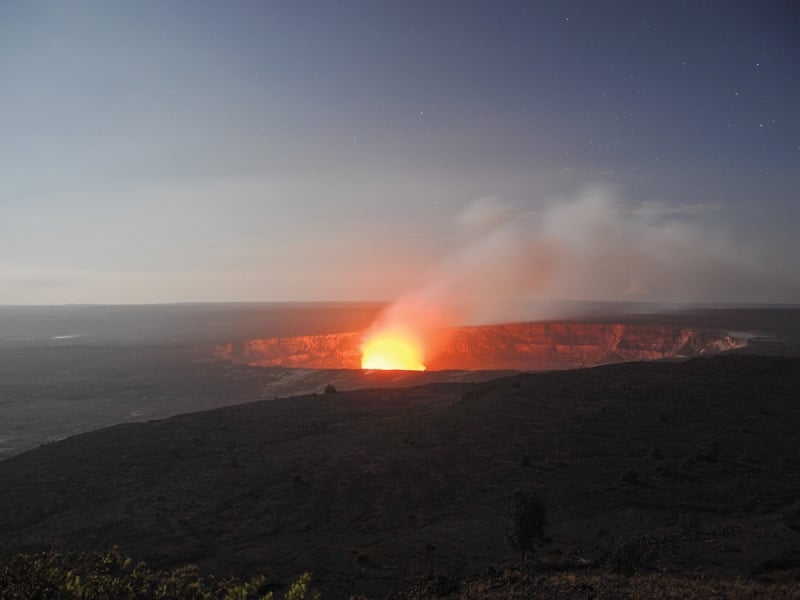 This story originally appeared on the website of our sister publication, HONOLULU Magazine.
If you've always wanted to see a volcano from above …
Hawai'i Volcanoes National Park
The National Parks Service teamed up with Google Arts & Culture to create multimedia tours of five of America's difficult-to-get-to (even without stay-at-home orders) parks. And of course Hawai'i Volcanoes National Park is featured in this virtual series. Explore the Nāhuku Lava Tube, Hōlei Sea Arch and Halema'uma'u Crater (which you can also fly over) with 360-degree views, plus other videos and images, while listening to local ranger guide Andrea Kaawaloa-Okita. You can also check out live webcams of Kīlauea on the nps.gov website and follow @nationalparkservice on Instagram for daily educational updates.
SEE ALSO: Things to Do at Home: Appreciate Arts and Culture From Around the World
If you want to take an islandwide walk down memory lane …
Google Art Project: Pow! Wow! Hawai'i
Another winner of Google's global culture series is its showcase of graffiti. There are audio tours, online exhibitions, artist stories and a world map that you can zoom in on. It also includes more than a hundred images and videos of the artists, their processes and their murals from the Pow! Wow! Hawai'i festival in 2014.
SEE ALSO: 2020 Marks 10 Years of Pow! Wow!, the Now-Global Street-Art Festival That Originated in Hawai'i
If you want to learn something new …
Bishop Museum
While it was temporarily closed this spring, the museum launched an Online Learning Center. Feed your culture cravings with podcasts, photos, videos, blogs and activities about Hawai'i and the Pacific's history and natural sciences. Themes include Earth Week, birds and voyaging the Pacific. With updates happening weekly, you will have days of things to do and learn.
SEE ALSO: Things to Do at Home: Take a Trip From Your Laptop
If you need to see walls other than the ones that have been closing in on you …
Shangri La Museum of Islamic Art, Culture & Design
The former home of Doris Duke is one of the museums Google selected for a special street view tour on its Arts & Culture page. Walk around the intricate rooms and stunning grounds before watching videos about the history of Shangri La and of past artists-in-residence on its YouTube channel.
SEE ALSO: Insider's Guide to Honolulu Museums
If you've watched every period drama on Amazon Prime …
'Iolani Palace
The palace has released a virtual experience and resource page on its website, which includes a phone app tour of the grounds, a video series that focuses on the 14 portraits hanging on the walls, lectures and a short 3D virtual walking tour of two levels of the palace.
If you missed the 30 Americans exhibit …
Honolulu Museum of Art
Tour current and past exhibitions via playlists on their YouTube.
SEE ALSO: Free Hawai'i Coloring Pages That You Can Print and Enjoy at Home
If you're tired of adult coloring pages …
Hawai'i State Art Museum
Tune in to live workshops and concerts.
SEE ALSO: Check Out Artists in Their Home Studios in This New Quarantine-Inspired Series
If you want the view without the drive …
Turtle Bay Resort
[video:https://www.instagram.com/p/CBElkyoBJOV/]
Spend a few minutes taking in 360-degree views of the postcard-esque area surrounding the North Shore resort, taken on a perfect day.
If you're missing the beach …
North Shore Live Webcams
Lose a couple of hours listening to the waves crash while watching surfers at 'Ehukai Beach Park, or tune into panning views of Waimea Bay. For a not-so-live yet meditative cam, check out the almost two-hour video of Waimea Falls.