From steamships to jets. New Smithsonian exhibit explores the history of travel to "Hawaii by Air."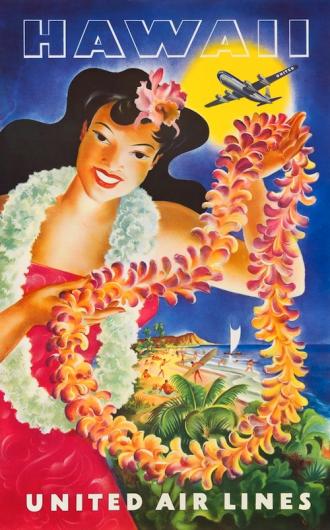 Vibrantly colored travel posters of beautiful women dancing hula aimed at beckoning potential visitors to the Islands. An advertisement featuring a flying double-decker "Hotel in the Sky" airplane, complete with lower-deck cocktail lounge, dressing rooms for ladies and gentlemen, and sleeping berths for resting on long overnight flights. And, how's this for a wake-up call — real-world travel times to Hawaii that could take up to a week on steamships, and 18 to 20 hours by plane.
"Hawaii by Air," a new yearlong exhibit that opened this month at the Smithsonian National Air and Space Museum in Washington, D.C., reminds us of our rudimentary travel origins via a collection of historical artifacts documenting the rise of air travel and tourism in the Islands. Featuring vintage travel posters, model airplanes, photographs and various other artifacts, "Hawaii by Air" documents how air travel developed, how new innovations changed the experience of traveling, and how those changes affected Hawaii itself.
The exhibit tracks all modes of travel, from the sailing ships used by British explorer Captain James Cook and his brethren in the 1700s, to modern-day jets, telling of their respective advantages and dangers. Notably, the 2,400-mile distance between Hawaii and its nearest landmass, the U.S. west coast—a distance that posed myriad challenges to the first pilots attempting the journey. Also part of the "Hawaii by Air" exhibit are articles and photographs documenting those harrowing experiences. By 1935, air travel was considered safe and routine enough for transpacific commercial flights, but the high cost left most travelers arriving here by steamship for many more years.
Advertisements from the period illustrate how wealthy visitors traveled. Steamships in the 1900s and Pan American Airways' "Hotel in the Sky" Stratocruiser in the 1950s were the ultimate in luxury travel, making the transpacific trek feel more like a mini vacation than a long journey.
The switch from luxury steamships to airplanes after World War II made travel increasingly quick and cheap. Visitors to the Smithsonian exhibit can view models of several early airplanes. Fair warning, though: you may grow nostalgic for their large, roomy seats.
As travel prices lowered and more Americans were able to afford air travel to Hawaii, tourism boomed throughout the Islands, forever altering Hawaii's economy and infrastructure. Among many changes displayed in the "Hawaii by Air" exhibit are old photographs of Oahu revealing how Waikiki changed from rural wetlands to the tourism and resort mecca it is today. By the 1970s, tourism became Hawaii's dominant economic force; a reality illustrated throughout the exhibit with photographs of the myriad hotels built in Waikiki.
"Hawaii by Air" visitors may feel pangs of nostalgia for the luxuries of old (who wouldn't enjoy the large, roomy seats and overhead bunks of old-fashioned airplanes?). But it could also inspire awe and appreciation for the technologies that made air travel much cheaper, faster, and safer than ever before. Cramped seats and miniscule legroom of modern day non-first class air travel aside.
The "Hawaii by Air" exhibit at the Smithsonian National Air and Space Museum began earlier this month, and will remain open through July 2015.