Get a Brain Massage at the Four Seasons Resort Oʻahu
The luxe resort at Ko ʻOlina is now offering the world's first multisensory virtual reality experience aimed at relaxation and restoration.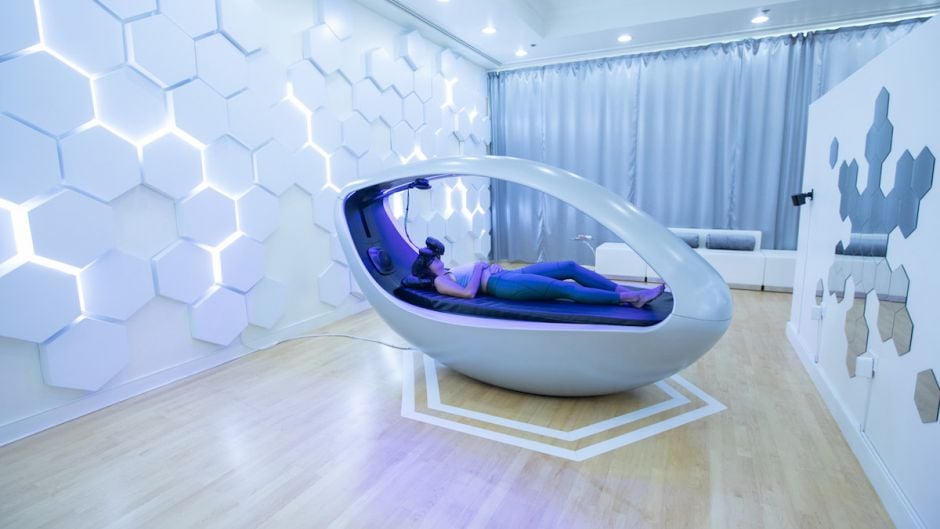 When I heard the Four Seasons Resort Oʻahu at Ko ʻOlina was offering a brain massage, I knew I had to check it out.
With a rambunctious toddler at home and a demanding full-time job, my current wellness plan involved hours of reality TV and bottles of wine.
This sounded a lot … healthier.
In December 2019 the resort unveiled something called The Vessel, a luxury virtual reality experience that is aimed at relaxing your mind using all of your senses. Here's how it works: You lie in an open pod and put on a high-tech headset that takes you visually into another world. While you're immersed in your VR surroundings, the pod also moves, vibrates and simulates wind and temperature changes, giving you truly multisensory experience. It's even able to adjust your experience based on your breathing and heart rate.
"I feel like there's so much technology in our world and we're immersed in technology, but often times technology is not designed to help our wellness or our bodies. Instead, we feel depleted and drained," says Alex Theory, co-founder of Sensync, the immersive wellness company that created The Vessel. "Our vision for this is to use the power of technology to create an experience that's restorative."
You can choose from a 20- or 40-minute session in The Vessel, which is located at the resort's Naupaka Spa & Wellness Centre, in a room that's kept at a comfortable 68 degrees.
I opted for the 20-minute experience, which started with a visual journey into a crystal cave. Lying in the pod, I could feel a light wind on my cheeks as I moved through a cave illuminated by crystals, which (I found out later) glows and dims with my rate of my breathing. The next experience was lying on a forest floor, the bright sun overhead, as I watched flowers fall from a tree and land around me. I really loved this one.
The third experience is a favorite of many guests: I'm in space, watching stars shoot across the sky, a galaxy in the distance. It's one of Theory's favorites, too. "We don't really get to go into space too often, and it's something very healing and relaxing," he says.
There are other experiences, too, from floating with clouds to wandering through a Zen garden. There's an underwater sequence that was designed after several experiences Theory's had in Hawaiʻi, swimming with dolphins and seeing humpback whales.
The goal of this offering is to help guests relax their minds by taking them on a virtual journey into nature so that their focus is shifted from their busy, daily lives, so that they can relax their brains. (The spa recommends booking a session before a massage, so your mind is relaxed while you're getting the treatment.)
Since December 2019, hundreds of people have already experienced The Vessel, Theory says, many opting for the longer, 40-minute experience. He envisions these pods could be installed in workplaces, airports, hospitals—anywhere people need a quick escape.
"What we're learning in neuroscience is that nature is so healing and so powerful—the colors, the scenes, the vibrations, the energy," Theory says. "The dream and the vision is to capture even a little bit of that and bring that to people in the city or at work or in a hotel or at the airport, who are stressed out a little bit, and give them a moment of peace, a moment of quiet."
The 40-minute full spectrum experience is $135, and the 20-minute relax and restore experiences are $75 each. To book, click here.