Get a Closer Look in the Heart of 'Īao Valley, Maui
Just up the road from Wailuku lies 'Īao Valley, where steep cliffs and rivers create a primordial cradle of natural bliss.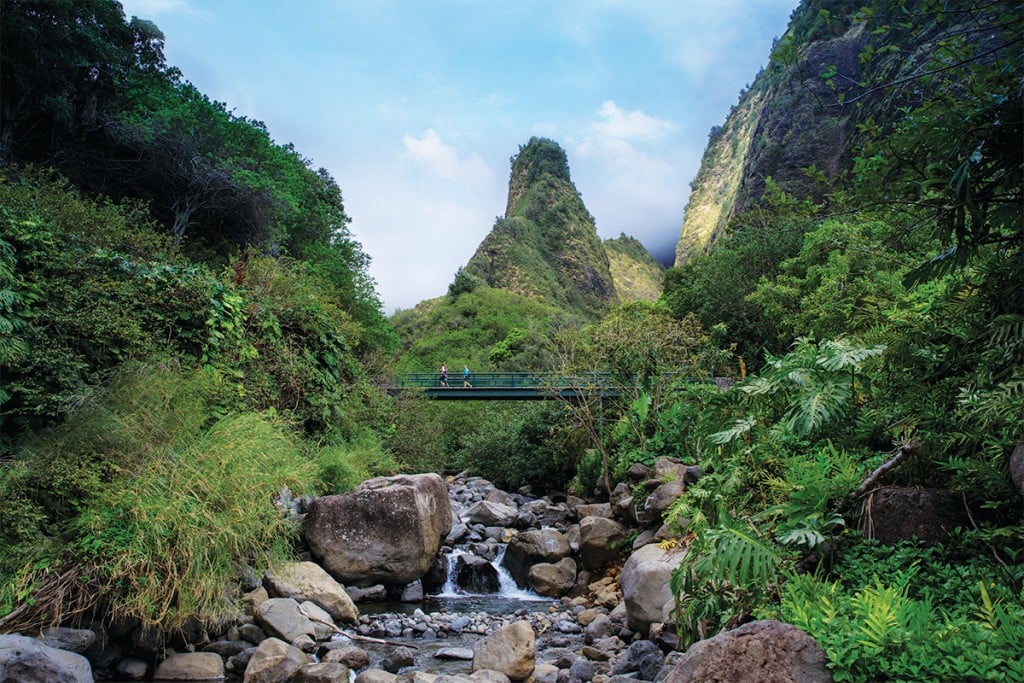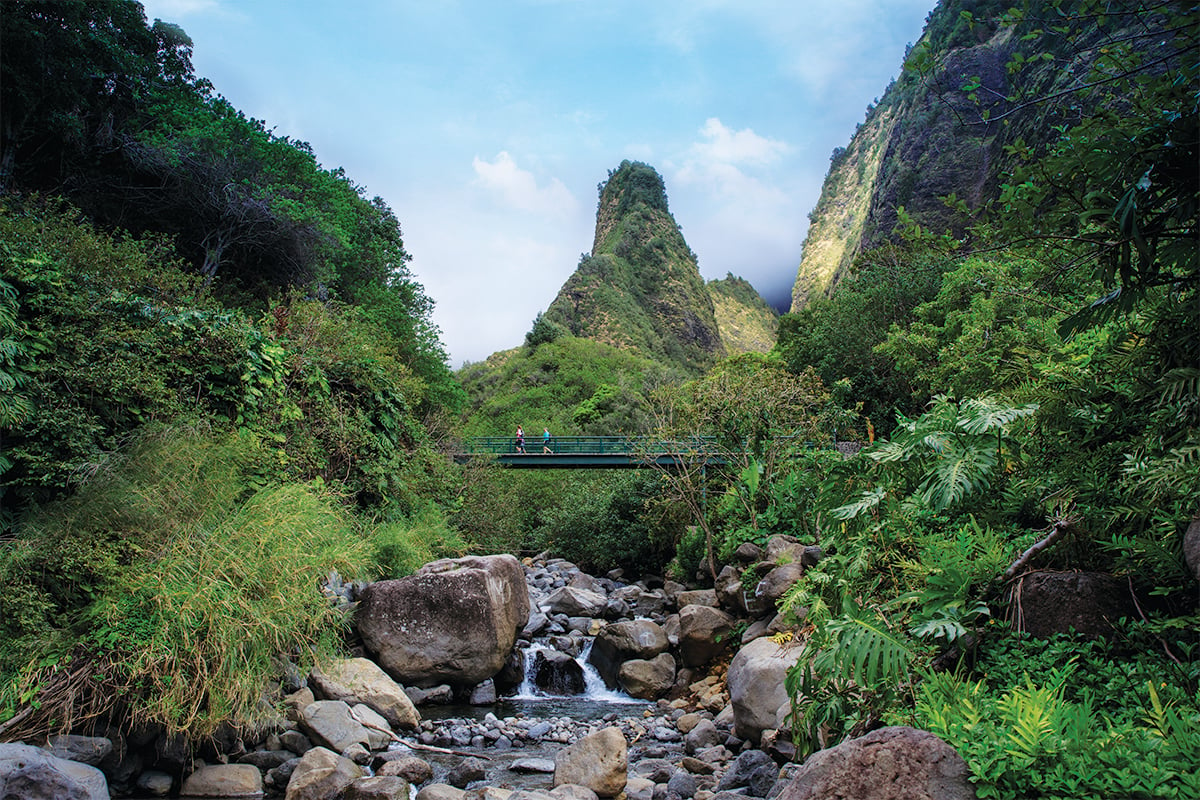 I'm only five minutes outside of Wailuku, Maui's sleepy bohemian borough, and the landscape has changed drastically. Small homes and businesses are replaced by dense forest, and as I drive my rental car deeper into 'Īao Valley, I begin to feel very alone. Nature rules here, and I'm just along for the ride.
Although Wailuku is one of my favorite places on Maui, I had never been up the road to 'Īao Valley State Monument, which is surrounded by rainforest and framed by the West Maui Mountains. Designated a National Natural Landmark in 1972, the valley was a sacred site among ancient Hawaiians, long before Western contact. Kakae, the ali'i nui (high chief) of Maui in the late 1400s, is believed to have chosen the valley as a burial ground for ali'i (Hawaiian ruling class). Now, the valley caters to visitors and locals looking to nurture their souls.
I've made it to 'Īao Valley early in the day, at 9 a.m., partially to get away from the crowds and definitely to get away from the afternoon sun.
As I pull into the valley's small parking lot, I'm surprised to see a handful of rental cars and tour buses already parked. Getting out of my car, I almost don't know what to admire first. Surrounded by lush mountain ridges, to be in 'Īao Valley is to be in the heart of nature itself. The sound of wildlife and rushing water adds to the richness of my surroundings and it's hard to believe that civilization is only a few miles away.
My gaze, however, is almost immediately drawn to the valley's star attraction, Kūkaemoku, also known as 'Īao Needle. Putting Honolulu's office buildings and hotels to shame, the needle abruptly rises 1,200 feet into the sky. In Hawaiian culture, the needle is the phallic stone of Kanaloa, the Hawaiian god of the underworld and ruler of the ocean. The peak of Kūkaemoku was also used as a lookout during periods of war, but how warriors made it to the top of this mighty rock is beyond me.
For a better view of the needle I walk along the short and paved 'Iao Needle Lookout Trail and Ethnobotanical Loop, which ends at a scenic observation platform. It's just a half-mile walk, so I decide to wander a little.
After crossing a footbridge, which takes me across the Kinihāpai Stream, I stroll around a small garden filled with the kinds of plants brought to Hawai'i by early Polynesians. Within this tiny botanical garden are a few patches of kalo (taro), a staple crop that once covered the floor of 'Īao Valley.
Just past the garden, I spot another trail off the main path. This one takes me down into the valley, where, once again, nature takes over. As the paved path turns to dirt and rubble, small signs point me in the right direction. Even the air down here is different. It's colder, crisper. Trekking deeper into the valley, I hear rushing water before I see it. Soon, I'm stopped by the ever-flowing 'Īao Stream.
This body of water has taken many forms. Currently, it's serene, almost inviting, and I dip my bare feet into its chilly depths. On Sept. 14, 2016, it was the bringer of destruction. After heavy rains consumed the valley, 'Īao Stream raged, nearly wiping out the park's parking lot, eroding the road that led to 'Īao Valley and damaging many homes downstream. 'Īao Valley State Monument was closed, and only after more than a year of repairs was it able to reopen.
In 1790, the river ran red with blood during the Battle of Kepaniwai, one of the most brutal in Hawaiian history. It's here in this valley that the forces of Kamehameha the Great fought Maui's king, Kalanikūpule, and his fierce warriors.
After a few minutes on the banks of the stream, I realize it's time to head back to the lookout. Retracing my steps, I'm back on the trail; eventually I reach a set of stairs and my legs strain as I climb to the top. But once there, I see a small shaded construct—and realize that I've already reached my destination. Although the path to the top is short, 15 minutes at best, there's so much to see: It's a collection of nature's finest features packed into a bite-sized hike.
Looking back down into the valley from the direction I came, Wailuku and the rest of Maui are a world away. The shaded lookout features a few benches and I decide to sit for a spell. 'Īao Needle is on full display from this angle, and I'm able to discern a few more specks of detail that I couldn't see from the parking lot. Closing my eyes, I let the valley take me. 'Īao Stream flows below. The towering peaks that surround me dampen any noise not contained in this cradle of nature and I find myself at peace in the heart of 'Īao.
'Īao Valley State Monument is open daily from 7 a.m. to 6 p.m., parking is free for Hawai'i residents and $5 for visitors.