Get High on Oahu's North Shore with Pacific Skydiving
Your adventure includes a bird's-eye view bodyflying above the island's scenic coastline.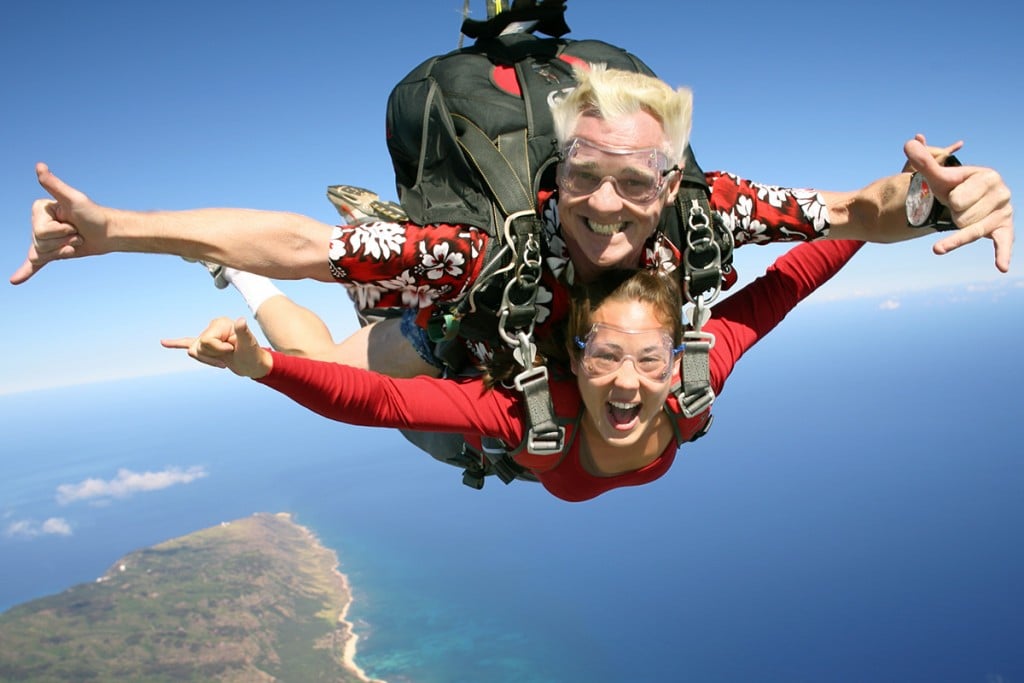 Owner Guy Banal started skydiving more than four decades ago at the age of 16 and launched his company, Pacific Skydiving, over two decades ago. Originally from France, Banal moved to Hawaii in 1975. Banal's background is as a professional hotel restaurant chef. He attended the prestigious Ecole Hoteliere De Toulouse in Toulouse, France, and built his chef skills by traveling around the world. Five years after moving to Hawaii, in 1980, he opened Bon Appetit Restaurant in Waikiki, serving authentic French cuisine for over 14 years. Yet, during all those years of cooking, Banal says he always dreamed of working outdoors and skydiving. That dream eventually became reality when he swapped his chef's coat for a parachute. And he hasn't looked back.
In 1997, Banal opened the locally owned and operated company, Pacific Skydiving. Today, Pacific Skydiving offers tandem parachute jumps over Oahu's scenic North Shore. It's a thrilling, unforgettable experience and—from a cool 8,000 to 14,000+ feet in the air—a great way to see all of the island's northern coastline.
The North Shore of Oahu is renowned for its world-class surf breaks, Dole Plantation and the charming surf town of Haleiwa. All of these places are worth checking out during a day trip, but for an adventurous bird's-eye view of this picturesque region, just look to the sky.
Each jump starts with a safety briefing at Pacific Skydiving's offices at Dillingham Airfield in Waialua on the west end of the North Shore, about a one-hour drive from Waikiki. Pacific Skydiving also offers a courtesy shuttle with pickups and drop-offs in Waikiki. The company operates out of a 94,000-square-foot space that has a cool, breezy tented area where you can relax with refreshments and food. To share your skydiving adventure with family and friends, the skydiving facility—the largest in the state—includes an on-site studio for photos and video.
Pacific Skydiving offers two skydiving options. Participants can choose the regular tandem jump with one of the company's expert licensed USPA (United States Parachute Association) tandem instructors—who have all logged thousands of tandem jumps—an experience will have them exiting the airplane anywhere from 8,000 to 10,000 feet above the North Shore.
For added altitude and a longer free fall, upgrade to the ultimate tandem jump. You'll jump at an impressive 14,000 to 15,000 feet in the air and have 60 or more seconds of free fall (Note: The ultimate tandem upgrade is guaranteed altitude, with proof of altitude indicator posted on the back of the plane when the door opens for exit, or it's free. For the ultimate tandem upgrade, certain restrictions, including weather conditions, will apply.
The sensations of body flying at rapid speeds are why skydivers get hooked. Here's just a taste of what you will experience at Pacific Skydiving.
You'll meet with your tandem instructor and prepare to board the plane or helicopter.
Once the plane has reached the altitude for jumping, you will jump with your instructor. The sensation of flying like a bird begins with your hands and arms extended. Your body is traveling at speeds up to 120 mph, as you experience 20 to 60 seconds of freefall, which has been described as the feeling of floating on an air mattress. At 120 mph, the force allows you to move in any direction while literally free-flying your body. With practice, you can take on whatever position you want.
You will experience the exhilarating freedom of bodyflying that lasts for a thrilling, adrenaline-filled 20 to 60 seconds before the parachute opens. From there, your body will gracefully glide and float down, approaching the final landing spot at the airfield—but not before you can take in the blues of the Pacific Ocean, the greens of the trees and the bustle of the communities below.
Even better, no deposit is required for any single tandem reservation booking (except for helicopters). Tandem jumps discounts are available for students, active military members and for special celebrations. Also, Pacific Skydiving is the only company in the U.S. to offer commercial parachuting from a helicopter certain times of the year, a one-of-a-kind, unique experience.
In addition to providing customers with skydiving jumps each day, Pacific Skydiving has fostered longtime ties in the community and has put Oahu skydiving on the map.
The company is Oahu's only certified skydiving school approved by the U.S. Parachute Association and the U.S. Department of Defense for military training, offering high-altitude, low-open parachute jumps, called HALO parachuting. Pacific Skydiving has also worked with several movie and TV crews on Oahu over the years, including "Magnum P.I.," "Hawaii Five-O," "Lost," "Jurassic Park," "Point Break" "ER" and Netflix features.
Guy Banal, over his 50 years of skydiving experience, has encompassed being an instructor, tandem master, cameraman, competitor, organizer and fun jumper. As one of a very elite group of skydivers, Banal holds eight world records for large skydiving formations. In 2006, Banal was part of the world's largest-ever 400-person formation and holds other records currently recognized by the Guinness World Records.
To ensure parachute jumpers get the most out of their experience, Pacific Skydiving strives to deliver the best customer service, professional safety, quality equipment and value whether you are a first-time customer, a soldier or a movie star. Pacific Skydiving operates two Cessna Supervan 900s, one of the best skydiving airplanes. The plane climbs quickly to a high altitude and uses 10% less fuel, reducing the company's carbon footprint.
For more information and to book your tour, visit pacificskydivinghonolulu.com.