Getting a read on this weekend's Hawaii Book & Music Festival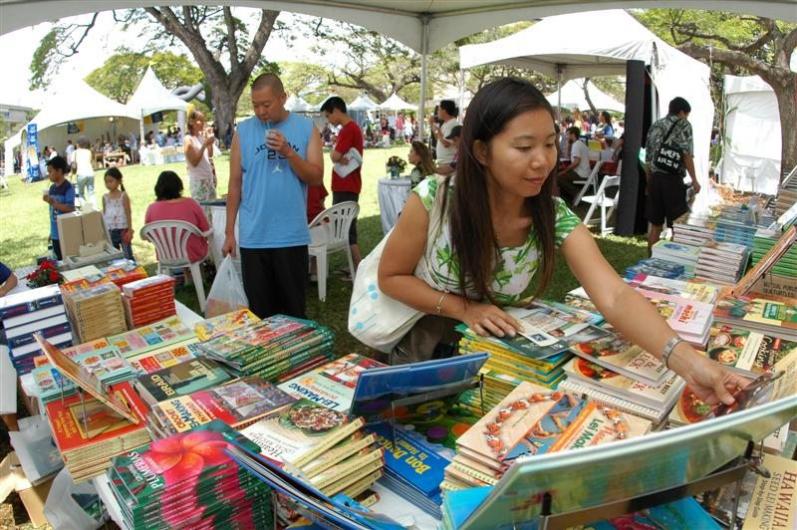 If you're on Oahu, consider your summer reading list and backyard barbecue soundtrack complete.
The Hawaii Book & Music Festival is happening Saturday and Sunday in Honolulu.
Looking for a superabundance of literature and music created and published here in Hawaii, all in one location? We'd be hard pressed to think of a better place to begin your search.
The fest is the largest annual gathering of Hawaii-based book publishers, authors and music distributors. Admission and parking are free. And the fest's special events this year include a sunset concert by Hawaii ukulele genius Jake Shimabukuro.
Best-selling authors from Hawaii (former Gov. Ben Cayetano, Lois-Ann Yamanaka), national and international authors (Terry Brooks, John Saul) and book illustrators will be on hand to sign books and participate in panel discussions. A variety of author stages will feature readings, kids storytelling and plays. There'll be arts and crafts booths, food booths and a live music stage.
Should you want to dive quickly into your new book purchase, the fest's outdoor location on the grounds surrounding Honolulu Hale has many shade trees to settle down under.
The stuff we found most interesting on this year's Hawaii Book & Music Fest program?
• Many opportunities to learn more about Hawaii. Two stages at the fest are being dedicated to an all-day schedule of panel discussions and presentations on Hawaii subjects and Hawaiian culture. Hawaii stories, poetry, music, architecture, art and other issues related to the Islands will be discussed by local experts, writers and artists. Just pick a topic that interests you and settle in. Click here for schedule.
• Sunset concerts by Jake Shimabukuro (5:30 p.m., Saturday), Grammy-nominated slack-key master Cyril Pahinui (5 p.m., Sunday) and contemporary Hawaiian group Kaukahi (7 p.m., Sunday). Otherwise, the fest's main stage will host an all-day line-up of music and hula. Click here for schedule.
• A full menu of storytelling, plays, improvisational comedy and book-signings in the keiki tents. Among the offerings: readings from Dr. Seuss, Hans Christian Andersen and Riki Tiki Tavi, and performances of scenes from Singin' in the Rain, Romeo & Juliet and High School Musical. Check out a lively live reading by the cast of the audiobook Eddie 'Wen Go: The Story of the Upside-Down Canoe (4:30 p.m., Sunday). Click here for schedule.
Stop by HAWAII Magazine sister company Watermark Publishing's booth on both days to peruse its wide selection of books covering a broad range of Hawaii topics. Watermark will be doing more than just selling books at the fest. Click here for a full schedule of Watermark's book and music fest book-signings, readings, panel discussions and food and Hawaii-grown coffee samplings. Get a free copy of HAWAII Magazine at the booth while supplies last.
The Hawaii Book & Music Festival runs from 10 a.m. to 8 p.m., Saturday and Sunday, at the Frank F. Fasi Civic Grounds at Honolulu Hale at Punchbowl and King Streets.
For a full list of Hawaii Book and Music Festival participants, events and a map to the festival, click here.