Going Coastal: Rafting Maui's Kanaio Coast and Molokini Islet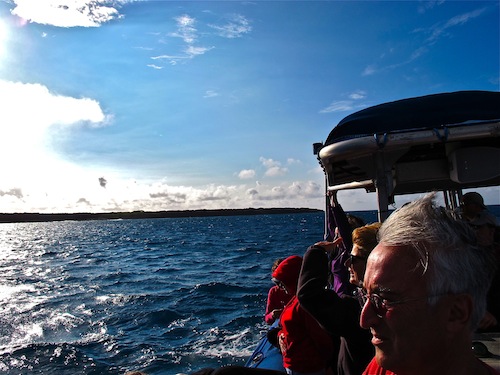 I'm seven minutes into the wildest, fastest and wettest open-ocean ride I've ever taken when the inflatable raft I'm in smacks head on into an oncoming wave and goes airborne.
I've been told this would happen. In fact, I've actually been told by one of my guides that if we were fortunate this will happen several times on the tempestuous waters of the Alenuihaha Channel, which separates Maui and the Big Island. Reason No. 1 that, instead of screaming in terror seconds later as the raft's bottom lands with a solid thwack on the crest of another wave, sending seaspray into my face, I'm screaming in exultation.
"Time of your life, kid," I tell myself. "Time of your life."
Sunrise over Haleakala volcano.
Blue Water Rafting offers several snorkeling and open-ocean adventures off the southwest Maui coast for folks "adventurous in spirit" (their words, not mine). But I'd long wanted a seat on the one I was on: a six-hour tour of Maui's rugged, remote Kanaio Coast, with snorkeling off the even-more-remote back wall of offshore Molokini islet.
Blue Water, I'd been told, was the only Maui ocean activity company with the nimble, limited-passenger-count watercraft sturdy enough to comfortably take on the waters off both sites. I was also anxious to cross off the Kanaio Coast from a "10 Hawai'i Places You Haven't Been to Yet" list I'd compiled for HAWAI'I Magazine last year.
Rounding Puu Olai at Makena.
Stretching a dozen-plus miles along Maui's isolated, uninhabited southernmost tip, the Kanaio Coast's most impressive features are virtually impossible to see from land. Views of Haleakala volcano's arid south flank, with fingers of hardened lava flows stretching from upslope cinder cones to the sea. Sea caves, sea arches and wave-tossed bays crafted by the violent meeting of molten lava and cool seawater only three centuries ago, during Maui's last eruptive phase.
The submerged crater floor of Molokini islet was too popular a snorkeling spot to make our "Places You Haven't Been to Yet" list. But the rarely visited marine-life-filled waters off the towering back wall of the crescent-shaped islet had just missed the list.
The southeast face of Haleakala volcano as we near La Perouse Bay.
Now, a full eight minutes into the ride, I'm screaming again (not alone, I might add) as our boat lifts from the peak of another surly wave into clear blue skies.
A handful of airborne incidences later, we're heading toward shore into the calm waters of La Perouse Bay. Accessible only from the ocean, or via a rough, unpaved road traversing an old lava flow, the bay is named after the French explorer who first mapped the area in 1786, and is a favorite spot of scuba divers. Its Hawaiian name is Keoneoio Bay.
A pod of spinner dolphins speeds quickly past our raft.
While taking in the unimpeded view of Haleakala, we spot a large pod of spinner dolphins swimming directly toward us. Within seconds, they're playfully darting around our boat, chasing their breakfast in the windswept bay.
Our driver and lead guide, Dante Prince, warns that we're bound for the channel again as he throttles up and matches the boat against the current swirling around the Kanaio peninsula. The ride here is even wilder and more airborne than the last, another 15-minute ocean-carving experience with all the thrills of a rollercoaster. (That is, if a rollercoaster actually flew off its rails.) The ocean calms only as we head back toward land again and come right up against the great lava-rock sea wall that is the Kanaio Coast.
Exposed layers of rock along Kanaio Coast.
Exposed layers of the wall rising as high as 75 feet above the ocean surface offer a record of the intensity of lava colliding with ocean—jagged and pockmarked near the top of the flow; possessing the unnaturally angular shape of rows of bent steel bars nearer the water. We spend an hour exploring Kanaio, with Prince expertly piloting the boat so close to the lava wall and a massive sea arch, we can almost touch them. Carefully eyeing waves rolling in and the churn of turquoise water around us, he even gingerly steers the boat into a sea cave. Passenger cheers and the sound of crashing waves echo through the cavern.
The raft pulls in close to the lava rock walls of the coast.
After breakfast and a brief snorkel back at La Perouse Bay, we're full throttle again—this time across the Alalakeiki Channel, separating Maui and Kahoolawe—bound for Molokini.
"Right now, there are hudreds of people snorkeling at Molokini," says Prince, of routine charter activity in the islet's crater. "We're going to avoid that."
Instead, Prince takes a hard turn toward Molokini's open-ocean-facing back wall, cutting the boat's engine just five yards from its towering rust-colored cliff face. The ocean gently rises and falls against the wall, and our boat along with it. Rising 150 feet above sea level, the wall plunges twice that length, below surface, creating the effect of a water elevator for snorkelers and divers. This makes it one of the best dive spots in the world, says Prince. And we're going in.
As lava met ocean, it hardened into the angular shapes seen here, resembling bent steel bars.
Colorful fish surround me the moment I jump in. The water is the clearest, most crystalline I've experienced in my life. A multitude of reef fish—puffer fish, angelfish and yellow tangs, among them—feed on the wall, which indeed plunges so deep I'm unable to make out the ocean bottom. I am in awe so complete, I'm saddened when Prince calls us out of the water after a half-hour.
Back in the boat, Prince pilots us completely around the backside of Molokini and into its calm, crescent bay. The charter boats back on Maui for lunch, the bay is devoid of activity and we have its waters all to ourselves. Still, though fabulously fish-filled, the bay is a bit underwhelming after the marine life abbondanza of Molokini's back wall. Nonetheless, I enjoy my solitude here immensely.
Molokini islet, with Kahoolawe in the background.
Back across the Alalakeiki and near the Maui coastline an hour later, lunch is served after yet another round of snorkeling, this time, in a favorite feeding area of Hawaiian green sea turtles. Soon, we're heading back to our Kihei starting point, with Prince cranking up the Rolling Stones' "(I Can't Get No) Satisfaction" on the speakers, throttling the sturdy raft up to full speed and pulling 360 degree turns just for fun.
Mick and Keith might not be sated, but I am.