Google goes Hawaiian language with homepage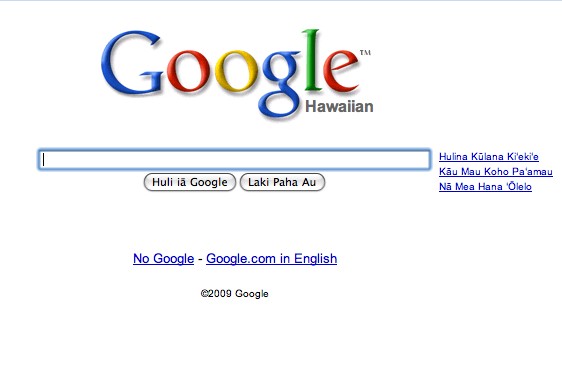 Google's homepage is now available in the Hawaiian language. But for the time being you'd have to do a bit of searching to find it.
We recently read that the homepage interface of the World's most popular online search engine was available in olelo Hawaii (Hawaiian language). A good thing, we thought. But when we clicked to Google's language tools page we couldn't find Hawaiian among the offerings on a "Use the Google Interface in Your Language" list.
Among familiar languages such as Italian, Spanish and Japanese were lesser-known tongues like Basque and Occitan. There were even odd dialects such as—we're not kidding—Klingon and Elmer Fudd. All ready to change the face of our Google interface. But no Hawaiian.
Was Google's Hawaiian translation lost in translation?
Not quite, said Keola Donaghy, a professor at the Ka Haka Ula O Keelikolani College of Hawaiian Language at the University of Hawaii at Hilo. He should know. Donaghy spent more than 100 hours of his own time converting strands of text on Google's homepage into Hawaiian as a volunteer translator.
Turns out the translation of Google's homepage for use in—so far—more than 125 languages has been dependent on volunteer translators like Donaghy who simply wanted to see their native language represented.
"It's our mission to ensure the (Hawaiian) language stays contemporary," said Donaghy. "To ignore modern technology would suggest that our language doesn't belong."
The biggest challenge for Donaghy with the project turned out to be translating modern Web jargon that had no Hawaiian equivalent. For example: how to translate words like "download" and terms like "World Wide Web" and "URL" into Hawaiian.
Donaghy buckled down and thought logically, yet creatively.
The Hawaiian word kele—which translated to English means "to sail" or "to reach by sailing," for example—seemed the ideal word to substitute for "browsing" or "searching" the Web.
Other Hawaiian words Donaghy used to replace English ones included:

| | | |
| --- | --- | --- |
| Hawaiian Word(s) | English Translation | Google Interface |
| hooili | to land upon, to load | to download |
| polokalama kele punaewele | web sailing program | Web browser |
| punaewele puni honua | spiderweb, fine-meshed net | World Wide Web, Internet |
| kaomi | to press down, to squeeze | to click (on a mouse) |
| nanaina | general appearance, view | interface |
| loulou | to link or hook together | Web link |
As for that missing Google interface translated to Hawaiian? Donaghy said that it's up and running, but Google engineers are still doing some final tweaking before a "Hawaiian" link is added to Google's language tools page. Word about Google's Hawaiian language homepage was leaked prematurely after Web surfers found work-in-progress versions of it on the Web.
Google representatives told Donaghy that the Hawaiian interface should be available as an official language tools option "sometime this week." Google did not confirm an exact date. But you can see the Google homepage in Hawaiian now by clicking here.
So far, only Google's search interface and navigation text have been translated into Hawaiian—not individual search results. Will these Web pages eventually be translated as well? Donaghy doesn't rule out anything in time.
In fact, he's already working on translating other Google services such as Gmail and online word processor Google Docs into Hawaiian.
"It sends a message that Hawaiian stands alongside European and other major languages," said Donaghy.