Google's Street View ocean gallery zooms in on Hawaii's coral reef wonders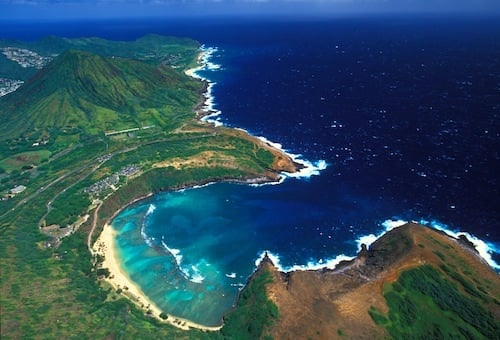 Last week, Google made a splash by expanding their already popular Google Street View with underwater views of coral reef areas, including shots from two top-notch snorkeling areas right here in Hawaii — Oahu's Hanauma Bay (pictured, right) and Molokini crater (pictured, below), a state Marine Life and Bird Conservation District located three miles off of Maui's southwestern coast.
Google Street View, which features image galleries spanning seven continents — from Antarctica to the Amazon River in South America — now takes viewers into six ocean locations. The Street View oceans gallery was assembled by a partnership between Google and the Caitlin Seaview Survey, a major scientific study of the world's coral reefs.
The gallery consists of thousands of 360-degree panoramic images collected by the Caitlin Seaview Survey SVII camera. Google Maps has stitched them together to create the underwater Street View, which viewers may peruse on computers — desktop, laptop and tablet — or on smartphones. For more information about the SVII camera click here.
The underwater locations include views of the Great Barrier Reef in Australia, waters off the Apo Islands in the Philippines, and our beloved Hawaiian waters: Molokini, which is reportedly home to more than 250 marine species and 38 "hard" coral species; and Hanauma Bay, which is both a nature preserve a
nd a marine life conservation district (400 species of fish) on Oahu's south shore.
In June, Google added interactive-panoramic images of popular Hawaii and visitor attractions to its Street View lineup. To check out "Scenic Hawaii," click here.
Google's Street View, which got under way five years ago, now features 360-degree virtual tours in 39 countries and the above-mentioned half dozen underwater locations— at street-level and beyond. With the help of the SVII Google invites you to dive and explore an underwater world. For more information about Google Street View click here.