Got malasadas and mango chutney? It's Punahou School Carnival weekend on Oahu.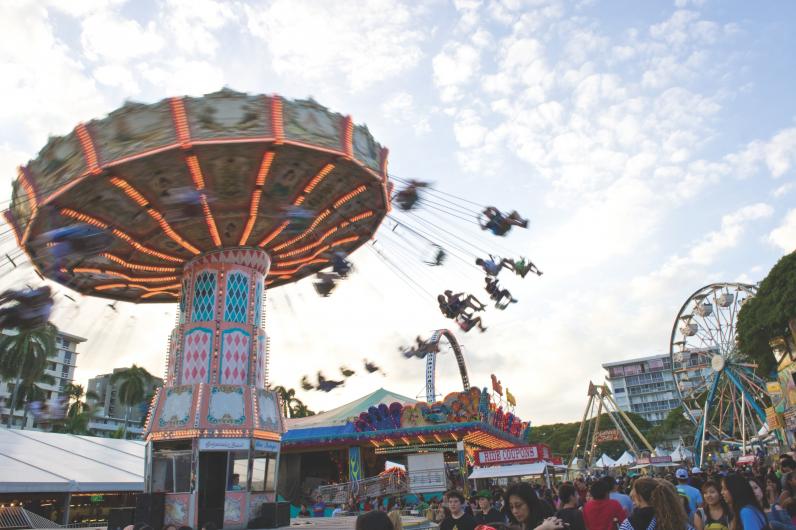 There are two things you can guarantee will always happen every February in Honolulu.
First, a lot more rain than usual—it is winter in Hawaii, after all, and it never snows in our metropolis. The second? The Punahou School Carnival, always set for the first weekend in February.
We're crossing our fingers that only the latter will happen. If you're on Oahu, you should, too.
The annual two-day fundraising carnival, which draws thousands of carnival-goers each year, kicks off at 11 a.m. today with its usual lineup of midway rides and carny games, food booths and, uh, more food. Gates will be open from 11 a.m. to 11 p.m. on Friday at Saturday at the school's lower campus, near Punahou Street and Wilder Avenue in Honolulu.
This year's theme is New York, New York, The Carnival that Never Sleeps, and is presented by the Class of 2015.
Started in 1932, the annual carnival is a popular annual Oahu tradition, luring more than just alumni and parents, cousins, aunties, uncles and siblings of current students of the 173-year-old private school in Manoa Valley. Thousands of Island residents (and visitors) will explore the carnival grounds over the next two days in search of plants, white-elephant sale treasures, fresh flower lei and edible treats such as the carnival's famous homemade mango chutney (which usually sells out by Friday afternoon), freshly fried doughy malasadas (available all-day, both days), Portuguese bean soup, Hawaiian food and barbecue chicken plates and more.
But about that mango chutney and those malasadas: The chutney is handmade, and its mangoes often hand-picked by students during summer mango season. If you can get a jar, grab more than one. The carnival's famous hot malasadas are handmade from a prized school recipe. The carnival's malasada madness dates back to 1957, and an original recipe from the school's then-cafeteria manager. Malasada aficionados have been grateful ever since.
Got an iPhone? There's even an app for the carnival that you can download for free from iTunes called, "iCarnival Punahou Carnival," which provides users a map of the carnival grounds, real-time carnival notifications and a parking guide.
Staffed entirely by volunteers—more than 4,000 students, parents, alumni and faculty and staff—the event Punahou Carnival is the largest fundraising carnival in the state. Proceeds go the school's kindergarten through 12th grade financial aid program.
Finally, a note on the weather forecast for Manoa Valley this weekend: Clear skies are expected with a very slight chance of light rain showers. Crossing fingers.