Haleakala volcano's endangered, endemic silverswords begin blooming in unusually large numbers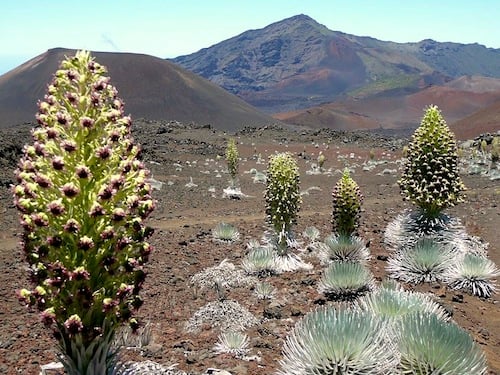 Visitors to the 10,000-feet-above-sea-level summit of Haleakala National Park are currently experiencing a natural event rare to the dry, desert-like environment where only limited flora thrive. This week, unusually high numbers of Haleakala silverswords — endemic plants only found within the National Park on the slopes of Haleakala — are blooming simultaneously.
Although silverswords can live for as long as 90 years, they only flower once, making the recent bloom of multiple plants a rare event indeed. In a blog post by the National Park Service in Hawaii, Haleakala National Park superintendent Natalie Gates said, "Long term residents and park staff say this is one of the best years they've seen for flowers [on Haleakala]."
Silversword in partial bloom at Haleakala summit. Photo: NPS/Polly Angelakis
The Haleakala silversword, also known as ahinahina ("gray" in Hawaiian), is a striking plant with or without flowers. For most of its life, ahinahina resembles a bouquet of swords, with silver, spikey, succulent leaves growing densely at ground level. As a silversword plant reaches maturation, which can occur anytime within three to 90 years, it sends out a long, flowering stalk covered in hundreds of vibrant purple flowers. After the flowers dry out, the silversword also dries out and dies, leaving several thousand seeds to scatter in the wind and (hopefully) take root elsewhere.
Many years ago, ahinahina became endangered due to a combination of grazing animals and human visitors to the summit uprooting the plants or stepping on their fragile roots. The U.S. Fish and Wildlife service has included the Haleakala silversword on its threatened species list since 1992.
Fortunately, ahinahina is experiencing a comeback, thanks to conservation efforts by Haleakala National Park. The park erected fences to keep animals from grazing on the silvery leaves, and park staff regularly remove all non-native plants threatening to crowd out silverswords. Paths have also been constructed to keep visitors away from ahinahina's shallow root systems and fragile seedlings.
A silversword plant before blooming. Photo: National Park Service
Visitors to Haleakala National Park can view the current spectacular flowering phenomena from three main locations within the park: the Haleakala summit, the Kalahaku Overlook or on the Sliding Sands Trail, a four- to six-mile round trip hike into the summit basin of Haleakala.
Hikers are encouraged to stay on the trails, especially near any flowering silverswords. Since they only flower and produce viable seeds once in their lifetimes, its critical to give the ahinahina room to breathe so their seeds can grow unobstructed. Make sure to wear sturdy shoes, be prepared for rapid weather changes and bring sunscreen and water.