Hanalei for the holidays? Kauai resort offering room deals, free nights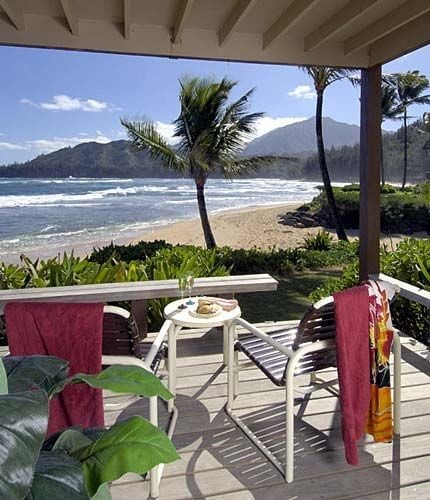 Will it be a Kauai kind of Christmas? A Happy New Year's Eve in Hanalei?
The Hanalei Colony Resort's "Hanalei Holiday Special" sounded to us like a great trade off for the weeks surrounding Christmas and New Year's Day. "Bye, bye" cold winter weather with a chance of snow! "Aloha" warm white sands and the sound of lapping waves on Kauai's picturesque north shore!
The 48-unit, all-vacation condo property is offering 25 percent off on all room categories for minimum three-night stays between Dec. 20, 2009, and Jan. 4, 2010. Stay a week, and the seventh night is free.
It's a good deal during a couple of Hawaii's busiest travel weeks, when room rates throughout the Islands—even in a tough economy—are generally higher.
The five-acre low-rise resort—first-opened in 1969 and located in Haena on beachfront overlooking Hanalei Bay—is a laid back, unstuffy getaway-from-it-all spot. There are no TVs or telephones in any of the resort's two-bedroom, two-bath, lanai and fully-equipped kitchen condos—the only floor plan throughout the resort. The nearest shopping and sundries are in Hanalei, five miles away.
Complimentary high-speed Internet access for your laptop is available in a single hotel "hot spot," the Makana Room, open from 8 a.m. to 10 p.m. The Makana room is oceanfront so you'll at least have a view while you work.
But if the goal of your north shore Kauai vacation is getting away from work and distractions, you're set.
The "Hanalei Holiday Special" also includes 15 percent off all dining at the resort's Mediterranean Gourmet Restaurant, 10 percent off all treatments its Hanalei Day Spa and 10 percent off food & beverages at nearby Na Pali Coffee House & Art Gallery.
Want to go now? The Hanalei Colony Resort is already offering a similar deal for minimum two-night stays.
Click here for "Hanalei Holiday Special" reservations, or call (800) 628-3004.
We found rooms on the resort's online reservation system as low as $180 per night for garden view rooms (regular holiday season rate: $250), $236 for oceanfront rooms (regular holiday season rate: $345) and $281 for just-off-the-sand oceanfront rooms (regular holiday season rate: $420). Rates were about $20 per-night higher on Christmas and New Year's Eve.