Happy New Year 2015 from HAWAII Magazine's staff ohana!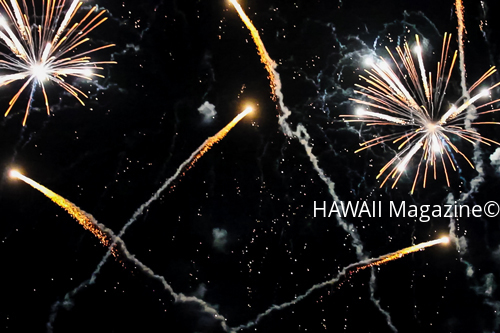 Hauoli Makahiki Hou (Happy New Year) to our HAWAII Magazine, HawaiiMagazine.com, Facebook and Twitter reader ohana from the staff ohana of HAWAII Magazine!
"Hauoli Makahiki Hou" in Hawaii:
The traditional Hawaiian celebration of bounty and harvest—
Makahiki
—coincides with several western winter holidays. The literal translation of the word "makahiki" also means "year." Makahiki lasts for four months, usually from mid-October to mid-February, and begins with the first sighting of Makalii, a constellation in Pleiades, as it rises above the horizon at sunset. The celebratory season has traditionally been a time of rest, appreciation for the bounty of the land and a time for strengthening community bonds. The phrase "hauoli (happy) makahiki (year) hou (new)" was adopted for the celebration of the western holiday, and the calendar turn that also sees many enjoying the season as a time of rest, family and appreciation.
Today, Hawaii's blend of cultures makes the state an exciting and fascinating place to spend the New Year. Many enjoy fireworks as a way of ushering out the year past and ringing in the new. If you're lucky enough to be celebrating with us here in Hawaii, check out HawaiiMagazine.com's list of public fireworks displays throughout the state for show locations near you.
May you all enjoy a wonderful New Year's Eve. Here's to a happy and healthy 2015 that hopefully includes some time in our Islands.
Mahalo for subscribing to, reading and following HAWAII Magazine in 2014.
See you in 2015!
Aloha!