Have a cup of "O": Hawaii coffee honors Obama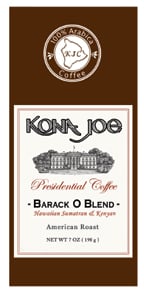 Barack Obama hasn't taken over the Oval Office yet but his legacy is already brewing.

Inspired by the President-elect, Big Island coffee company Kona Joe Coffee has created Barack O Blend—a blend of Indonesian, Kenyan and Hawaiian coffees meant to reflect places and cultures that were a part of Obama's upbringing.
"I followed his campaign very closely," says coffee farmer and Kona Joe owner Deepa Tiare Alban. "I thought it would be great to create a coffee that traced his roots. Everything just fell into place."
Obama's background reflected several superior coffee growing regions. Bringing together the three coffees required a bit of work, says Alban.
Indonesian-grown Sumatran coffee is known for its powerful notes. Kenyan has a bright acidity. The inclusion of the smoother Kona toned down the distinct flavors of the other coffees, while marrying the blend together.
It took a bit of tinkering, but the result, we're told, is a well-balanced cup our future president might be pleased to wake up with in the White House.
Barack O Blend is available for shipping and may even arrive at your door just in time for inauguration night next Tuesday. Click here to buy a bag or two for yourself.
Otherwise it can be found in AAFES military stores around Hawaii. It will be available in most grocery stores in the coming months.