Hawaii-based Polynesian Voyaging Society launches first leg of ambitious worldwide sail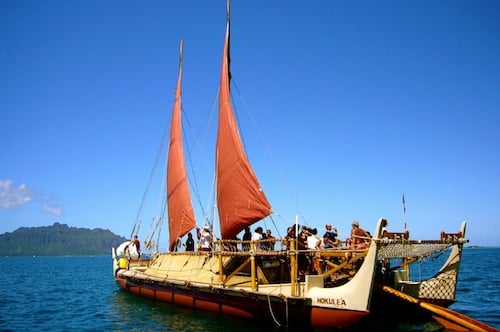 This weekend, the Polynesian voyaging canoe Hokulea and sister vessel Hikianalia will sail into Hilo Bay for the first stop on the Malama Hawaii leg of the Polynesian Voyaging Society's ambitious four-year Worldwide Voyage.
The wa'a kaulua (voyaging canoes) were launched on Wednesday in Honolulu Harbor. Over the next several months, the canoes will sail 1,000-miles statewide, with stops at 30 ports, before departing for Tahiti in May 2014. Click here for the Malama Hawaii sail plan.
Next week, while visiting Hilo, canoe crews will take part in koa tree plantings, presentations about voyaging, and other Big Island community outreach efforts.
The voyage's awe-inspiring worldwide sail plan includes covering more than 46,000 nautical miles and visiting more than 20 countries, with some 60 stops during which crewmembers will connect with schoolchildren, educators, indigenous groups and others to exchange future-focused ideas and practices linked to environmental sustainability.
The 62-foot by 20-foot Hokulea accommodates up to 14 voyagers, and the slightly larger Hikianalia can sail with up to 16 crewmembers. Neither uses fossil fuels. Both rely on wind in the sails and photovoltaics for their lights, communications and, in Hikianalia's case, engines.
During the worldwide voyage, no single crewmember will be on board Hokulea for more than 30 consecutive days without taking a break. By the time the canoe completes its planned circumnavigation of the globe, an estimated 400 crew members from a total of 16 different countries will have sailed on the vessel. The crew will consist of navigators, students, educators, scientists, documenters, medics, and cultural leaders, including some of the voyaging society's early members who are now in their 60s.
Founded in the early 1970s, the Hawaii-based Polynesian Voyaging Society's early members set out to address unanswered questions about how Early Polynesians made their way to Hawai'i and other far-flung islands in the Pacific Ocean.
Among the matters debated by scholars and navigators: Was exploration and settlement intentional? The result of planned voyages? Or was it a case of "accidental drift" involving storm-wrecked canoes slipping off course, or aimless one-way exile voyages?
Critics of the "intentional voyages" theory doubted that the canoe's spare design could hold up over vast distances. Among those countering that stance were voyaging society members inclined to believe that Polynesian maritime legends were likely based on fact, and that the canoe's seaworthiness was at least equal to that of Europe's first ocean-crossing ships.
The debate prompted the society to build a replica of an ancient voyaging canoe and retrace the storied path of discovery by sailing it from Hawai'i to Tahiti. Hokulea's first launch during the mid-1970s coincided with the start of the ongoing Hawaiian Renaissance, a revival of long-suppressed and neglected cultural identity expressed in music, language, hula, and other traditional practices, such as voyaging.
To date, Hokulea has sailed by way of traditional voyaging more than 135,000 miles of Pacific Ocean, traveling to the corners of the Polynesian Triangle as well as to the U.S. Mainland's West Coast and Alaska, Japan and Micronesia, and other areas. The worldwide voyage, dubbed Malama Honua Worldwide Voyage will mark the voyaging canoe's first venture into other oceans.
The Polynesian Voyaging Society's around-the-Earth plan is detailed in a feature story titled "Around the World in 1,460 Days," in the HAWAII Magazine's May/June issue.