Hawaii became a state 49 years ago today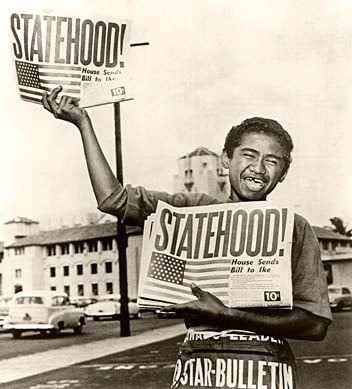 Today's the 49th anniversary of statehood for Hawaii.
On March 12, 1959, both houses of Congress passed the Hawaii Admission Act. President Eisenhower signed it into law five days later.
Almost 95 percent of Hawaii residents voted to accept the statehood bill that June, and the Hawaiian archipelago became the 50th state two months later.
No big statehood events are planned here for today—most acknowledge Statehood Day as August 21, the day Hawaii officially became a state. These days, celebration of the latter is largely muted due to unhappiness from Native Hawaiian groups over the 1893 overthrow of the Kingdom of Hawaii.
So don't expect any big to-do when August 21 rolls around this year. But it would seem likely there will be some kind of large-scale celebrating for next year's 50th anniversary of statehood.
March 12, 1959, marked the end of a 40-year-bid—first launched by Hawaii Congressional delegate and Prince Jonah Kuhio Kalanianaole in 1919—for the Islands to become a state. Five bills for statehood were introduced between 1919 and 1950. All of them were rejected until the 86th Congress made Hawaii the 50th state two months after Alaska became the 49th in January 1959.
Thousands of residents celebrated in the streets, car horns honked, bands played and paraded down Kalakaua Avenue in Waikiki, and ceremonies were held all over the new state. The Statehood Commission Office hung a sign outside its door with the handwritten note: Out of Business.