Hawaii Book & Music Festival returns this weekend. What to see. What to buy.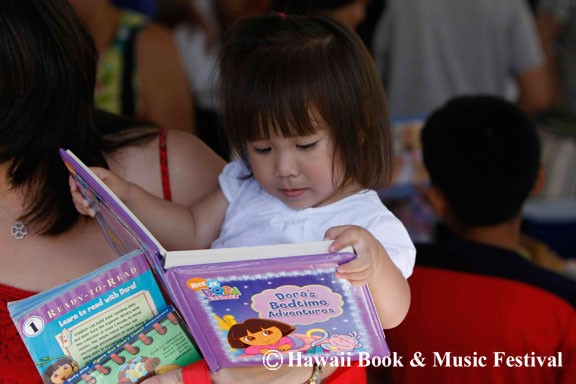 Hawaii authors and book publishers are getting some serious recognition this month, and it has nothing to do with getting their titles on the Amazon.com Kindle or the Apple iPad.
A couple of weeks back, the Hawaii Book Publishers Association handed out prizes to winners of its annual Ka Palapala Pookela Awards, which honor the best Island books of the last year. (Translated from Hawaiian, the award's name means "excellent manuscript.") And returning to Honolulu this Saturday and Sunday is the 5th annual Hawaii Book & Music Festival—an outdoor one-stop shopping marketplace showcasing the breadth of literature and music created and published here in Hawaii.
Hawaii is home to one of the country's strongest and most vibrant regional publishing markets—annually producing dozens of titles, ranging from cookbooks and childrens' books, to authoritative guidebooks, biographies and coffee table-sized photo books, and fiction in all genres. Books published here often have the good fortune of finding comparable success with residents and visitors alike.
The Hawaii Book & Music Festival is annually the largest gathering of Hawaii-based book publishers, authors and music distributors. With 10 pavilions and stages, the family-friendly festival offers up book readings, kids activities, entertainment and more than two-dozen publisher and bookseller booths. Admission and parking are free. And all of it takes place under the many shade trees of the Frank F. Fasi Civic Grounds at Honolulu Hale—easily reachable by city bus lines from Waikiki.
If you're looking to take home a few Hawaii book souvenirs, the fest is a great place to meet the authors in-person, or catch them doing readings or participating in panel discussions. For Hawaii residents, the ever-popular Book Swap and CD Swap tents (sponsored by Bank of Hawaii and Outrigger Hotels & Resorts) offer a chance to trade in items from your current collection for something new.
Other Book & Music Fest stuff we'd recommend checking out include:
• The Hawaiian Culture and Language Pavilion. The Alana Hawaiian Culture Program (alana means "awakening" in Hawaiian) will feature panel discussions and presentations on the evolution of Hawaiian culture, including hula and contemporary chant, throughout both days.
• The Authors' Pavilion. Over the fest's two days, the pavilion will feature in-person appearances by more than a dozen notable authors including Dan Kois (Israel Kamakawiwoole's 'Facing Future'), Duane "Dog" Chapman (Where Mercy Is Shown, Mercy Is Given) and Kaui Hart Hemmings (The Descendants).
• Sunset Kani Ka Pila Concert. A concert featuring contemporary Hawaii music acts Mailani, Sean Naauao and Maunalua. From 6 to 8 p.m., Saturday.
Finally, we'd be seriously remiss if we didn't put in a book fest plug for a member of our own family: Stop by HAWAII Magazine sister company Watermark Publishing's booth on both days to peruse its wide selection of books covering a broad range of Hawaii topics. Watermark took home four prizes at this year's Ka Palapala Pookela Hawaii book awards, including Book of the Year (Ben: A Memoir, from Street Kid to Governor by Benjamin J. Cayetano), Hawaiian Culture Book of the Year (Wayfinding through the Storm: Speaking Truth to Power at Kamehameha Schools by Gavan Daws and Nā Leo o Kamehameha) and Cookbook of the Year (Kau Kau: Cuisine & Culture in the Hawaiian Islands by Arnold Hiura). Congrats!
The 5th Annual Hawaii Book & Music Festival happens from 10 a.m. to 8 p.m. on Saturday, May 15, and 10 a.m. to 5 p.m. on Sunday, May 16 at the Frank F. Fasi Civic Grounds at Honolulu Hale at Punchbowl and King Streets.
For more information—including a downloadable copy of this year's program guide—visit the Hawaii Book & Music Festival website.
Want to put together a shopping list of great books to buy at the fest, before you go?
2010 Ka Palapala Po'okela Hawaii book award winners
• Samuel M. Kamakau Hawai'i Book of the Year Award:
Ben: A Memoir, from Street Kid to Governor by Benjamin J. Cayetano
(Watermark Publishing)
• HawaiiReaders.com Readers' Choice Award:
Under Maui Skies and Other Stories by Wayne Moniz
(Koa Books)
• Excellence in Childrens' Hawaiian Culture, winner:
No ka Wai o ka Puna Hou / The Water of ka Puna Hou by Kawehi Avelino; illustrated by Eve Furchgott
(Kamehameha Publishing and Hale Kuamoo)
• Excellence in Childrens' Hawaiian Culture, honorable mention:
O Kaina ke Kumu Koa / Kaina the Koa Tree by Kulamanu Kawaiaea, Emilia Kaawa, Kawehi Keolanui, and Malia Kruger; illustrated by Eve Furchgott
(Kamehameha Publishing and Hale Kuamo'o)
• Excellence in Childrens' Illustrative or Photographic Books, winner:
When the Cassowary Pooped: A Tale of New Guinea by Tamara Montgomery and Jodi Parry Belknap; illustrated by Joseph D. Dodd
(Calabash Books)
• Excellence in Childrens' Illustrative or Photographic Books, honorable mention:
Too Many Mangos by Tammy Paikai, illustrated by Don Robinson
(Island Heritage Publishing)
• Excellence in Childrens' Literature, winner:
Pulelehua and Mamaki by Janice Crowl; illustrated by Harinani Orme
(Bishop Museum Press and Kamahoi Press)
• Excellence in Childrens' Literature, honorable mention:
Too Many Mangos by Tammy Paikai, illustrated by Don Robinson
(Island Heritage Publishing)
• Excellence in Hawaiian Culture, winner:
Wayfinding through the Storm: Speaking Truth to Power at Kamehameha Schools by Gavan Daws and Nā Leo o Kamehameha
(Watermark Publishing)
• Excellence in Hawaiian Culture, honorable mention:
Hookupu: An Offering of Literature by Native Hawaiian Women edited by Miyoko Sugano and Jackie Pualani Johnson
(Mutual Publishing)
• Excellence in Literature, winner:
The Bone Hook by Ian MacMillan (Mutual Publishing)
• Excellence in Literature, honorable mention:
Hookupu: An Offering of Literature by Native Hawaiian Women edited by Miyoko Sugano and Jackie Pualani Johnson
(Mutual Publishing)
• Excellence in Illustrative or Photographic Books, winner:
Big Island Journey: An Illustrated Narrative of the Island of Hawaii by Sophia Schweitzer and Bennett Hymer
(Mutual Publishing)
• Excellence in Illustrative or Photographic Books, honorable mention:
Pacific Images: Views from Captain Cook's Third Voyage, 2nd edition by Eleanor C. Nordyke, in collaboration with James A. Mattison, Jr., M.D.
(Eleanor C. Nordyke)
• Excellence in Natural Science, winner:
Amy Greenwell Garden Ethnobotanical Guide to Native Hawaiian Plants by Noa Kekuewa Lincoln
(Bishop Museum Press)
• Excellence in Natural Science, honorable mention:
Plants of the Canoe People: An Ethnobotanical Voyage through Polynesia by W. Arthur Whistler (National Tropical Botanical Garden)
• Excellence in Text or Reference Books, winner:
Amy Greenwell Garden Ethnobotanical Guide to Native Hawaiian Plants by Noa Kekuewa Lincoln
(Bishop Museum Press)
• Excellence in Text or Reference Books, honorable mention:
Ethnobotany of Pohnpei: Plants, People, and Island Culture edited by Michael J. Balick
(University of Hawai'i Press)
• Excellence in Cookbooks, winner:
Kau Kau: Cuisine & Culture in the Hawaiian Islands by Arnold Hiura
(Watermark Publishing)
• Excellence in Cookbooks, honorable mention:
What Hawaii Likes to Eat – Hana Hou by Muriel Miura with Gay Wong
(Mutual Publishing)
• Excellence in Special-Interest Books, winner:
Crochet Lei Making in Hawaii 3 by Judy Dela Cruz
(Mutual Publishing)
• Excellence in Special-Interest Books, honorable mention:
Daniel's Ocean Views by Joyce Cassen, Norman, and Sara Levey
(Mutual Publishing)
• Excellence in Nonfiction Books, winner:
Ben: A Memoir, from Street Kid to Governor by Benjamin J. Cayetano
(Watermark Publishing)
• Excellence in Nonfiction Books, honorable mention:
Talking Hawaii's Story: Oral Histories of an Island People edited by Michi Kodama-Nishimoto, Warren S. Nishimoto, and Cynthia A. Oshiro
(University of Hawai'i Press)
• Excellence in Design, winner:
Kailua: In the Wisps of the Malanai Breeze from the Kailua Historical Society, design by Barbara Pope, Barbara Pope Book Design
• Excellence in Design, honorable mention:
Contemporary Hawaii Woodworkers by Tiffany DeEtte Shafto and Lynda McDaniel, design by Tiffany DeEtte Shafto
(Contemporary Publications)
• Excellence in "Aloha from Beyond Hawaii," winner:
The Last Aloha by Gaellen Quinn
(Lost Coast Press)
• Excellence in "Aloha from Beyond Hawaii," honorable mention:
Ben Norris: American Modernist, 1910-2006 by Ben Norris, edited by Margaret Norris Castrey
(Copley Square Press)
• John Dominis Holt Award in Recognition of a Lifetime Contribution to Hawai'i Book Publishing:
Maile Meyer, Native Books / Na Mea Hawaiii