Hawaii Book & Music Festival spotlights best-selling authors, Islands-inspired music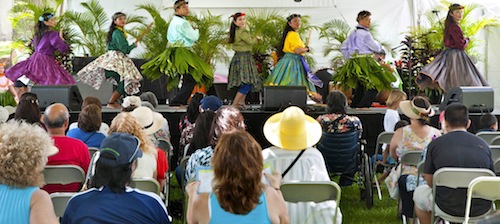 How's your Hawai'i reading list holding up? And that island-style music playlist? The Hawaii Book & Music Festival is a sure bet to replenish and freshen up your stash of good reads and tunes. Plus, as always, the upcoming weekend event will feature local and national best-selling authors.
Now in its eighth year, the annual Bank of Hawaii Presents the Hawaii Book & Music Festival will be held on Honolulu Hale civic center's grounds. Festival hours: 10 a.m. to 5 p.m. on Sat., May 18; and 11 a.m. to 6 p.m. Sun., May 19, with free admission and free parking in several nearby locations.
The featured presenters will include: Susanna Moore (The Whiteness of Bones) with her new novel, The Gift of Objects; John Ritter (The Boy Who Saved Baseball) and his new novel, Fenway Fever; Jane Porter (Flirting with 40) will present two titles from her new trilogy, The Good Woman and The Good Daughter; Yunte Huang, with his new biography about Charlie Chan; Douglas Corleone, with the latest addition to his Kevin Corvelli crime series, Last Lawyer Standing; Waimea Williams (Aloha Mozart); Mike Bond, with his new novel, Saving Paradise; Charley Memminger and his new crime mystery, Aloha, Lady Blue; and international mezzo-soprano Laurie Rubin will sing and present her memoir, Do You Dream In Color?.
The event will also feature Hawaii-published authors including novelists Chris McKinney (Tattoo, Mililani Mauka) with Boi No Good; John Berger (Hawaii Music and Musicians); Bob Jones with his new memoir (Reporter); and Sam Low with his epic story of the Hawaiian Renaissance, Hawaiki Rising, and award-winning documentary film, The Navigators: Pathfinders of the Pacific, which premiered nationally in 1983.
Festivalgoers will have opportunity to meet local, national and internationally celebrated authors and illustrators; enjoy music and stage performances; stimulating panel discussions on a variety of topics; storytelling and poetry slams; as well as activities and entertainment for kids, including performances by PBS Kids host Mr. Steve, along with appearances by PBS Kids characters and other popular story-book characters. In addition, attendees may also take part in the popular Bank of Hawaii Book Swap, browse bookseller booths, and find island-style eats at a multi-ethnic food court.
The nonprofit Bank of Hawaii Presents Hawaii Book & Music Festival beneficiaries are Hawaii Literacy and Read to Me International. For additional information and event updates, click here.