Hawaii-born world surfing legend Andy Irons dies at 32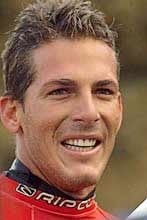 Hawaii-born three-time world champion surfer Andy Irons has died. He was 32.
A statement released by Irons' family this afternoon, a few hours after word of his passing was first reported, said that the surfer had reportedly been stricken with dengue fever, a viral illness typically transmitted by mosquitoes. Irons was in Dallas, Texas, when he passed away while on an overnight layover.
Irons had been in Puerto Rico over the weekend to compete in the Rip Curl Pro, which he eventually dropped out of in second-round competition after becoming ill. Irons reportedly spent Sunday and Monday in Miami, Fla., attempting to recover before finally deciding to fly back home to Kauai to check in with his regular physician. After failing to make a connecting flight out of Dallas last night, Irons checked into a hotel where he was found dead by hotel staff this morning.
The Oahu-born, Kauai-raised Irons was one of the surf world's greatest competitors, having won 20 titles in a 12-year professional career. He won the Association of Surfing Professionals world champion title three years in a row between 2002 and 2004.
Irons took a break from the ASP World Tour in early 2009, but returned to wildcard competition this year, recently winning the Billabong Pro in Tahiti on Sept. 3. A four-time title-winner at the Vans Triple Crown of Surfing—Oahu's annual granddaddy of winter big wave surf tournaments—Irons was reportedly expected to surf this year's series of contests, slated to begin Nov. 12.
Irons was a resident of Hanalei on the north shore of Kauai, where he and younger brother, former world tour pro Bruce Irons, grew up and learned to surf.
Irons is survived by his wife, Lyndie, and his brother Bruce.
SHORT FILM: "Andy Irons: 'I Surf Because …'"