Hawaii celebrates its favorite pink luncheon meat at Waikiki Spam Jam this weekend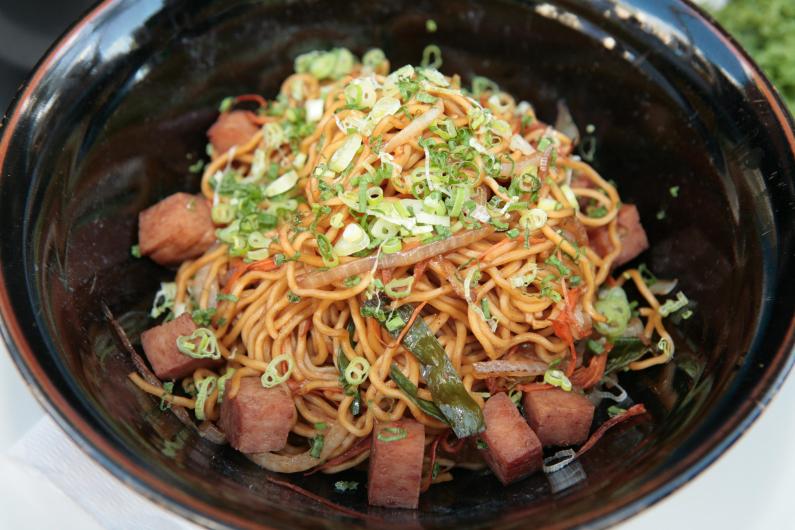 Hawaii's love of Spam is undeniable.
You see the evidence in our eateries, where Spam loco moco and Spam and eggs with rice are menu staples. Every day, Spam musubi, a popular portable snack, quickly disappears from storefront counters. Even our supermarkets occasionally spotlight the canned meat-product in carefully stacked, fancy pyramid-shaped displays.
Yep, we eat up nearly 7 million cans of Spam a year in Hawaii — more than any other state across the nation, according to Minnesota-based Hormel Foods, producers of the canned luncheon meat since 1937. Reason enough to celebrate? We think so.
Tomorrow, Sat., April 30, we'll pay tribute to our penchant for the pink foodstuff at the 9th Annual Waikiki Spam Jam.
As in years past, Kalakaua Avenue, the main thoroughfare through Waikiki, will be closed to automobile traffic from 4 p.m. to 10 p.m. for the festival, which last year attracted an estimated 24,000 people.
The festival area will be lined with food booths — each serving Spam-inspired cuisine. There'll be a couple of entertainment stages. Merchandise booths will sell Spam T-shirts, shorts and other paraphernalia linked to salty pork goodness. A portion of T-shirt sale proceeds will go to the Hawaii Foodbank. In addition, volunteers will be on hand at two booths to collect donations of Spam products for the Hawaii Foodbank, the largest nonprofit in Hawaii that feeds the needy.
A dozen or so Honolulu restaurants are sure to attract hungry crowds as chefs give our beloved comfort food glamorous makeovers. Among the expected offerings: Spam Fusion Fajitas, Spam Mahi Carbonara, and Island Spicy Spam Wraps. And for dessert or for icy refreshment? A Spamcicle by the creative paleta makers at OnoPops, anyone?
Also, during the evening, Spam Jam officials will announce the winner of a Hawaii-designed label contest, which drew 117 entries. Though only Hawaii residents could submit designs, anyone could vote. During a five-day voting period in February, 14,000 ballots were cast. Hormel picked the winning design from the top five vote-getters.
The winning entry will appear on cans of reduced sodium Spam — the top-selling of the eight types of Spam found on grocery store shelves in Hawaii. The winner will also take home $1,000, a Spam products gift bag and, of course, a case of Spam.
For more information about Spam Jam festivities and food, click here.