Hawaii-filmed "The Descendants" dramedy picks up five Oscar nominations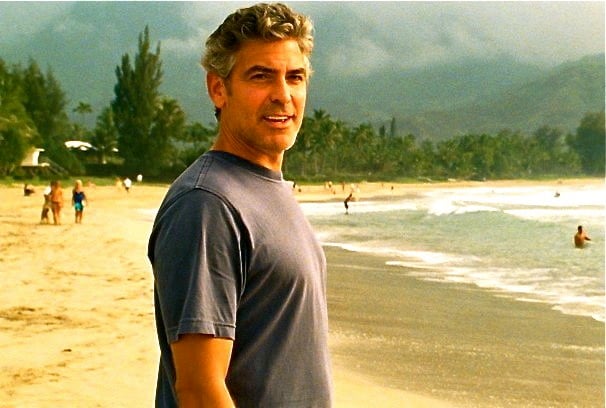 The Descendants, a dramedy filmed on Oahu and Kauai, and packed with a cast of compelling Hawaii characters, today picked up five Academy Awards nominations.
They include: best picture, best lead actor (George Clooney), best director (Alexander Payne), best adapted screenplay and
best film editing.
According to the complete Oscar nominee list for the 84th Academy Awards, Hugo leads the competition with 11 overall nominations. The Artist follows with 10 nominations. Moneyball and War Horse have six each; and The Descendants and The Girl with the Dragon Tattoo, five each.
Earlier this month, The Descendants won the Golden Globe award for best motion picture drama, and Clooney (pictured, right) top the award for best lead actor. The awards come on the heels of praise at 2011 film festivals and among dozens of movie critics.
Based on the best-selling novel by Hawaii writer Kaui Hart Hemmings, The Descendants follows the story of Matt King (Clooney) — a wealthy landowner, husband and father of two girls — who is forced to reexamine his life and relationships in the after his wife is severely injured in a boating accident near Waikiki.
A descendant of a 19th-century Hawaiian princess, King must simultaneously contend with a big decision about the impending sale of his family's inherited Hawaiian land while learning that his comatose wife had been having an affair. In the film, King's home is in Nuuanu, a 15-minute car ride from Waikiki on Oahu. Part of the storyline involves King and his daughters traveling to Kauai to find his wife's lover and see the pristine family-owned land.
Shailene Woodley and Amara Miller (both, pictured left) star as King's daughters. The film also features Beau Bridges, Robert Forster, Nick Krause (pictured, left) and Judy Greer. Payne was nominated for an Oscar for directing Sideways, which won the 2005 Oscar and Golden Globe for best screenplay. Clooney won the 2006 Oscar for best supporting actor in the Middle East thriller Syriana.
To check out a trailer for The Descendants, click here.