Hawaii-filmed "The Descendants" dramedy wins Oscar for best adapted screenplay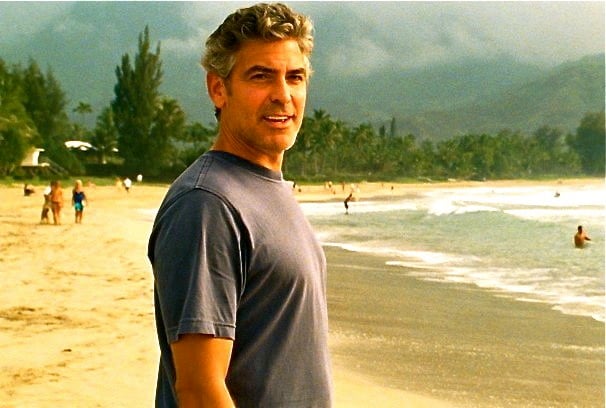 The Descendants, a dramedy filmed on Oahu and Kauai and packed with a cast of compelling Hawaii characters, picked up an Oscar statuette last night for best adapted screenplay.
The screenplay is based on the best-selling novel by Hawaii writer Kaui Hart Hemmings, who reportedly struck up a friendship with director Alexander Payne and assisted him on matters ranging from screenplay details to casting and wardrobe. Also, Hemmings played a bit part in the movie as the secretary for the lead character, Matt King (George Clooney).
The Descendants follows the story of King — a wealthy landowner, husband and father of two girls — who is forced to reexamine his life after his wife is severely injured in a boating accident near Waikiki. A descendant of a 19th-century Hawaiian princess, King must simultaneously contend with a big decision about the impending sale of his family's inherited Hawaiian land while learning that his comatose wife had been having an affair.
In the film, King's home is in Nuuanu, a 15-minute car ride from Waikiki on Oahu. Part of the storyline involves King and his daughters traveling to Kauai to find his wife's lover and see the pristine family-owned land.


In addition to the Academy Award nomination for best adapted screenplay, the film was also a candidate for: best picture, best lead actor (Clooney), and best director. The Artist, a mostly silent black-and-white film about an actor's struggle with the end of the silent film era, swept all four categories.
The Descendants was our favorite in the best picture lineup. Still, we expected that The Artist, described as a well crafted "love letter" to the movie-making industry would likely walk away with the best picture Oscar. We were betting, though, that Clooney (pictured, above) would win a statuette for his role, which was well received among Hawaii's actual kamaaina.
What are your thoughts on the 84th Academy Awards? Please leave your comments on HAWAII Magazine's Facebook Page.
While The Descendants made it to the winner's stage just once, one of its screenwriters, Jim Rash, spontaneously created what we're ranking as one of the award show's funniest moments.
While presenting the award for best adapted screenplay, actress Angelina Jolie assumed a seemingly exaggerated pose, jutting her right leg through a thigh-high slit on her gown and placing her left hand on her hip. Minutes later, when Rash joined co-writers Payne and Nat Faxon on the stage, he immediately imitated Jolie's posture, sticking out his leg, placing his Oscar on his hip and tossing his head back.
Click on the image below for a look at Payne's acceptance speech.