Hawaii-filmed "The Descendants" picking up praise, Oscar buzz among movie critics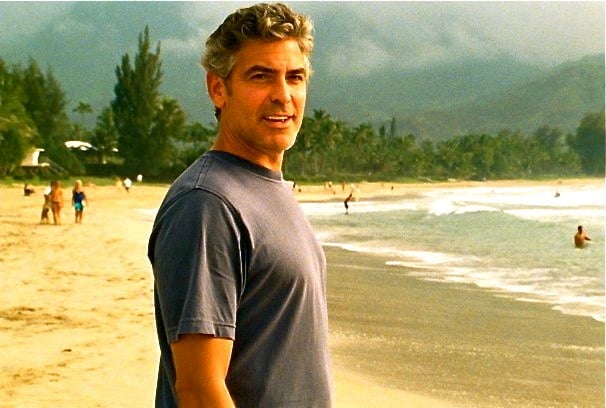 After picking up praise at fall film festivals and among dozens of movie critics, Hawaii-filmed The Descendants, starring George Clooney and directed by Alexander Payne, is now getting plenty of Oscar buzz.
The list of nominees for the 84th annual Academy Awards will be released on Jan. 24. So, during the next several weeks, movie-industry watchers will be sizing up this year's field of films and batting around predictions. One such watcher, Metacritic, maintains a running tally of the most honored 2011 films, which offers a sort of scorecard take on which ones may fare well at the glam red-carpet Academy Awards ceremony slated for Feb. 26.
According to Metacritic, Clooney (pictured, right) has so far won the most recognition in the "best actor" category for his role in The Descendants. Also, the movie is ranked among the top three most-honored movies for "best picture," "best director," "best supporting actress" for Shailene Woodley (The Secret Life of the American Teenager, ABC television series), and "best adapted screenplay." The dramedy is based on the best-selling novel by Hawaii writer Kaui Hart Hemmings.
On Dec. 1, The Descendants received five nominations — one in each category pegged by Metacritic — for the International Press Academy's 16th annual Satellite Awards, which will be presented on Dec. 18. And just yesterday, at the Washington D.C. Area Film Critics Association Awards, The Descendants won the top prize for "best adapted screenplay" and "best lead actor."
Also, music critics are noting that The Descendants is the first mainstream American movie scored exclusively with Hawaiian music, most of it created by masters of the genre such as: Gabby Pahinui, Ray Kane, Keola Beamer, Lena Machado, Sonny Chillingworth, Jeff Peterson, Rev. Dennis Kamakahi, and others. While the soundtrack does not include any new tunes, a few of the "pre-existing" songs were re-recorded for the movie's score.
The Descendants follows the story of Matt King (Clooney) — a wealthy landowner, husband and father of two girls — who is forced to reexamine his life and relationships in the after his wife is severely injured in a boating accident near Wakiki. A descendant of a 19th-century Hawaiian princess and a haole (Caucasian) banker, King struggles to deal with his wife's grave comatose condition while also learning that she had been having an affair. In the film, King's home is in Nuuanu, a 15-minute car ride from Waikiki on Oahu. Part of the storyline involves King, and his daughters, traveling to Kauai to find his wife's lover.
Woodley and Amara Miller (both, pictured left) star as King's daughters. The film also features Beau Bridges, Robert Forster, Michael Ontkean and Judy Greer. Payne was nominated for an Oscar for directing Sideways, which won the 2005 Oscar and Golden Globe for best screenplay. Clooney won the 2006 Oscar for best supporting actor in the Middle East thriller Syriana.
Since released last month, The Descendants has been listed among the top-10 theater box office moneymakers. To check out a trailer for The Descendants, click here.