Hawaii Five-0 books fourth season, CBS keeps TV police drama's cameras on Oahu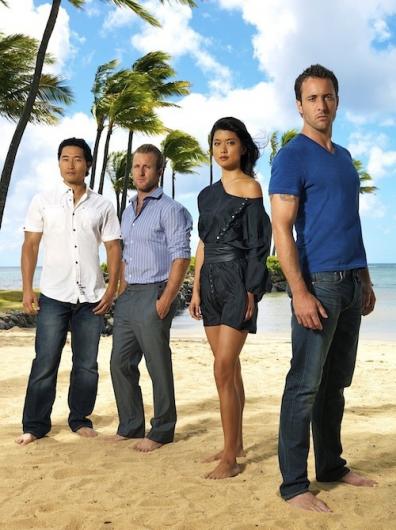 Hawaii Five-O is now booked for a fourth season.
The Hawaii-filmed re-imagined police procedural drama is one of several primetime television series renewed by CBS this week for the 2013-14 season that gets under way in September.
CBS will also bring back are NCIS and NCIS: Los Angeles, both dramas. Also, the network has reportedly ordered new seasons of: Elementary, CSI Crime Scene Investigation, Blue Bloods, The Mentalist, Criminal Minds, Person of Interest, and The Good Wife. According to news reports, the returning reality shows are The Amazing Race, Undercover Boss and Survivor. Renewed comedies: The Big Bang Theory, How I Met Your Mother, 2 Broke Girls, and Mike & Molly. The news shows are 60 Minutes and 48 Hours.
Hawaii Five-O is now wrapping up filming for its current season. CBS will air the last of the season's episodes in mid-May. The show's annual filming hiatus will start next month. After that, we'll be seeing more filming around Oahu featuring the rule-bending Steve McGarrett (Alex O'Loughlin) and the rest of the Five-0 team — Danny "Danno" Williams (Scott Caan), Kona "Kono" Kalakaua (Grace Park) and Chin Ho Kelly (Daniel Dae Kim).

Hawaii Five-O airs Mondays at 9 p.m. (Hawaii time). For more information about the show, click here.
At this time last year, an ABC show filmed on Oahu, The River, a paranormal/action/horror series that debuted during the 2011-12 season, was struggling with viewer ratings. It was officially canceled in May 2012. Another ABC show filmed on Oahu, Last Resort, an American military drama, premiered in September 2012 and aired through January. It was not picked up for a full season. However, it did air 13 episodes.