Hawaii-inspired Art Deco works subject of new Honolulu Museum of Art exhibition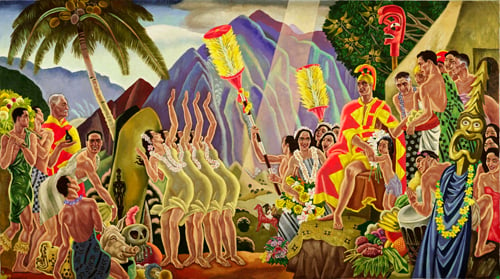 Longing. Nostalgia. The awe of breathtaking views and exotic, untrammeled landscapes. And an appreciation for an art form that, for a time, greatly influenced Hawaii's artist community and the marketing of the Islands to visitors.
These are feelings evoked by many of the works on display at Art Deco Hawaii, the Honolulu Museum of Art's new six-month long exhibition.
For those of us who didn't major in Art History, here's a crash course in the Art Deco style. Originating in post-World War I France, Art Deco enjoyed international popularity from the 1920s through the 1940s. The style's influence spanned everything from fine art to architecture and fashion. Although Deco took on a wide variety of forms, artists adhering to the style focused largely on luxury and glamour, and shared a common aesthetic of symmetry, rich colors and bold geometric shapes.
Art Deco Hawaii is the first major museum exhibition featuring Hawaii-focused and primarily Hawaii-created fine- and commercial artwork done in the vibrant Art Deco style. The exhibition displays paintings, sculpture, traditional fine-art works, commercial illustrations, and photographic ads. In Hawaii, Art Deco artists—many of them commissioned to create works that attracted wealthy visitors to the Islands—typically portrayed Hawaii as a tropical paradise, utilizing the form's rich color palette and symmetric structure. Art Deco's emphasis on luxury and vibrancy was a perfect match for documenting the Islands' natural beauty. As a result, a multitude of luxury cruise ships, air carriers and lodging companies commissioned Art Deco advertisements—some of which are on display at Art Deco Hawaii.
Among the exhibit's most notable fine-art pieces are two series of large murals. The first series was created by Hawaii-based Armenian-American painter Arman Manookian, and was displayed at the Hotel Hana Maui (now Travaasa Hana resort) until 2010. The second series, by painter/sculptor Eugene Savage, is a series of six eight-foot-wide works commissioned in the 1930s by Matson Navigation Co., the then-dominant Hawaii passenger cruise line. Savage's paintings feature gorgeous Hawaiian men and women smiling, dancing, and celebrating—images that aimed to entice travelers to visit the Islands.
Arman Tateos Manookian. Red Sails, c. 1928
After four years of planning and curating by Theresa Papanikolas, Honolulu Museum of Art Curator of European and American Art, Art Deco Hawaii opened on July 3. Special events related to the exhibition include a free lecture led by Papanikolas, "The Exotics of Leisure: Art Deco in Hawaii," today (July 9) at 4:30 p.m. at the Honolulu Museum of Art's Doris Duke Theatre. Papanikolas' talk will address art in Hawaii during the golden age of Hawaii's travel industry.
The Art Deco Hawaii exhibition will be open through Jan. 11, 2015.
To learn more about the history of the Art Deco style in the Islands—especially its effect on Hawaii's tourism and advertising industries—check out the HAWAII Magazine feature Days of Deco by Shane Nelson in the July/August 2014 issue, available on newsstands and in bookstores nationwide, by print subscription or by digital edition subscription or purchase. In addition to being a great read, the piece features several sneak peeks at the artwork featured in the exhibition.