Hawaii Island's Kealakekua Bay is an Ocean-Lover's Paradise
This beautiful corner of the Kona Coast offers the ultimate in calming, picturesque solitude.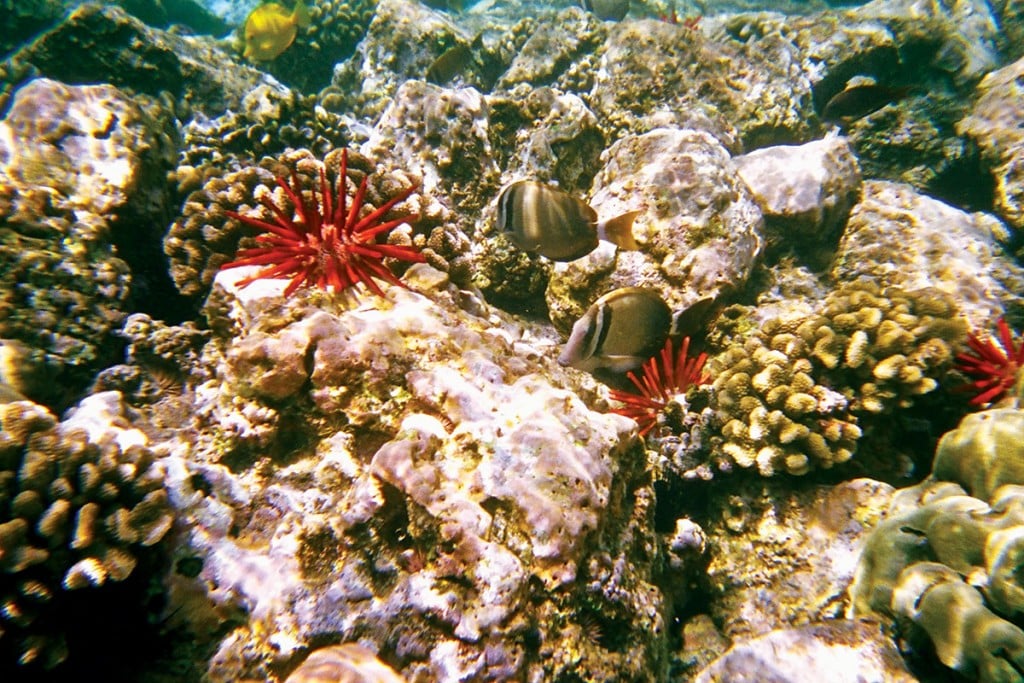 The calm, clear waters of Kealakekua Bay have been called one of the best spots for snorkeling and scuba diving in the main Hawaiian Islands.
Situated roughly 12 miles south of Kailua-Kona on the Big Island's sunny west side, the 315-acre bay is the island's largest sheltered natural bay, and a protected marine-life conservation area. Snorkelers exploring Kealakekua's shallow coves are treated to the sight of dozens of Hawaiian reef fish species, while scuba divers descending to the bay's deeper waters encounter one of the state's most extensive and easily accessible coral-reef systems. Pods of spinner dolphins can often be seen cutting the water's surface as they play and feed.
Guided snorkel and scuba tours to Kealakekua Bay's underwater sweet spots—all accessible only by watercraft—are offered daily by several activity companies in Kona. But I've always preferred the calming adventure of exploring the bay on my own. And so on a recent morning, seeking a few hours of ocean time with my significant other and our sea-loving dogs, I again opted for the self-guided route, renting a kayak and snorkel gear for a day on the bay.
As with guided kayak tours, there are a number of activity companies on the Kona Coast happy to rent kayaks to visitors who simply want to pick up watercraft and head to their destinations. Our stop was Kona Boys kayak shop, headquartered in a green plantation-style house on Mamalahoa Highway, on the way to Kealakekua Bay. Shop co-owner and 11-year Kona resident, Brock Stratton, issued us all the gear we needed and some expert advice on the bay's waters.
"All right. Let's walk to the map," said Stratton, ambling to the middle of the shop. The map in question was large and detailed, charting the entirety of the Kona Coast and Kealakekua Bay.
The crystalline waters of Kealakekua Bay's northwestern half—where its best snorkeling and diving spots are found—sit below a sheer 600-foot cliff called Pali Kapu O Keoua, or "forbidden cliffs of Keoua." The remains of Keoua, an early Hawaiian noble and the father of Kamehameha the Great, were placed in one of the escarpment's many lava tubes, which served as burial caves. Kealakekua Bay was first settled more than 1,000 years ago, eventually becoming a favored residential area of Hawaiian royalty. The bay's name, Kealakekua, comes from the Hawaiian language phrase meaning "pathway of the gods."
Pali Kapu o Keoua is a volcanic fault line, and its steep, craggy facade the product of wave action and landslides. Kealakekua Bay itself rests on the western flank of the massive, still-active Mauna Loa volcano, which produced a single-day volcanic eruption beneath the bay's surface as recently as 1877.
Stratton offered driving instructions to Kealakekua Bay, information on parking and bay access, and a few area tips for us to heed before entering the water. Kona Boys can strap a kayak onto any car, including the most compact of rentals. A double kayak large enough for two people and two water-tolerating dogs strapped to the top of our Nissan pickup, we headed south on Mamalahoa Highway, then Napoopoo Road, enjoying stunning coastline views along the way.
A couple of dozen other kayakers were already on the water when we arrived at the bay's pier, all of them heading toward Kaawaloa Cove on the bay's northwestern end. Gazing across the bay toward the cove, we could see the white stone monument to Capt. James Cook. The British explorer, who sailed much of the Pacific in the mid-18th century, became the bay's first documented European visitor on his arrival in January 1779. The monument marks the spot where Cook was killed in a skirmish with the bay's Hawaiian residents on a return stop a month later.
Sliding our kayak into the water at the pier, we quickly negotiated the mile or so of calm, still ocean to Kaawaloa Cove. Once at the cove, about 15 minutes later, we left our dogs on the kayak to guard our gear, jumped into the water and peeked beneath its surface. Kaawaloa teems with marine life in depths ranging from five to 120 feet.
The water was clear enough to see about 20 feet below the surface into an eerily quiet underwater wilderness that nonetheless seemed organized and tame. Dozens of yellow tang darted around heads of cauliflower coral, with wrasses and pufferfish zipping by. We observed reefs dotted with spiny red and black sea urchins (wana), red lipped parrotfish (uhu) and yellowtail coris (hinalea akilolo). Occasionally, a humuhumunukunukuapuaa — a reef trigger fish and Hawaii's state fish—swam by, regal for its smallish size, seemingly proud of its official title.
I was so relaxed underwater that each time I surfaced, I was surprised at how "not alone" we actually were. There were stand-up paddle boarders, zodiac boats and other kayakers all around the bay. Their sounds—reminders of a world we were trying to escape—had been unable to penetrate the depths below. I put my mouthpiece back in and dove back down.
Only three tour companies with a state-issued permit are permitted to land watercraft near the Capt. Cook monument, but it is legal to swim ashore. After our snorkeling, we climbed out onto the rocky shoreline and walked up to the weathered 27-foot white pillar, erected in 1874 and deeded to Britain. I stole a moment to breathe in the bay—its scenic beauty, its salt-kissed air, its history, and the quietude found in its remote location. It felt good.
Soon enough, kayak paddles back in the water, dogs on the bow, we were headed back to shore. No spinner dolphins today. But a nice escape from reality just the same.
Kealakekua Bay State Historical Park, end of Napoopoo Road (Highway 160), Napoopoo
Kayak rental: Kona Boys, 79-7539 Mamalahoa Highway (Highway 11), Kealakekua, (808) 328-1234, konaboys.com