HAWAII Magazine Guide to Annual Hawaii Food Festivals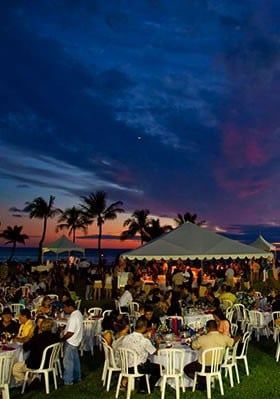 Picture yourself at a beachside barbecue, on the lawn at aptly named Paradise Cove, Oahu. As the sun sets through the waving palms, you wander from food tent to food tent—and realize this is not just any barbecue.
There's roast duck with red wine teriyaki sauce. A seafood pouch with shrimp, clams, mahimahi and honshimeiji mushrooms. Maui Cattle Co. beef and smoked ahi. Moi, the fish of Hawaiian royalty, with cherry tomato jus. Ramen noodles and mushrooms in truffle broth. More and more, cooked right in front of you by some of Hawaii's most noted chefs.
In another tent, Gerhardt Reisacher of Napa's Delectus Winery is pouring his top-of-the-line red, the $135-a-bottle Cuvée Julia. Steve Reynolds of Reynolds Family Winery will take you through his highly regarded Silverado Trail varietals, from chardonnay to cabernet. Eight major California wineries have sent their best wines.
Don't drink wine? There are chilled bottles of microbrewed beer and ale from Hawaii Nui Brewing. Distiller Mark Nigbur of Pau Maui Vodka has flown over to shake and pour martinis. Not to mention bubbly mango and pineapple soda from Waialua Soda Works.
There's live music from the stage. Just when you're sitting back, perhaps sipping a fine glass of wine, there are not one, but two fashion shows—one of Tahitian-inspired aloha wear and another of bikinis from Hawai'i designer Honey Girl.
Sound like a good time? This event is the Paradise Beachside Barbecue, and it's only one of the four galas in Oahu's premier food festival, Hawaii Food and Wine Paradise (pictured, above), held annually over three days.
And joining the celebrated Hawaii chefs at the 2011 Hawaii Food and Wine Paradise? Food Network celebrity chef Anne Burrell of Iron Chef America and Worst Cooks in America. (Don't worry. Burrell's not one of the latter.)
Next festival: May 20 & 21, 2011, www.hawaiifoodandwineparadise.com.
Here's even better news: Hawaii Food and Wine Paradise is only one of dozens of culinary festivals held in the Islands each year. People in Hawaii love to throw a party, and a festival here of any kind usually has food, often lots of it.
Here and on the following pages, HAWAII Magazine presents our guide to the biggest and best annual culinary festivals in the Islands.
OAHU
Hale Aina Awards
In addition to Hawaii Food and Wine Paradise, there's another Oahu festival that consistently draws top chefs. Honolulu Magazine bestows its annual Hale Aina Awards on the top restaurants in the state—so, of course, it's the state's award-winning chefs who come together for the Hale Aina Awards Gala on the lawn of the Royal Hawaiian Hotel. Each chef knows he's cooking for his peers and rises to the occasion, making you also the beneficiary of their most dazzling culinary skills.
Next event: November 2011, www.HonoluluMagazine.com.
Hawaii Food & Wine Festival
Hawaii Regional Cuisine co-founding chef Roy Yamaguchi (of Roy's Restaurants fame) is spearheading the first Hawaii Food & Wine Festival, set for late September. Yamaguchi is looking to put together a three-evening fest, with foodie events spread across three Waikiki hotels: Halekulani, Hilton Hawaiian Village and Waikiki Edition. The fest is still in the planning stages, but expect top Hawaii chefs to be there, along with a few Mainland and international chefs, and as many Hawaii farmers as can attend.The goal? Promoting sustainable agriculture in the Islands and promoting the Islands as an international culinary mecca.
First event: Sept. 29 to Oct. 1, 2011, website coming soon.
————-
Joy of Sake
If you're a fan of Japanese sake, Honolulu boasts America's largest and most important sake event, Joy of Sake. Joy of Sake is so well-reputed, it now journeys to San Francisco, New York and Tokyo, but the Honolulu event is the original and biggest. Of course, there's gourmet food at both the wine and sake festivals, with an emphasis on Japanese fare at Joy of Sake.
Next event: August 2011, www.joyofsake.com.
Not all Island food events are serious gourmet affairs. Some are just fun. For instance, Hawaii has the highest per capita consumption of Spam in the country. So why not throw a massive street party to celebrate Hormel's pink luncheon loaf? Enter the annual Waikiki Spam Jam. Last year, 20,000 people showed up at Waikiki Spam Jam to hear free entertainment from two stages and sample Spam in all varieties, from the ever popular Spam musubi to such variations as Cajun Spam and Spamokopita.
Next event: April 30, 2011, www.spamjamhawaii.com.

———–
Hawaii Fishing and Seafood Festival
You can't live by Spam alone. Fishing is part of the Island culture, and the annual Hawaii Fishing and Seafood Festival draws thousands to Honolulu Harbor's Pier 38, where you can learn about Hawaii seafood, peruse almost every kind of fishing supply imaginable, and sample food from innumerable booths.
Next festival: October 2011, www.hawaiifishingfestival.com.
MAUI
Kapalua Food and Wine Festival

Maui plays host to the granddaddy of culinary festivals in the Islands, the Kapalua Food and Wine Festival, going into its 30th year in 2011. I have attended the event off and on for decades. Originally, it was small, focused on wine professionals, and, as such, had a major impact on the quality of the wine in the Islands.
It has since evolved into a large, three-day food and wine event, centered at the Ritz-Carlton Kapalua. The festival now offers so many pleasures, the key is pacing yourself.
Let me reprise just one day at the 29th annual festival last June. In the morning, it was a pinot noir tasting, with a remarkably entertaining presentation from some of California's best pinot producers, like Fred Scherrer of Scherrer Winery, Donald Patz of Patz & Hall, and wild man Gary Pisoni of Pisoni Vineyards.
The afternoon was taken up by a tasting of artisinal cheeses and Zinfandels, a combination made in heaven. Then all too brief a nap before an elegant poolside cocktail party thrown by Waiwera Artesian Water USA, with Hawaii's best bartender, "Dr. Joey" Gottesman, whipping up cocktails.All that built up to a wine dinner at Merriman's Maui, a new restaurant with a torch-lit terrace jutting out on a lava point into Kapalua Bay. This was not a starched and formal affair. The restaurant's celebrated chef/owner, Peter Merriman, stood at a barbecue grill himself and presented guests with one marvel after another: wild boar bacon with local spinach, clams in lobster broth, Maui Cattle Co. grass-fed ribeye steak and on and on.
After dinner, some younger friends of mine suggested we finish the evening with several bottles of champagne. They did, I did not—because that was only one day of a three-day festival. The next days were equally packed with wine tastings, cooking demonstrations and luncheons, culminating in the grand Seafood Festival.
The Seafood Festival is an event in itself: a beachside celebration with wines by the hundreds and more than a dozen live cooking stations manned by Maui's chefs (Crab cannelloni! Escabeche of Island snapper! Pan-seared scallops with Maitake mushroom risotto!).
Should you be lucky enough to find yourself at Kapalua Food and Wine, it's best to take it slow. There's so much to enjoy, especially since the next festival will be the 30th annual and may be the best ever.
Next festival: June 9-12, 2011, www.kapalua.com.

————-
Taste of Lahaina

Less formal, but every bit as much fun, are two other Maui events. Taste of Lahaina brings together many restaurants on Maui's West Side, all selling food samples. There are also carnival rides and an agricultural tent in this Lahaina town event that draws 10,000 folks.
Next festival: September 2011, www.visitlahaina.com.

————-
Maui Onion Festival

The other is the Maui Onion Festival, two days at Kaanapali's Whalers Village Shopping Center, dedicated to Maui's remarkably sweet onion. Admission to the festival is free, and there are recipe contests, a beer garden, chef demonstrations, entertainment, food booths and games, even a raw onion eating contest. You enter the raw onion contest at your own peril, but do remember to buy yourself a paper tray full of sweet, crisp and hot Maui onion rings. No Maui Onion Festival would be complete without them.
Next festival: May 7, 2011, www.whalersvillage.com.

————-

Taste of Wailea

Should you be a film buff, do not forget that the annual Maui Film Festival also throws a culinary gala, Taste of Wailea. On a grassy knoll overlooking the ocean, Wailea's restaurants set up cooking stations and you can happily eat and drink, then stroll down the hill for a triple-bill at the festival's outdoor Celestial Cinema.
Next festival: June 15-19, 2011, www.mauifilmfestival.com.
BIG ISLAND

Mealani Taste of the Hawaiian Range

If you are going to meet a rancher or farmer on the Big Island, your best bet is the Mealani Taste of the Hawaiian Range. Taste of the Range began 15 years ago as a small adjunct to Field Forage Day, an event designed to educate ranchers on how to raise grass-fed stock. It's grown into one of the most important food festivals in the Islands, one that draws a concentration of top-drawer chefs.
There's a challenge here: Each chef is given a cut of meat, often one he or she has never served in a restaurant. The chefs rise to the challenge and try to outdo each other with dishes made from Big Island grass-fed beef, pork, lamb, goat, mutton and wild boar, supplemented with fresh fruit and vegetables from the Big Island's farmers. The resulting gala draws 1,000 ranchers, farmers, restaurateurs and eager eaters to the Hilton Waikoloa Village Resort.
Next festival: September 2011, www.tasteofthehawaiianrange.com.

————-
Kona Coffee Cultural Festival

Coffee lovers can check out the Kona Coffee Cultural Festival, which stretches over 10 days and includes concerts, parades and even a Miss Kona Coffee scholarship pageant. There are coffee competitions, tastings and tours galore, as Kailua-Kona celebrates its 182-year coffee tradition.
Next festival: Nov. 4 to 13, 2011, www.konacoffeefest.com.

————-

Kau Coffee Festival

The region of Kau, south of Kona, is up-and-coming coffee country as well, and has begun its own two-day Kau Coffee Festival, which includes recipe contests and entertainment.
Next festival: May 14-15, 2010, www.kaucoffeefestival.com.

————-

Kona Chocolate Festival & Symposium

Chocolate! Do I have your attention? Chocolate is the Big Island's newest crop, and the annual Kona Chocolate Festival & Symposium is an all-day affair of lectures and chocolate discussions, finishing with a gala in which chefs, both amateur and professional, offer samples of their best chocolate creations, some 25,000 pieces of them, brownies, mousses and ganaches, tortes and tarts, truffles and even plain old chocolate candies. If you never get enough chocolate, this is an event for you.
Next festival: April 2, 2011, www.konachocolatefestival.com.

————-
Kona Brewers Festival

Finally, the annual Kona Brewers Festival draws 30 craft breweries, offering samples of 70 different ales and lagers, with more than two dozen restaurants dishing up Island-style food samples. Attendance is limited to 2,000 at the King Kamehameha's Kona Beach Hotel luau grounds, and tickets sell out fast.
Next festival: March 12, 2011, www.konabrewersfestival.com.

KAUAI
Garden Island Range and Food Festival
Following the example of the Big Island's Taste of the Range, Kauai has begun Garden Island Range and Food Festival, an event dedicated to the notion of eating locally and, while you're at it, eating well. At Kilohana Plantation in Lihue, the event draws gourmets and locavores, cattlemen, farmers and chefs who whip up the best cuts of Kauai meats, using local produce.
Next festival: November 2011 (tentative), www.kauaifoodfestival.com.
————-
Taste of Hawaii
Should you be on the Garden Isle, you don't want to miss Taste of Hawaii, billed as the "Ultimate Sunday Brunch." Put on by the Rotary Club of Kapaa, this is Kauai's biggest food event, with 50 or so Hawaii chefs, more than a dozen beverage stations with everything from wine to smoothies, and live music, on the 30-acre park at Smith's Tropical Paradise.
Next event: June 5, 2011, www.tasteofhawaii.com.