HAWAII Magazine picks: 5 new restaurants on Kauai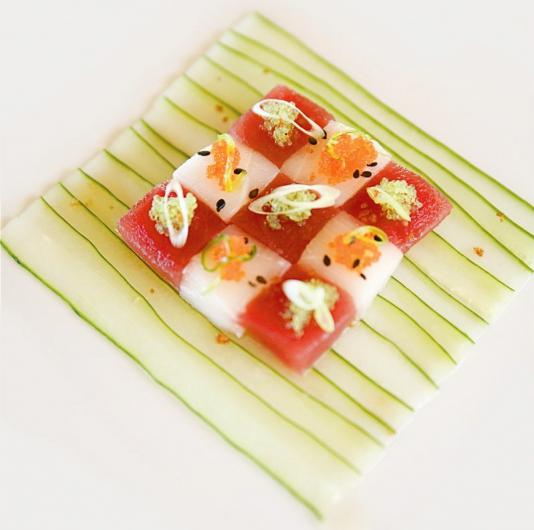 The restaurant scene on Kauai has recently come alive, with a number of new restaurants raising the bar on culinary excellence. We've been delighted on our last few hops over to Kauai to discover these five places to get an interesting and delicious meal.
Enjoy!
Red Salt
Koa Kea Hotel & Resort, 2251 Poipu Road, Koloa
(808) 828-8888, www.koakea.com
The Koa Kea Resort is the new boutique hotel built on the shell of the old Poipu Beach Hotel. Tucked in its lobby is a remarkably fine restaurant, named for Kaua'i's famous red salt.
The menu is not extensive, but everything is done with skill, precision and a nice sense of imagination. Wait until you see chef Ronnie Sanchez's variations on Hawai'i favorites. His kalua pork luau is unlike any luau food you've ever tasted, rich and flavorful, with pineapple-tinged demiglace. His poke is, quite literally, a work of art, a checkerboard of red and white fish.

Not everything's fancy: His basic steak, 
14-ounces of Wagyu beef, is simple, direct and delicious, with a side of fries dusted with Pecorino cheese.
For dessert, you won't believe how good the "reverse root-beer float" tastes, complete with a chocolate cookie warm from the oven. It will bring back your whole childhood.
Colin Hazama, the chef at the Kauai Grill, has snagged himself a James Beard nomination for Rising Chef—and no wonder. He's doing wonders at this new restaurant, established by New York chef-restaurateur Jean-Georges Vongerichten in the newly renovated St. Regis Princeville.
We couldn't get enough of the appetizers: Crispy poached eggs topped with crème fraîche and caviar. Foie gras and grilled mango, two tastes that belong together. And, if you're feeling adventurous, sample the dramatic grilled black-pepper octopus.
Entrées include a Wagyu sirloin with gingered Kauai mushrooms and, our favorite, sweet white-fleshed moi (the fish of Hawaiian royalty) with warm, toasty nut-and-seed crust. Save room for the caramelized banana cake or, even better, the white chocolate and yuzu Pavlova, with Thai basil syrup.
This is a high-end hotel restaurant, but—as high-end hotel restaurants go—not punitively expensive, with appetizers about $15 and entrées about $30.

Merriman's Kauai/Merriman's Downstairs Cafe
Kukuiula Village, 2829 Ala Kalanikaumaka St., Poipu
(808) 742-8385 (Merriman's Kauai), (808) 742-2857 (Downstairs Cafe), www.merrimanshawaii.com
Two restaurants in one—from influential Hawaii chef Peter Merriman. (For more on Merriman, see "Can't You Just Taste Hawai'i?" in our July/August 2009 edition.) Upstairs, Merriman has created his signature fine-dining dinner house, with locally sourced specialties like Maui onions, Kauai oyster mushrooms, line-caught Island fish and Big Island grass-fed beef. Don't miss the ahi and Kauai watermelon poke.
Downstairs, you'll find a casual café. Flatbread pizzas, soups, salads, sandwiches and even a mixed plate—kalbi-style ribs, teriyaki chicken and fish, with macaroni salad, kim chee and rice.

There are lots of great plate lunches in the Islands, but Merriman's is a contender for the best. Everything on the plate is delicious.
"I've always thought that value-priced food should be good food, too," says Merriman, and he's set out to prove it. If you find yourself in the café, make sure to get a side of truffled Parmesan french fries.
Although the name sounds like a beer and burger joint, Bar Acuda is a sophisticated tapas restaurant, offering small plates with intense flavors. It's a perfect spot to order a glass of prosecco and graze to your heart's content.
The grazing's good. Roasted tomato and leek bruschetta. Grilled pancetta-wrapped sea scallop with roasted garlic and creamy lentils. Grilled shrimp salad with frisée. A small double lamb chop in a pool of powerful romesco sauce, a traditional Spanish sauce with roasted red pepper and almonds.
Our favorite dish was the simplest: Thin-sliced green apple. A slice of California's famous goat cheese, Humboldt Fog, and a chunk of North Shore Kauai honeycomb. If you're still hungry by dessert time, we'd suggest the thick, rich chocolate pot au crème.
Located in the Old Hanalei School building turned shopping complex, Bar Acuda has some nice lānai dining, which we prefer because it's cooler outdoors than in the small restaurant with its open kitchen.
Kalaheo Cafe & Coffee Co.
2-2560 Kaumualii Highway, Kalaheo
(808) 332-5858,
www.kalaheo.com
Where do Kaua'i chefs go for a casual meal out? A couple of them spilled the secret. They drive up to the small town of Kalaheo and eat at Kalaheo Café & Coffee Co., run by former hotel chef John Ferguson.
For breakfast and lunch, it's simple food done right. For breakfast, there are omelets, housemade pastries, including scones, and coffees estate-roasted on the Kauai.
At lunch, we love the fresh fish sandwiches, with the bread newly baked, the fish perfectly grilled, and the sandwich loaded with avocado, jack cheese and a citrus-dill mayo. It comes with a salad, fresh, local and crisp.
The breakfasts and lunches only made folks hungry for dinner here. Kalaheo Café now does dinner four nights a week, Wednesdays through Saturdays—mainly comfort food like turkey meatloaf, bourbon-glazed orange chicken and herb-crusted prime rib, all done well, and all at reasonable prices. Coconut flan heads the dessert menu.